When hiking or camping in rattlesnake country there is a definite possibility that you may encounter one. You definitely want to avoid rattlesnakes and other venomous snakes when hiking. Knowing how to identify venomous snakes and knowing exactly what to do should you encounter one is hugely important.
Also, knowing what to do in the event of a snakebite can potentially save your life.
Why Are Some Snakes Venomous?
Some species of snakes have evolved to use venom for defense, to kill their prey, and to aid in digestion. The venom in a snake is actually a form of saliva that has become toxic during the evolution process.
Snake venom may be neurotoxic, hemotoxic, myotoxic, cytotoxic, or a combination.
Neurotoxicity inhibits the signaling process between the brain and other parts of the nervous system. This can result in the loss of motor control, have a negative effect on cognition, and even affect the ability to breathe as a result of paralysis of the diaphragm.
Hemotoxicity can result in the destruction of red blood cells and prevent blood from clotting. Without treatment, serious hemorrhaging and death can occur.
Myotoxicity results in the destruction of muscle.
Cytotoxicity results in the destruction of cellular tissue.
There is much debate about which snakes are the deadliest. Some of the confusion stems from how the snakes are judged. Some snakes possess venom that is far more toxic than others. However, not all snakes deliver the same amount of venom. In fact, some snakes are known to often not deliver any venom on the first bite.
Also, the aggressiveness of a particular species can also be a factor in how dangerous the snake may be. A snake with highly toxic venom, but very docile, and delivering a very small amount of venom per bite may not be nearly as dangerous as a highly aggressive snake with less potent venom.
Regardless, avoiding any snakebite is preferred. With today's availability of antivenin, most snake bites are rarely fatal. However, you can become very ill and experience a lot of pain.
The avoidance of venomous snakes becomes even more important if you are hiking or camping as you more likely to be in a remote location away from immediate medical care.
Common Venomous Snakes Found While Hiking In The US And Canada
Below is a list of venomous snakes you may encounter while hiking or camping. This is by no means every venomous snake you could encounter. But if it's a venomous snake found in the US or Canada, chances are good it could be one of these.
Rattlesnakes
The rattlesnake is of the Viperidae (pit viper) family under 2 genera. According to the Integrated Taxonomic Information System (ITIS), there are 44 species and 46 subspecies under the Crotalus genus and 3 species and 5 subspecies under the genus Sistrurus.
The rattlesnake gets its name from the rattle on its tail that serves as a warning for predators that may be a threat. The rattle is made from segments of keratin. A segment is formed each time the snake sheds its skin.
Rattles may break off at times so it isn't really possible to tell the age of a rattlesnake by the number of rattles that it has.
Below are some of the more common rattlesnakes you may encounter while hiking or camping.
Eastern Diamondback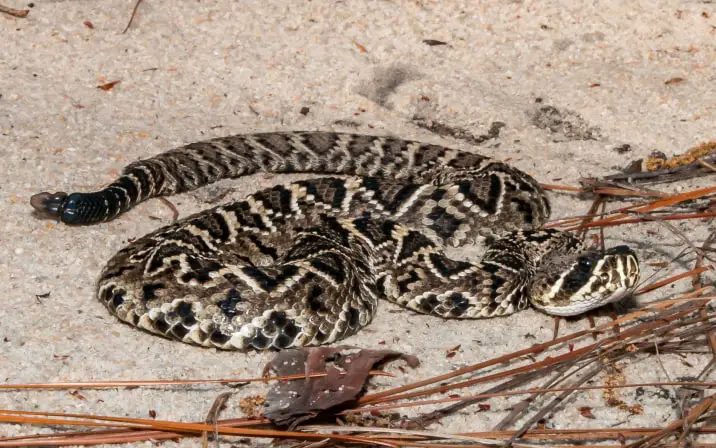 The Eastern Diamondback Rattlesnake (Crotalus adamanteus) is native to the southeastern United States. The average length of the snake ranges between 36″-72″ and can be identified by the brown diamond-shaped pattern on its back as well as the rattle on its tail. It can be found from Louisiana to North Carolina and is most prevalent in south Georgia and north Florida.
The Eastern Diamondback is considered to be the most venomous snake in North America and delivers a large amount of potent venom which is hemotoxic, interfering with the clotting of blood.
Although highly venomous, the Eastern Diamondback is not aggressive and will not attack unless it feels threatened. Its rattle serves as a warning to back away. However, it can strike without rattling, especially if stepped on. Most bites occur when people try to catch or kill the snake. If encountered, it prefers to retreat.
Western Diamondback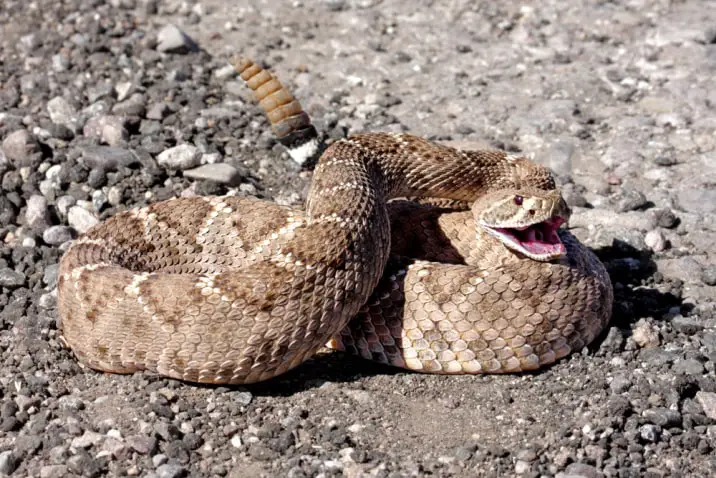 The Western Diamondback Rattlesnake (Crotalus atrox), sometimes called the Texas Diamondback, resides in the southwestern parts of the United States from central Arkansas to southeastern and central California and northern Mexico. Although its venom, mostly hemotoxic, is not as potent as that of the Eastern Diamondback, this snake is responsible for the most snakebites in the US. It is considered to be the most aggressive rattlesnake.
As its eastern cousin, the Western Diamondback can be identified by its rattle and diamond-shaped markings, however, the snake's color can vary from reddish to pinkish-brown to a chalky white. This snake also has distinct white and black rings at the tail tip just before the rattle. This snake is typically found in 4-5 foot lengths.
Timber Rattlesnake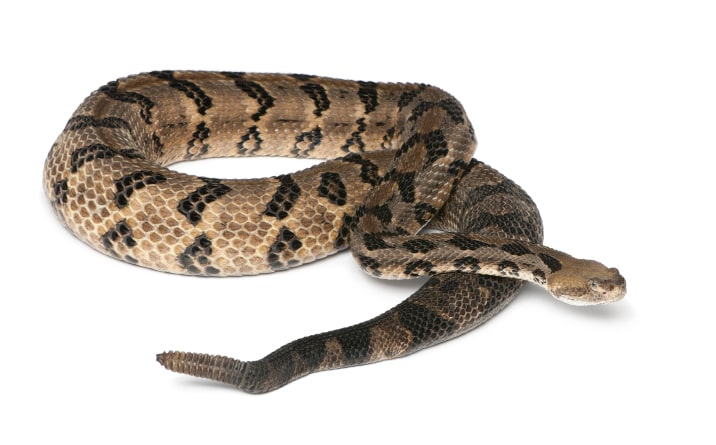 The Timber Rattlesnake (Croatus horridus) is typically 36-48 inches long and can be found in the United States from eastern Texas north to Wisconsin eastward except for Maine.
It can be identified by its dark chevron markings and the rattle, but it can have one of two different background colors – yellow and black.
The Timber Rattlesnake is fairly docile and will prefer to retreat when encountered. However, it will defend itself if threatened. Bites from this snake should not be taken lightly as it has long fangs and yields a large amount of hemotoxic venom.
Massasauga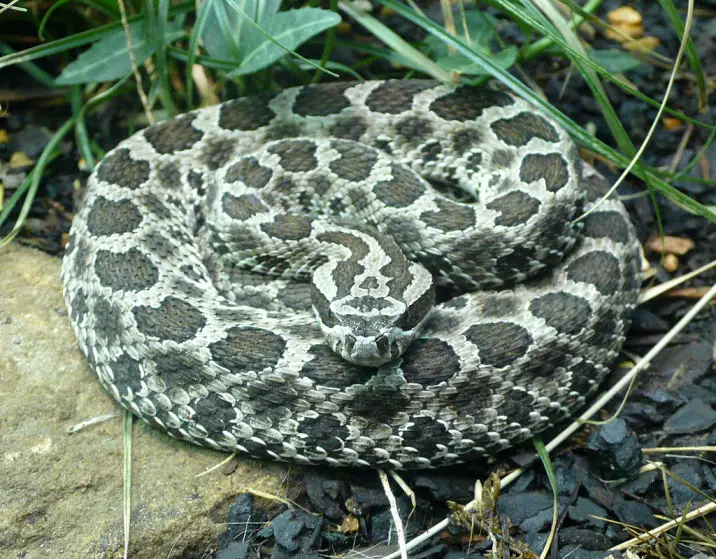 TimVickers [Public domain], via Wikimedia Commons
The Massasauga Rattlesnake (Sistrurus catenatus) can be found in the midwest from southern Ontario to northern Mexico and can be identified by its irregular-shaped dark blotches on a gray or brown background. There are three subspecies – Eastern Massasauga, Western Massasauga, and Desert Massasauga.
The Massasauga prefers to avoid humans. Like other rattlers, it shakes its tail above the ground when it perceives danger, though not as high.
It does have potent venom, more so than the Timber Rattler, but its fangs are short and a minimal amount is injected with a bite.
Northern Pacific Rattlesnake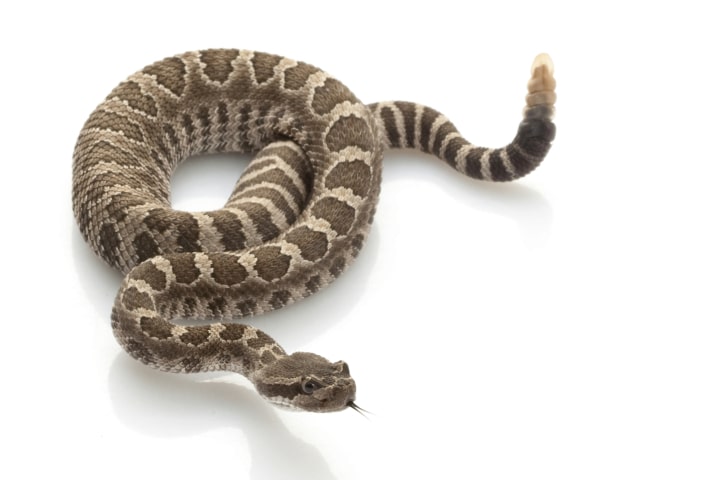 The Northern Pacific Rattlesnake (Crotalus oreganus oreganus) is a subspecies of the Western Rattlesnake (Crotalus oreganus). It is usually yellow-brown or gray with dark blotches. This snake is typically found in southern British Columbia, Washington, Oregon, Idaho, and California. The average length is about 3 feet.
The Northern Pacific Rattlesnake avoids humans and large predators but will hiss and shake its rattle as a warning when threatened.
The bite from the Northern Pacific Rattlesnake can result in severe envenomation. The venom has neurotoxic, hemotoxic, and myotoxic properties.
Prairie Rattlesnake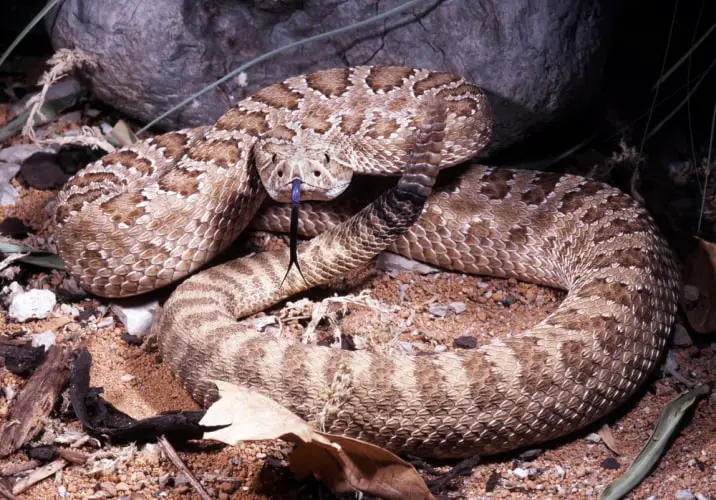 The Prairie Rattlesnake (Crotalus viridis) is found in southwestern Canada, the western and central United States, and northern Mexico. Typically avoiding the desert area, they are most often found in grasslands and prairies. They can also be seen in woods, in caves, and on rock ledges.
The color is varied among these snakes. Most are greenish-gray or greenish-brown while some are yellowish or light brown. There is a series of blotches down the back which transform into rings at the tail.
The Prairie Rattlesnake possesses a potent venom but has small venom glands which contain a moderate amount. Generally, up to half or less of its venom is injected in a single bite. Sometimes the snake will inflict a dry bite absent of any venom.
Common Venomous Snakes Other Than Rattlesnakes
Rattlesnakes aren't the only snakes to watch for when hiking. There are other venomous snakes you are likely to encounter depending on your location.
Cottonmouth (Water Moccasin)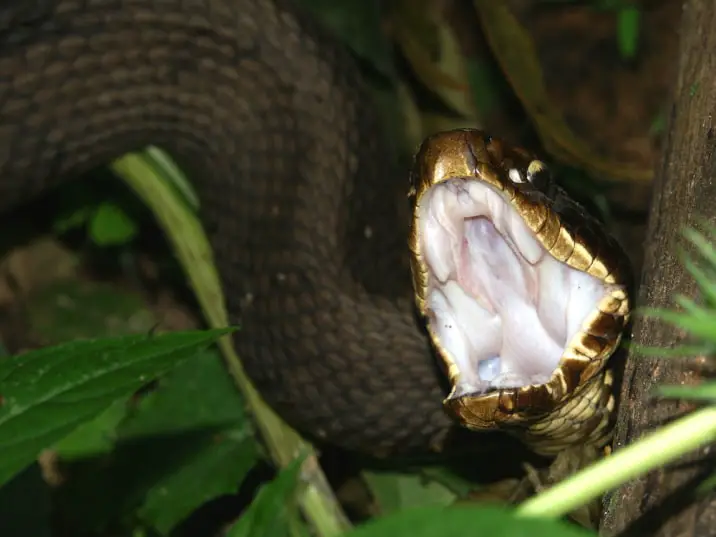 The Cottonmouth (Agkistrodon piscivorus) or Water Moccasin as it is sometimes called, thrives in swamps and rivers in the southeastern United States. Though not a true aquatic snake, the Cottonmouth swims quite well.
Most Cottonmouths are 3-4 feet in length and vary in color and markings. The background color can be tan to olive while the irregular patterns can be dark brownish-green, copper, or almost black.
When the Cottonmouth senses a threat, it will oftentimes open its jaw and display the white interior of its mouth, which is where the snake gets its name.
The common belief is that the Cottonmouth is an aggressive snake and will chase humans unprovoked. This is untrue and the snake will usually, at the most, coil and display its open jaw unless seriously threatened.
When the snake bites, it doesn't always inject venom when striking defensively. The venom, however, does have cytotoxic properties but does not cause systemic reactions in victims.
Copperhead
The Copperhead (Agkistrodon contortrix) makes its habitat from the US east coast to the mid-southern states. The Copperhead can be tan or light brown with irregular bands, either solid or fading in color.
The Copperhead is not an aggressive snake, however, when startled it usually freezes rather than retreats. Because it is so well camouflaged, it often is stepped upon which causes it to strike.
The Copperhead has the least toxic venom of all pit vipers. Like the Cottonmouth, in a defensive strike, the Copperhead may inject little to no venom. Copperhead venom is cytotoxic, affecting only local tissue.
Eastern Coral Snake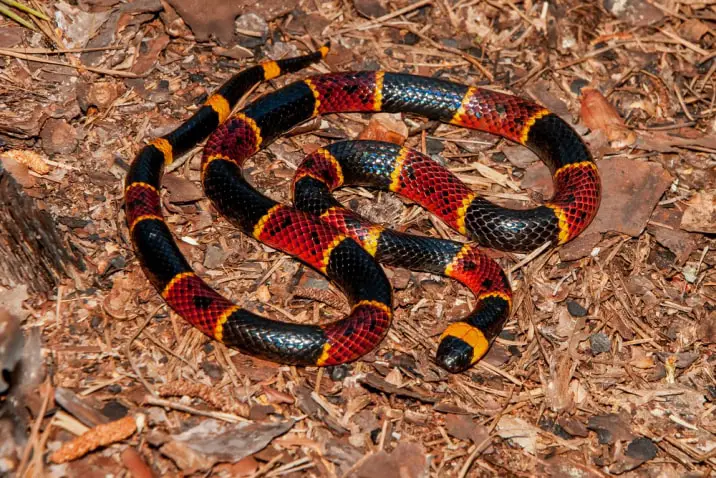 The Eastern Coral Snake (Micrurus fulvius) can be found randomly in southern coastal plain areas from North Carolina to Louisiana and all of Florida. It typically is 18-30 inches in length and has red, yellow, and black bands.
The Eastern Coral Snake is rarely seen. It is active at night and sometimes overcast or rainy days. It prefers to retreat and bites usually occur when the snake's identity is misidentified and it is handled.
To avoid confusion with other similar-looking snakes, the following saying can be used: "Red touches yellow will kill a fellow. Red touches black is a friend of Jack".
The snake is highly venomous with short fangs in the front portion of its mouth. The venom is neurotoxic and there may not be any immediate pain or swelling from the bite. Symptoms may be delayed up to 12 hours where there can be signs of slurred speech, vision problems, muscle paralysis, and potentially respiratory and cardiac failure.
How To Keep From Being Bitten On The Trail
Avoiding snakebites starts with a little forethought and common sense.
Know your area. If you are unfamiliar with the area you will be hiking, learn which snakes are known to dwell there. Research online or ask a park ranger or other local familiar with the territory which creatures you are most likely to encounter.
Avoid tall grassy areas when possible. Always try to maximize your ability to see what's on the ground.
Avoid turning over large rocks, logs, and anything else a snake may be taking cover under.
If you encounter a venomous snake stop immediately. Slowly back away and let the snake pass or take another route. Take pictures if you like from a safe distance. DO NOT try to capture or kill the snake.
Snakes are afraid of you and prefer to be left alone. Don't do anything to provoke them.
First Aid For Snake Bites
If you are bitten by a venomous snake, try not to panic. Being in an excited state may speed up the flow of the venom.
Try to identify the snake (do not reapproach). If unsure, get a snapshot of the snake from a safe distance with a camera or your phone if you can. Promptly seek medical attention. Do not run, try to remain calm.
Snakebite kits are not recommended. Do not use a tourniquet, cut the wound, or try to suction out the venom. This does not work and may only cause additional harm to the tissue. Remaining calm and seeking prompt medical attention to get antivenin is your best course of action with a venomous snakebite. The sooner you can get antivenin, the fewer complications you will have.
Conclusion
For most of us, encountering a venomous snake on the hiking trail or while camping doesn't occur often. But it can happen. Venomous snakes should be respected, not feared. If you respect these creatures by not intentionally provoking, trying to capture or kill them, your chances of being bitten are small.
In the unlikely event you are bitten, prompt medical attention should ensure minimal bodily harm. With today's antivenins, venomous snakebite fatalities are rare. Most deaths are caused by not seeking medical care or having an anaphylactic reaction to the venom.