Most people know the world of Bushcraft Pants as excellent for the outdoors. However, their uses are seemingly endless. Campers and Hikers like them but they are also beloved by tactical professionals and survivalists.
It's not hard to see why, as Bushcraft Pants are made to work in numerous areas. In all reality, they are perfect for your Doomsday Prepper just as much as a guy who goes camping every 6 months.
They tend to be about the same price as other pants, but the way they are made often makes them superior to things like jeans for instance. They are quite literally made for the outdoors with some having been made for specialized situations.
The question you might have right now is which types of bushcraft pants are best. We didn't want to make this another "best bushcraft pants you can buy from a specific brand" article.
Instead, we wanted to discuss the pants and why they are so good. We will, of course, discuss what brands have done with their specific Bushcraft Pants too. Now, let's get started.
What Sets Bushcraft Pants Apart?
Clearly there are many types of pants one can buy, so what really makes Bushcraft Pants any different from one of those? Simple, they are made to handle pretty much anything.
They are made with tough, usually rip-proof material. That makes them perfect for the outdoors, as you'll likely come across a lot of things that can rip into your pants. The material used might be in other pants but not in the same way.
For example, you'll see something like G-1000 fabric. This is actually a blend of Polyester and Cotton but it's tightly woven. This tight weaving makes it harder to rip. Let's say a hole does happen, the materials are so tight that they won't just rip along with the hole. Instead, they stand on their own and hold their shape. That prevents larger holes or rips from happening.
On top of this, it's G-1000 fabric is also treated with Greenland Wax. This combines to give people a waterproof & windproof fabric. That is the kind of thing outdoor professionals love, as they can get everything they need. Yet this is just one type of fabric used in Bushcraft Pants.
Tactical Bushcraft Pants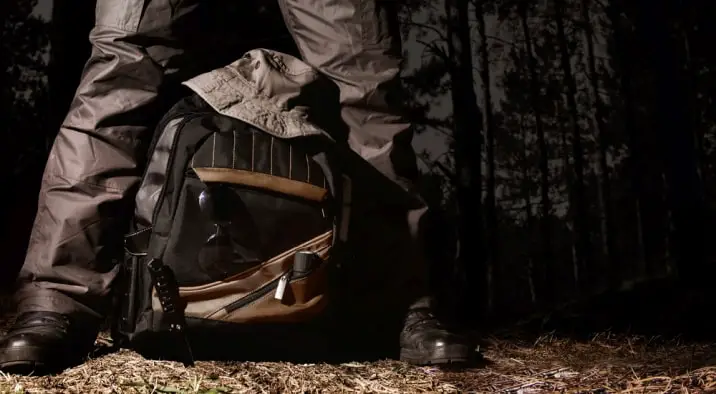 If it's a popular outdoor or tactical clothing brand, it is very likely that they have some type of Bushcraft Pants. Of course, we should not get "outdoor clothing" and "tactical clothing" brands confused as they aren't the same thing technically.
Tactical Bushcraft Pants will often have specific needs that regular outdoor versions will not. Yet they will also have a lot of similarities too. We'll explain.
5.11 Tactical & Tru-Spec are both great tactical brands with excellent pants all around. Their Bushcraft Pants are mostly made for tactical purposes. This means they'll often be waterproof but also have other specializations too.
The pants are made to be cool to wear, as in you won't get too hot wearing them. Their pants also stretch well in all areas, allowing a person to move around without any risk of fabric stopping them. They also contain Deep Slash Pockets, allowing the storage of most knives.
Of course, like most Bushcraft Pants you're going to have a ton of pockets to store things. Yet Tactical types will have special pockets designed for specific tactical gear too.
Outdoor Bushcraft Pants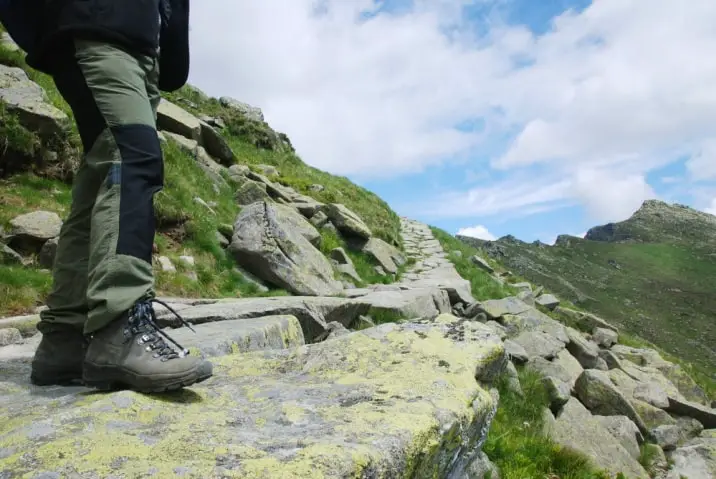 Outdoor Bushcraft Pants will be similar to Tactical Bushcraft Pants in that they will have a lot of pockets and be made very well. However, the main focus of these types of pants is to hold up well in the elements. This is why a strong focus will be on waterproofing and windproofing them.
Materials used in these pants will also be similar to Tactical in that Polyester will be utilized a great deal due to being made in a factory. Manufacturers have more control over the material and thus can do more to it.
Other materials you might see to help stretchiness is Elastane and Spandex.
There will be a big selling point by outdoor brands to cite how great these types of pants are for your average hunter or fisherman. In all honesty, they are not wrong by doing this. These pants are terrific for such activities.
Due to the amount of walking likely done in these pants over tactical, there will be a huge focus on comfort and removal of any tightness. Of course, this is all dependant on a person buying the correct size like always. That helps to make the pants breathable.
There is often a form of moisture-wicking too, removing sweat before it builds up enough to start possible chaffing. In fact, a few brands even have specific UPF sun protection tech in their pants.
These pants are made to work well outdoors, so some can handle more than just water and wind. They are also capable of withstanding major storms or low temperatures. That's right, you could wear pants that might not help much in the cold or buy ones cleared for negative degree-zones.
Best Bushcraft Pants Brands
We already shed light on Tru-Spec & 5.11 Tactical, but there are also a lot of other great brands in this area too. Columbia, Outdoor Research, Fjällräven, Arc'teryx, KÜHL, Patagonia, Kathmandu, Black Diamond, Helly Hansen, Berghaus, and a number of others all have some form of Bushcraft Pants.
We always recommend finding those that are Eco-Friendly or made with Eco-friendly materials.
Usually, the best for this are places like Patagonia & Fjällräven but most of the brands we mentioned have some form of eco-friendly Bushcraft Pants. Just not all of them, like the two we referenced.
Bushcraft pants more often than not can be different from all brands referenced. There is also no exact rule in how they should be formed other than being tough & durable. That said, we recommend checking into these types of pants more as we're sure you'll love them.
To answer the title question for this article, it's a massive YES!