When we go outdoors, a lot of the time we still have this weird part of ourselves where we want others to know it. Sometimes, we just want to create memories that we can look back on years from now. Regardless of the reason, we often want to use a camera outdoors to capture everything or most things that we do. The question then comes down to what the best camera for hiking, or whatever it is you're doing, actually is.
One of the hardest things for people to do is pick the right camera it seems. Some feel that their phone can capture everything perfectly fine, considering they will likely have their phone with them anyway. While it is true that phones can capture video and images, often in nice high quality, it is actually not made for doing this outdoors.
Unlike some cameras on the market made for this, you can risk doing some real damage to your phone. Of course, this depends truly on what you're doing outdoors. If you plan to paddleboard or do any sort of climbing, your phone will be tough to even hold onto in order to get an action shot. You want something you can use with or without a friend present.
That is why there are several cameras on the market that can be stuck to various surfaces which often are both light and mobile. The best backpacking cameras, for instance, can clip onto your person or can be easily attached to headgear. These cameras are from both big and small companies, so we felt it might be best to examine them and let you know the true best!
With that said, let's talk a little bit about pricing and resolution.
How Pricing Works Based On Resolution
In an interesting note, a lot of people seem to have difficulty understanding what resolution numbers and rates tend to be. What are they and why are they important to care about? Most people tend to connect higher rates and resolutions to price, yet prices are not technically affected by this as much as you might think. In fact, television prices have proven this as of late.
For televisions, you may have seen something like 4K on the market. When they first came out, 4K TVs were high-priced, with a 32-inch 4K TV sometimes going for $700 to $900, depending on where you bought it from. During the 2019 holiday season, 55-inch 4K TVs were going for $350 to $600, depending on the brand. If a TV is worth more due to resolution, how could it be so much at one point then not at another?
It's called "The Newness Tax" and it affects technology more than any other area. Today's TVs will be marked down next year and this will continue going forward. Yet the biggest area to see the Newness Tax , outside of TVs, is in the world of cameras.
The marketing behind them is extreme, but we often watch in Standard Definition when it was actually shot in High-Definition. Since the technology was not where it is now years ago, our editing software and TVs essentially gave us the SD look we know. The cameras may have shot in a higher resolution but only certain computer monitors could see that. Today, computer monitors are yet again far higher in resolution on average compared to normal television.
Places also price these products higher for no reason other than the fact that they can. Making you fork over more than you need to. This is often due to not knowing what a lot of the resolution crap even means.
Resolution Explained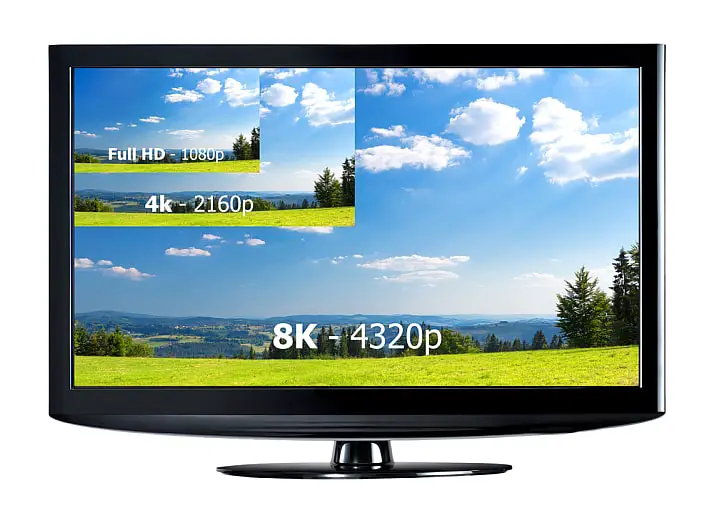 First and foremost, you may see things like 4K, 6K, and 8K on top of the older 720p, 720i, 1080p, & 1080i models. What do they stand for and why is it important? Here's a handy guide:
I-Interlaced or Integrated (both are common)
P-Progressive
K-Thousand
This all comes down to the pixels a Television has or that a camera can shoot. This also stands for the way the pixels are laid out and operate when you shoot something or when you watch it. Of course, due to editing software sometimes lessening the image rate, the higher resolution a camera can shoot in, the better chance it has to get the best appearance through editing.
For Progressive, it uses both the even and odd scan lines, meaning it shows the entire frame of something. This gives us not only a full image but also a digital appearance, almost movie-like.
Interlaced/Integrated means that the pixels are both showing but in separate fields. This gives it a sharper image. Both even and odd lines are drawn on the screen one after the other. That is ultimately the reasoning for the sharper image.
The numbers in front of the I & P stand for the number of scanned lines the product uses to reproduce the video to the screen.
Meanwhile, the K in things like 4K or 6K stands for a thousand. It's technically just a marketing concept to help this type of product stand out more. 4K, for example, is giving you 3840×2160 pixels. This 3840 number is nearly 4,000. Thus, since the K stands for "thousand," it is simply saying that 4K TVs are giving you 4 times more than the 1080 type. The 6K & 8K models, when they come about, will operate the same way.
Now that you're aware, you can properly look for a camera without feeling like you are being fooled by the salesperson.
What To Look For In The Best Backpacking Cameras
A lot of people make the mistake of just buying based on brand alone when it comes to outdoor cameras. However, it is best to consider unique options for what you need most. Now, keep in mind that the best backpacking cameras won't always be the best overall outdoor cameras. These can be totally different because backpacking is not as rigorous as, say, snowboarding.
However, we tend to feel it is best to get a camera that can be universal. You don't need to take some $5,000 to $40,000 camera outdoors either. Keep in mind that certain cameras are made for certain needs.
You want to consider cameras that are small, which won't weigh you down while you hike or backpack through the wilderness. These cameras will be any that weigh less than 5 pounds. Some of them are capable of attaching right onto your person or your backpack while others are so small that most double-sided tape will be enough to keep it in place.
It's also good to consider those with some form of stabilization. You'll be moving, even if it's just walking. Every step you make is a bump or movement that will blur images and videos. Stabilizing this will make it easier to get a clear result, making playback even cooler!
You also want a tough camera that can take a beating. If not, you need to consider those that cost very little yet work incredibly well. This is also great with those that have applications included, as they'll often save videos and images where you could destroy your camera and still have all it recorded saved for you to view.
With all of this in mind, let's check out some of the best hiking cameras on the market!
PNZEO W3 Spy Cam
Price:

$

$$$$

Highest Resolution: Capable Of Up To 1080p

Toughness: Pretty Tough, Depending On Use
While not exactly made for the outdoors originally, it has proven to be a cheap option for people who tend to abuse their products. Since the best backpacking cameras could always get destroyed should you fall or something worse, you may not want to spend an arm and a leg to replace it. That is why the PNZEO Camera is such a great product! It's ​​in the $40-$50 range!
This camera is meant for spying, so it's really small and can fit pretty much anywhere. We'd recommend using double-sided tape and attaching it to a helmet you can wear. It shoots in wide-angle at a 1080P resolution. You download their application onto your phone, which works for both the Apple iPhone and numerous Android options. You can even configure it to your Wi-Fi to view live video on the App remotely.
This can allow you to do this when your outdoor area is closer to a place with this. But you can also record with it too, as it uses a simple SD card. It can be remotely controlled by your phone, so you want to make sure an established connect is present. We'd recommend using your phone's hotspot to accomplish this and if you press to record, it'll remain on record even when your phone goes offline. That's the beauty of the SD card!
You can also just press the buttons on the camera to operate it as well. The card stores up to 128GB of data, which is pretty impressive. It'll remain on constant auto-loop until the memory is full. So be sure to stop it when not wanting it in use.
This camera can also detect moving objects, even if it's dark. An alert is then sent to your phone with 3 photos being captured automatically for you along with a video that will then transfer back to the application. This can be great as a camera to have on a tree outdoors while you're in your tent, allowing you to know if an animal is present.
This has to be set up on your app, so be aware of that!
The battery this camera uses is rechargeable and just needs to be plugged in. The battery itself is 520 mAH, which is not massive but can easily power this small camera for a while. It can shoot up to 1 hour and 30 minutes on one charge. It can also work while you have it on to charge too. Up to you!
DJI Osmo Pocket Handheld
Price: ​Price:

$

$$$

$
Highest Resolution: 4k, 60 frames per second
Toughness: Incredibly Durable & Adaptable
If you want to see a camera that expert filmmakers might use when out on the trail backpacking or hiking all over the world, look no further. The DJI Osmo Pocket Handheld camera is tremendous. Although it has a bit of a high price tag, this camera is still under market price for items of similar value.
Like all cameras on our list, the Osmo Pocket Handheld is incredibly small. Yet it actually works on a 3-axis stabilizer.
What does this mean? Essentially, when you're moving around it is possible that you'll capture video or images that end up blurry or weird. This is due to bumps or movements that affect the shot. A stabilizer, well, stabilizes things to where those things just do not happen. Allowing to capture perfect images and video without an issue.
The 3-Axis gimbal camera system allows the camera to move around to three different shot areas. The good people at Osmo wanted to perfect this and managed to get close. They claim it has a control accuracy of up to 0.005 degrees and a maximum control speed of 120/s.
A sensor is on this camera that can capture perfect images for you when set. This 1/2.3-inch sensor is tremendous and manages to do better on its own than some Hollywood camera operators. It can also shoot in 4k/60 fps video at 100 Mbps, which is among the best on the planet for cameras like this. Meanwhile, it captures images at 12MP with a pixel size of around 1.55 μm in processing. This is simply a measure of the chip processor.
It can attach to your backpack without an issue. All of this makes it one of the best backpacking cameras we've found.
It's light, portable, and capable of adapting to pretty much everything. Connecting it to your phone allows you to have even more featured, such as Osmo's added DJ Mimo Application. This gives you access to unique editing tools to add some spice to your videos and images.
If that isn't enough to sway you, this camera also has its own specific underwater case that you can use to take into the water with you to capture amazing images or videos. The long reach extension allows selfie sticks to be a thing of the past.
included in the purchase is the camera itself along with the carrying case and power cable..They also include two different smartphone adaptors, the Lightning and USB-C versions. The extra amenities such as the underwater case are not included in the purchase.
AKASO Brave 4
​​Price:

$

$

$$

$

Highest Resolution: 2K/30fps to 4K/24fps
Toughness: This Camera Is Tough To Kill For Sure
We are big fans of the AKASO Brave 4. It is quite similar to the last camera we referred you to, the DJI Osmo. They are similar in how they operate but different in the way their system works. On top of this, the AKASO option is a good bit cheaper. At ​under $100, you're getting one of the toughest and most versatile cameras on the market.
Due to not being from a big-time brand, the camera is cheaper. However, this should not make you feel like you're getting a bad product without a notable brand attached. A lot of the best brands started out smaller like AKASO. The company mostly specializes in cameras but they do have other products as well, a lot of it being additional camera add-ons.
In fact, the AKASO Brave 4 is actually supposed to be an upgraded version of the AKASO EK7000 series. It truly makes sense to be considered an upgrade as it can shoot in 2K at 30 frames per second all the way up to 4K at 24 frames per second.
It also contains a stabilizing system. It even has optional viewing angles at 170, 140, 110, and 70. The built-in gyroscope allows you to have an image literally unshaken. This is a camera made for action, and it connects to both a WiFi system and can even connect via an HDMI cable. AKASO's Brave 4 also has a WiFi signal range that is pretty impressive for a camera, 10 meters. This is just over 32 feet, by the way.
The application this camera uses just adds to the greatness. It's a great place to stream or keep videos and images stored.
We also love how adaptable this camera happens to be. Using the waterproof case, you're able to go underwater with it up to 30 meters or slightly over 98 feet. This is perfect for recreational divers or those who snorkel a lot. It's even better for surfers trying to get the perfect shot while catching a sick wave.
The 2-inch IPS Screen even allows you to view things as you're recording or after.
Included in the purchase are 2 rechargeable 1050mAH batteries that run up to 90 minutes each. You also get a useful remote control wristband. Be careful with this as it does not work underwater, so be prepared not to take it with you.
They are also including an accessory kit of 19 items. The kit of accessories can work for other cameras as well, even some brands competitive to AKASO. This makes the overall value you get from AKASO better than most.