Before we get started on discussing this topic in a major way, we'd like to make sure you understand what we're referring to. We are not discussing cutting off your cat's tail and eating the thing. Rather, we're discussing the cattail plant (Typha latifolia).
Truth be told, there are many plants that humans can eat. Of course, they are not all technically edible plants.
Cattails are edible. In fact, most of the cattail is okay to eat making it an excellent wild edible in a survival situation. The roots are the most popular part people go for, but there is a fiber section surrounding it that must be removed.
You can also eat cattail root raw at that point, but many will tell you they are best eaten once cooked over a fire. The roots can cause some people to have a stomach ache when eaten raw, so we'd recommend doing that.
Cattails – The Edible Parts
As we mentioned already, cattail root is pretty safe to eat. Also called Rhizomes, they are actually harvestable throughout a given year. Many will say they are best in the Fall and Winter, but they can be found all over the place during the Spring & Summer too.
Cattails, like potatoes, are starch food. However, they are actually useful to grow for eating purpose over potatoes truthfully. They produce more starch per acre than potatoes and even yams!
You can eat them like corn on the cob. As long as you pick them in the Spring, they will likely be green and hidden in leaves. This is the perfect time to boil them until they are heated thoroughly. Many like to eat them with butter just like corn too!
Of course, once it matures the Cattail pollen can be harvested. This pollen is edible and can be an excellent source of high-protein. You can use this in place of things like flour for baking, and it works just as well too!
During the Spring period, you can also harvest the shoots. They are the white part of the cattail, nearest to the root section. Many like to eat them in shoot/stalk form just like asparagus.
Cattail flour can be made by drying out the roots in the oven, removing the fibers, and then crushing them into a fine powder.
Remove The Fibrous Section
When it comes to cattails, it's clear that you can eat them anytime. Cattails are not only good for survival purposes, they are good all the time! The thing is, while you can eat most of the plant, you simply cannot eat every bit of it.
In a survival situation, you cannot be too careful. If there is a situation where you're attempting to survive, then you cannot upchuck. By doing this, you lose much-needed hydration and the emptying of your stomach will only cause more needs for nutrients.
If you make yourself sick with a cattail, this can be an issue. Therefore, be 100% sure you have removed the outer shell of sorts. This fibrous section can be a huge problem for the average human stomach. You can further peel the root section to remove excess fiber if needed too.
Cattails are incredible for survival once you remove the worst bits from them. If you do this, you'll have something that can last. In fact, there is evidence in Europe that proves some of the first Homo Erectus beings ate cattail as far back as 30,000 years ago!
Where Does Cattail Grow?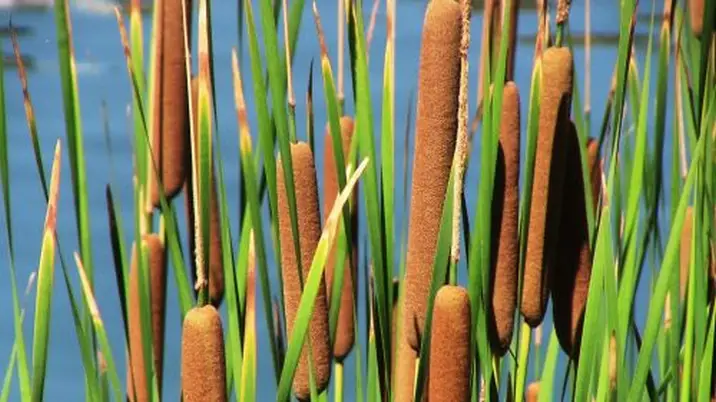 Cattails can grow pretty much anywhere there is a Green House, of course. Yet in the wild, you'll see it in specific areas, sometimes only certain times of the year. There are 30 different types of Cattail plant species.
Cattails have both male and female flowers. The male flowers eventually fall off leaving the soft furry brown spikes. When mature, the spikes will break up releasing seeds into the wind.
They tend to grow frequently in middle-of-the-road to cold regions in both the Northern and Southern Hemispheres on Earth. Usually, they can be found near water sources more often than not. Thus, you'll tend to see them in more marshy or swampy environments.
Therefore, they grow in sections of the planet that most fits this type of environment. With Climate Change occurring, however, they have moved around a little bit here and there over time.
Typically, you'll see them throughout North and South America, especially North America in the Southern territories. They will also show up frequently in many European countries as well.
There's A Lot Of Growth Potential
When you think of a cattail, it might not seem like the best source of long-term survival food to many. In reality, it's just as perfect for humans as potatoes. Plus, under the right conditions, it can spread like a wildfire.
When it grows, it first uses pollinated flowers that will develop into fluffy seed heads. This will then blow across a pond, river, lake, you name it. With a Fall Breeze, that stuff could end up all over the place.
They will also spread through their root system. As long as the cattail has what botanists call "wet feet," they will grow during the peak growing seasons.
Therefore, if you're caught in a pinch…and you are desperate to survive, eat the cattail. Just be sure you do it right. Long-term survival can exist with this, making it a perfect go-to plant for harvesting as long as you need it.