Camping can be a family and friend-oriented thing to do on the weekend and during breaks. This can be a chance to get the kids out of the house and to get off their electronics. What you don't want, however, is for them to become bored on a trip that was meant to be fun. We came up with 10 great ideas for camping activities for kids.
Activities For Kids
Card Games For Kids
The simplest thing for kids to enjoy is card games. This gives the kids the ability to bond with one another while playing some cards together. There are many different card games, so it can be time-consuming when you just go through a few. These can be from regular poker cards to card games like Apples to Apples or UNO.
For poker, you can put friendly wagers on the prize. Since we are talking about kids, then maybe some gift as a prize or any type of food that the winner can obtain. Overall, card games can be a good idea to take away some time and provide entertainment.
Board Games For Kids
This idea is a bit like card games because the ideas are mostly the same. But board games can also be a time-consuming activity for kids to enjoy. There are many board games out there that you can play. The most notable board game that people play is Monopoly. Games of Monopoly take a while to complete, so it is heavy on the commitment of finishing.
Other board games are Settlers of Catan, Sorry, Life, and others. Board games can be fun and easy to set up as well, for entertaining kids.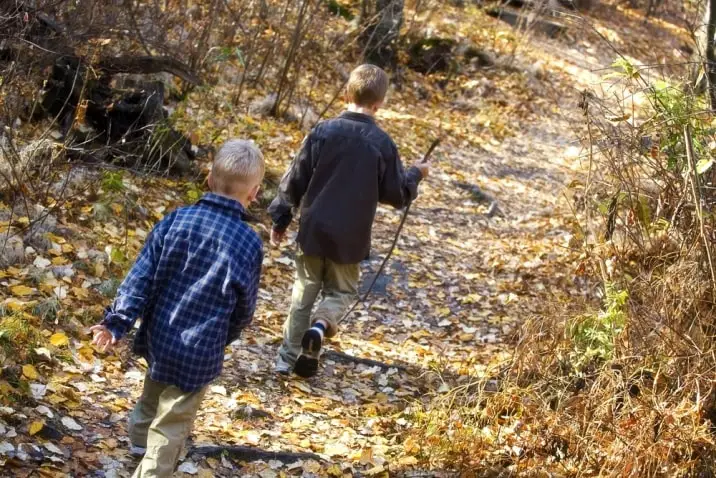 Get Kids Hiking
While camping, you might want the kids to go outside and enjoy the sights of whatever you are at instead of them being inside for the whole time. Hiking can be a great way to get kids to enjoy the outdoors. They can exercise outdoors, and they can take pictures of the scenery of nature if they choose.
Enjoy a Camp Fire
What kids love are campfires and this idea is one that they are sure to enjoy. Many things come alongside having a campfire. You can make s'mores for them to eat. You can also tell many stories at the campfire which kids will enjoy listening to.
Singing songs around the campfire is also a favorite pastime that kids will enjoy.
Map Making Activities
Camping is all about the outdoors and what you can discover. Another way to occupy kids' time is to make maps around the perimeter of wherever you are camping. You can tell the kids to explore many different areas and to enjoy nature.
Map making can be a very fun thing to do, especially since you are exploring a new area around the campsite. Overall, this idea is a great idea to occupy your kids' time so that you can do your own thing and let the kids explore.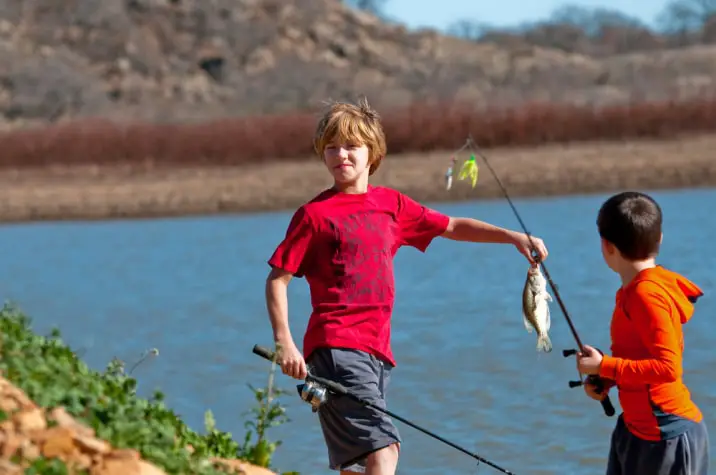 Fishing
Fishing can also be a great activity to do for kids and adults alike. If you are near a lake or a body of water in nature, then this can be an idea that may pop up when looking at things to do. It can be enjoyable going out on a boat or going to a dock where you can be able to fish.
After the fish is caught, you can talk to the kids about which fish you catch, and you can have the kids look at the fish and observe. They can also look at the work that the kids and yourselves put into catching these fish.
Take Nerf Guns Camping
Childhood was all about playing with nerf guns and kids can have fun while going against each other in a duel. Teams can set up their own forts in order to protect themselves for a nerf war. This can be fun since kids love to run around everywhere and they are competitive as well.
They get to take down their own friends and come up with strategies to approach the battle. After it is all said and done, the winning team will have bragging rights against their friends. If you don't already have any nerf guns, then this idea can be pricey to buy some for your kids.
Building a Fort
Like building a fort in nerf wars, this is an idea related to that. Just building a fort for fun can take up much of a kid's time. Kids can build forts outside with some sticks and logs, or if in a cabin, they can build a fort within the house.
Building forts are very satisfying to see the final product and the kids can call it their personal hideout. After the fort has been built, they can have it as their own hideout and just hang out in there. Everyone loves to build forts, and this is a great idea to help entertain kids.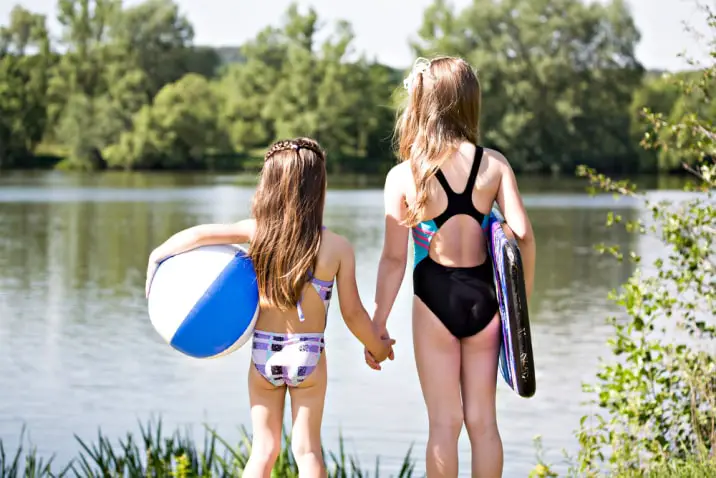 Swimming
Swimming can also be a great activity to just relax and let your kids go into the water. This can be from going into a lake or going to a community swimming pool if there is one. Swimming is a great idea when it comes to entertaining children. They can be in the water all day and will not get bored until they get tired.
This is another idea that can be useful when it comes to camping because of its relaxing element.
Playing Tag
Tag is more of a simpler activity for the kids to do while camping. Playing tag is one that doesn't use as much preparation as the other activities and is easier to setup. This idea doesn't need any adults to set it up. The kids can just come up with this idea on their own while hanging out.
This idea gets the energy of the kids loose and they can run around everywhere. This can wear some kids out and you only have to worry if the kids were to get an injury while running into objects or hurting themselves. This is another great idea for kids to do.
Other Kids Camping Activities
Other ideas might include making s'mores, horseshoes, charades, football, soccer, canoeing, stargazing for constellations, skipping rocks, flying a kite, geocaching, or the exciting exploding watermelon challenge.
Camping activities for kids are more plentiful than you think. Kids will often enjoy doing the same things at camp as they do at home. Video games, however, are not an option.