When we go out camping, it's likely we will need to keep things cool or at least slightly temperature controlled. Whether we plan to go fishing the same day or just need to keep things cool for a while, a cooler is an important item. Yet more than anything, you want to use one of the best camping coolers with wheels on the market.
The reason you want one with wheels should be pretty obvious. Imagine carrying a traditional cooler to your camping destination, especially when you're not camping site isn't close to your car. It can be a nightmare to lug that thing for that long period of time. Why do so when wheels allow you to just pull it along.
It may still be a heavy cooler, but you'd end up getting a good arm workout rather than throw your back out this way. The real question here is not IF you need one with wheels, it's why haven't you purchased one with wheels yet?
Types Of Wheeled Coolers
There are numerous camping coolers that have wheels on the market today. So many, in fact, that it can be hard to find the right one for you. This is why we wanted to narrow down your decision into a few different categories.
Let's go over each and explain the reasoning for why people may use them and what they technically are.
Large Coolers
These are the types of coolers that have the most room and are likely ones you might take with you on a family camping trip or if you're going bass fishing.
They are also great for parties or large outdoor events. The latter of which you might need more than one of these. It is not truly a cooler type made for single bachelors going on a camping trip with their dog.
Small Coolers
These are smaller coolers that are specifically made for day trips to the beach or perhaps something a couple might take with them on a camping trip. They're perfect for small outdoor gatherings and likely will be a traditional fisherman's perfect cooler.
These are also great on solo camping trips as well. Though most of us may recognize these coolers being used for drinks on long car drives with our families.
Soft Coolers 
Soft Coolers are traditionally the type of thing you may have taken your lunch in. They are often in bag-form, making them often called lunch bags by most. Yet there are larger versions of these that have wheels. The reason they are called "soft" is pretty easy. Unlike most coolers that have a hard outer surface, these coolers have a soft outer surface.
Wheel Kits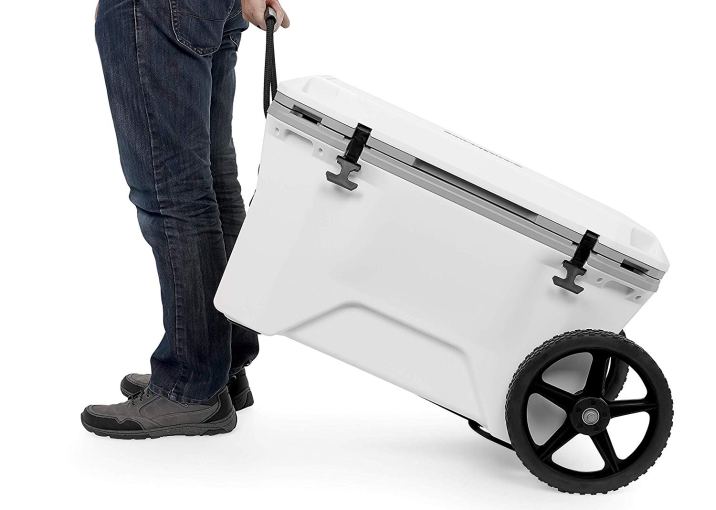 Cooler Wheel Kits are the heavy-duty boys in the industry. Some of these Cooler Wheel Kits are now sold along with the cooler itself, making the "kit" portion a bit odd. However, the traditional idea here is that they can be attachable to various coolers that do not have wheels.
Let's say you have a favorite cooler that is doing its job well. Yet you're getting older and want to avoid breaking your back, so you need some wheels.
These Cooler Wheel Kits just attach onto the cooler and can be removed once you get to your destination. They can be great to find for older coolers or great for replacing those that previously had wheels too.
Most of the time, the wheels attached are heavy-duty and might be a smaller version of ATV wheels. Now that some coolers are coming with them, they are still called Camping Wheel Kits and will be removable and capable of working on other coolers from the same manufacturer.
YETI Cooler On Wheels
YETI has changed the game when it comes to keeping things both cool and warm. People mostly know them for their specialized Thermos types that people may drink their morning coffee from or keep cool refreshing tea in.
These are also perfect for soups and stuff. Yet their coolers are so great for camping that we felt they needed their own category. Like the others mentioned, they can be large or small, but YETI stands out in the crowd over most brands.
Products
Now that you know the types to look out for, we need to go ahead and jump into the actual products that fit each one. We decided to use a few key products in each version, rather than just one. That way, you have a better idea about what you can find and have some options to choose from.
With all of that said, let's get started on our list of the best wheeled camping coolers.
Best Large Coolers With Wheels
 $75 to $300 Range
 Holds 50Qts and Higher
Most Can Keep Ice For Days
Large Coolers are pretty difficult to decide for many people. There are simply too many to choose from it seems. But we feel that the best of these will be reasonably priced. You never want to pay something over $300 for a mere cooler. Yes, there are many that may believe they are worth this...but none of them are, even larger models.
That said, we're going to go over a few large ones to keep your eye on.
Igloo Glide Pro 110
Igloo is a relatively known name in the world of cooling. However, they are newer than some others out there. Thus, their products can be a little more expensive. However, their Glide Pro 110 model is priced at under $150 and is one of the best coolers with wheels you'll find.
You have a huge amount of room in this model. The measurements are, on Top, 31 x 13.43 x 14.65 inches.
Meanwhile, on the Bottom is 25.25 x 10.93 x 14.65 inches. This is enough to hold quite a lot.
The coolest part of the cooler is its telescope handle, allowing it to fit multiple sizes.
It can also keep ice for up to 5 days, which is pretty impressive. The manufacturer claims that this can be done while in 90-degree heat.
Coleman 100 qt Xtreme 5-Day 
Coleman is a legendary outdoor brand that is known for making several outdoor products. You may know them most for their outdoor chairs, tents, and much more. Yet they also make some great coolers.
They have one model, known as the 100 QT Xtreme 5-Wheeled Cooler that we're huge fans of. They are selling it for under $75, which is a good bargain in our book.
On Amazon, this cooler has maintained its 4.5-star rating, which is among the best sold on the site.
It can hold around 7 full bags of ice and still have room, which is pretty impressive.
While the wheels are not the best, they do the job pretty well according to most customers.
On top of this, it keeps ice for up to 5 days, just like the Igloo model.
MILEE-Heavy Duty 70QT
MILEE always loves to outdo others with their cooling products. They may have done it again with their Heavy Duty Wheeled Cooler.
As the name suggests, it's capable of quite a lot.
More importantly, this thing holds up to 70 Quarts of contents.
MILEE decided to add a trey, section divider, and everything.
It is hard to narrow down a price point for the item as they are often sold at various prices depending on where you buy them from.
A lot of the time, they also go incredibly fast when they arrive. Thus, most places run out a lot...even Amazon!
That said, while the cooler is certainly worth your money, you may have trouble finding one for sale online.
Best Small Wheeled Coolers 
$25 to $150 Range
 Can Hold Just Under 40 to 50Qts
 Coolers Can Hold Ice For A Day Or Two
The small wheeled coolers are all of those that tend to fit under the 40 to 50Qt limit. What we mean by this is that anything that goes 50Qt size and up is automatically large. Some in the 40Qt and up range can fit this too, but it depends on the overall things it comes with along with depth and much more. With this complicated notion, we like to give it that 10Qt window.
Most small coolers are not going to be higher than 40Qt anyway. Typically, you're going to be seeing anything from 6Qts to 30Qts at the max. Otherwise, you're better off going to a larger cooler. That said, we've gathered three impressive small coolers that you can check out and really enjoy.
Arctic Zone Titan Deep Freeze Rolling Cooler
We love the Arctic Zone Titan. It's almost like a backpack while it actually is a small cooler on wheels.
This cooler actually has 4 layers you can put numerous products into.
Despite being smaller, it can hold up to 100lbs of contents, which is just crazy, right? They use every single space of this cooler to work well for the customer.
The cost of this cooler depends on where you buy it, but the average is between $50 and $130.
Not to mention, you can take this thing anywhere you want. It is both stain and water-resistant, This allows you to take it camping and never worry about any issues with the elements.
The fact that it is well-priced while being a near-perfect cooler makes us love everything about it.
Igloo Marine Ultra 
This Igloo model is one that we might be cheating with. The exact model is in numerous different sizes by Igloo. This means the Ultra Cooler can be seen at sizes that very few would ever need, 200Qts or so.
Then it's in smaller amounts, such as the 28Qt model we want to discuss. Literally, everything is the same in the 28Qt compared to the big ones. The only difference with it is really just the size.
This size model comes in at a few different prices, but you can get one anywhere from $35 to $50. This is pretty reasonable.
Plus, the cooler keeps things ice-cold for a while. Ice can often last a couple of days, even in sunny 90+ weather.
Coleman Wheeled Cooler
Like the other Coleman cooler we mentioned, this cooler can become larger. They sell both a 28Qt and 48Qt version of this specific cooler by the outdoor pros at Coleman. However, again, we're going for the smaller version.
Do not let the smallness of it fool you, it can hold a lot of items in that 28qt space.
It was tested out to see its max capacity. Testers were able to fit exactly 40 cans, along with ice.
This is pretty impressive for a smaller cooler, especially with the addition of ice.
The price of this model is also pretty reasonable. Depending on where you buy it, they go anywhere from $25 to $45. We feel that this is a steal compared to what it could be.
If you're wanting our opinion, Coleman could price it higher and it would STILL be worth paying for. That is how good this cooler is. Plus, it maintains a solid 4 out of 5-star rating by reviewers.
Best Soft Coolers On Wheels
$20 to $200 Range
 Anywhere From 6Qts To 100 Qts
Some Can Hold Ice For 10 Hours, Others For 5 Days
Soft Coolers on wheels are some of the most well-liked cooler types on the market currently. It is most likely due to being cheaper than most of the other models.
They are also very easy to travel with and can often fit neatly into vehicles, whereas hard cooler versions do not bend on space. They are that size and nothing else. Soft coolers are able to sort of push in if space is present in the cooler in any way.
They are also a bit lighter because of not being like the hardcover versions. Think of it as a book. You have hardcover books and paperback. Chances are, you'll get a paperback if you're wanting something light to carry around all the time.
Meanwhile, if you're going to have something in a library, you'll likely go with the hardcover version. It is usually a bit higher in weight but the look is better.
Soft coolers are similar but yet they still look fashionable. Their cooling tech is not so much the seal they have, even though this is terrific. Rather, their claim to fame is their inner materials.
They use thermal insulation material that will keep things warm or cool, all to make sure you've got something perfect each time. They can also hold ice as long as the hardcover versions of the same sizes. That said, let's discuss a few!
Picnic at Ascot Original
The Picnic at Ascot model is one that can pretty much do it all.
It is not a massive soft cooler with wheels but it can hold 32 cans, though that is without including ice.
When we look at the inner-core of what makes this cooler so special, we have to mention the 600 denier polyester canvas. This has high-density thermal insulation to keep things cool or warm for long periods of time. It also has a heat welded lining that is proven to be leak-free.
Plus, this same inner core is also incredibly easy to clean just like the inside of a hard-version cooler of the same size.
The price of this cooler sits just under $50, but there have been some spot sales where you can find it a bit cheaper. Either way, under $50 is not a bad asking price for this type of cooler.
DALIX Thermal Insulated Trolley Bag
To most, it's a bit hard to see this DALIX model on a camping trip. It's a bit too pretty for something like that, as it looks like it could be something you take on a business trip or to the office.
However, the wheels on this bad boy are capable of handling any surface without any issues. The lining inside is a version of soft plastic. All of this is surrounded by a leak-proof thermal lining, mostly made from Polyester.
This model also has a really cool Velcro flap that can open with ease and close to seal up the coolness or warmth you want to maintain. This flap opens up for those snacker types will want to grab stuff out of the bag without opening the entire thing.
It also has a front-pocket section where you can store other items you may need. This could be things like forks, spoons, etc. Yet you could also use it for your phone or even small plates.
This item currently sells for under $75 on average.
Arctic Zone Titan Deep Freeze
Arctic Zone truly knows how to make some impressive coolers. The Titan Deep Freeze does exactly as its name suggests and keeps things frozen or cool for long periods of time.
The product works by using Arctic Zone's Deep Freeze high-performance insulation that includes a heat barrier. This barrier actually reflects the heat away from the outside rather than absorb it, thereby not taking in any extra heat.
This includes a Triple-Layer ColdBlock base, with three 3 thick layers of SuperFoam. This is designed specifically to keep all conductive heat from the ground out of the cooler. It's obviously leak-proof, like others.
It also uses Microban, which keeps out various bacterial odors and stains, thereby making it easier to clean. Thanks to Rhino-Tech, the Titan
Deep Freeze is both stain and water-resistant.
It's also puncture-resistant on top of being capable of holding up to 100lbs.
While the wheels are great, they also added a shoulder strap for those who may want to carry it.
The product is currently selling for under $60, which is among the industry standard for these types of 60 can coolers.
Cooler Wheel Kits
As mentioned previously, these cooler wheel kits are now often included with some of the coolers. However, we wanted to try and stick to the traditional concept. That is why we're only going to bring up those that are just the kit itself without the cooler added on. With that said, check these impressive cooler wheel kits out!
Camco A-Cart Kit-Transport
Camco is a great brand that is behind a lot of impressive stuff. However, their cooler wheel kits are usually well-liked. Not only are they reasonably priced but they also get the job done. This is really all we can ask from a wheel kit.
This model includes 12-inch wheels that can pretty much work on any terrain. On top of that, you get a nice, strong Polyester strap to pull the cooler with.
It's reasonably priced at just under $70 and can work on most larger style coolers.
Calcutta Universal Wheels
Calcutta is known for being innovative but we have to hand it to them with this wheel kit. It is completely universal, allowing it to work with any cooler that needs wheels on it.
The kit is easy to set up and comes with instructions to tell you how to attach it to various cooler models, both big and small. It includes two 7-inch x 4-inch tires that never go flat. Along with this is a rubber handle & rubber cushions to keep the cooler's hardware safe.
Installation takes mere minutes and you can get this cooler wheel kit for around $50. We feel this is a steal for a universal kit.
YETI Cooler With Wheels Review
It's obvious that YETI is the big name in the world of coolers. We cannot escape their greatness, whether we want to or not. As a result, it's pretty clear that we needed to bring them up on a list of camping coolers. We tracked down some of the best wheeled YETI coolers. Though all of them are a bit pricey, they are certainly terrific at their job.
We really only need to bring up one model for you to see the perfection that is YETI coolers. Let's examine it.
YETI Tundra Haul: Quite Possibly The Best Cooler With Wheels
This product has a rotomolded construction, allowing it to be pretty much armored all over and dang near indestructible. When the Apocalypse comes, you need to be in a bunker made of this cooler's armor!
This is actually YETI's very first cooler on wheels, as they tend to be big on other types of coolers. The Tundra is as tough as nails, but the insulation is out of this world amazing.

It can keep ice for around a week, depending on temperatures outside. Naturally, the Tundra is puncture and impact-resistant, allowing you to take it on camping trips without ever fearing.
The arm handle is made out of durable welded aluminum, comfortably gripped to allow you to pull or pick it up without hurting your hands. The specialized curved design tracks left or right, allowing you to have a heel-friendly towing experience.

The real sucky part is the cost of the Tundra on wheels. YETI items can sometimes be overpriced, but the Tundra can differ wildly in price from seller-to-seller. Some offer it for up to $715 while others offer it for around $329. Yet most who sell it seems to average out with a price of $400.
We weren't lying about the cost. However, with all the things this cooler provides...it very well could be worth such a cost. 
There's no doubt about it – even a small cooler can get heavy when fully loaded, especially if you have to haul it over long distaces. Wheeled coolers have become extremely popular because of their ability to make carrying your cold items much easier. They reduce the strain on your back an enable one-person carry in cases where it would normally take two.
No matter what your needs are, as far as a cooler with wheels, we're confident that one of these will suit your purpose.