Camping is a great leisure option that gives you the chance to enjoy the outdoors, primarily with all that Mother Nature has to provide. Most people choose to camp in the national park, forest, near a lake or river, in the woods and any other place to stay for a week, two weeks or less. There are also private campsite areas which are privately owned by individuals who encourage people to come and enjoy camping with them. Rural area camping can also be fun if planned properly.
There are various questions to ask as a beginner in camping. Below are the answers to common questions that most people ask before starting on camping. The ideas provided are just basic ideas of what to watch for and expect when going camping. The basics of what you will need when you go camping can be learned by merely studying your daily routine.
Where To Go Tent Camping For Beginners
There are two forms of camp areas, private and public.
Public Tent Camping
Public camping provides several areas to select from like national forests, state parks, national parks, and Bureau of Land Management public land. Most of these areas also have different campsite options to choose from, and most of them provide amenities such as potable water, showers, toilets, and garbage disposal which are very convenient for camping for beginners.
Often times there is even an electrical hookup for electricity.
You can research the best campsites on the internet, but it is always recommended to book in advance. Most of the public campgrounds are affordable to middle-income earners. They could charge you between ten dollars to twenty-five dollars for each night.
Private Tent Camping
Private campsites may or may not provide amenities, and they will usually cost you more than public campsites. These individual sites also allow a certain number of people for camping within a specific period.
There is also the option of camping in the desert or in the mountains. But, you must do enough research and consultation to find out if camping is accepted in your preferred place. In these places, there are no amenities. You will be required to carry all the needed items with you.
Required Gear For Beginner Camping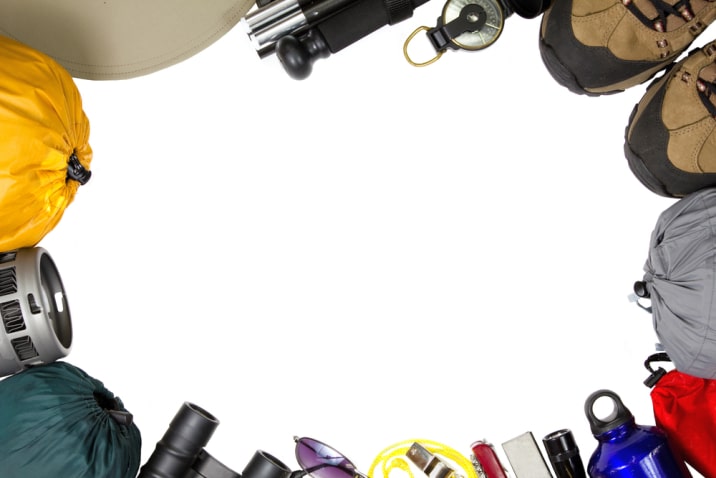 When selecting your camping gear, the type of camping you decide to do will determine in part what you will need. Are you going to cook over a campfire or had you rather use a propane burner? Is there potable water available at your campsite or will you need to carry it?
It's important to find out what is available at the place you'll be camping in order to determine exactly what will be needed.
Whether camping in a park or in the wilderness, there are basic gear requirements that you will need such as a tent, sleeping bags, a cooler, camp cookware and plates, food, and something to start a fire. Most public parks allow you to gather deadwood for fuel but you can not cut down live trees.
In a lot of campsites, there may be a small shop where you can get toiletries or other needed items you may have forgotten.
Visit our camping checklist page for a full list of items you might need before setting out on your trip.
Buying Or Renting Gear For Camping
The primary thing to consider in buying or renting your gear is the frequency of camping. If you plan to go camping regularly, it's wise to buy your gear. Most tents are usually cheap, and it's hard to justify renting if you use them frequently. If you plan to go once in a blue moon or are camping on a budget, you should at least consider renting. You will be unable to take care of the equipment properly and the outlay of money for gear for a full campsite may not be justified.
The other thing to consider is your means of transport to your camping destination. If you are traveling by vehicle, it is possible to carry all your camping gear. If for some reason you are unable to car gear, renting the equipment will be easier as you can have it delivered to your desired location.
You could also consider renting to find out which items are essential and of quality. Rent different tents to find out which ones are the best for you. You will realize some sizes you thought to be good at being too small or too big for your needs. Renting allows you to try different models before making the decision of which one to buy.
Setting Up The Campsite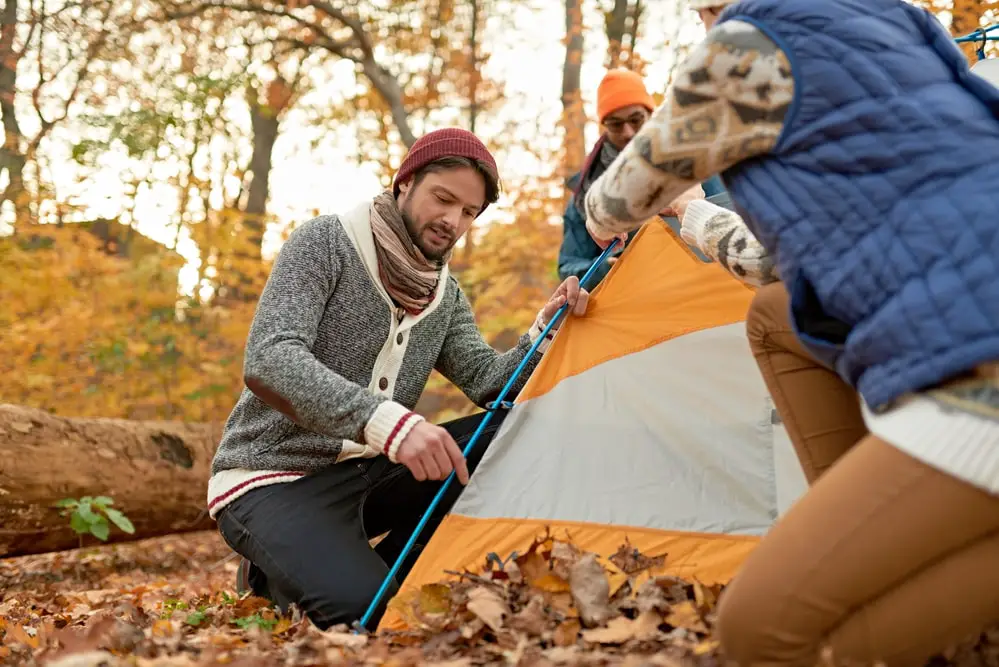 As you set up your camp, you will need to consider many things. Pitching a tent at a raised location is essential for proper water runoff, but make sure you don't pick a spot on a slope. Also, look for a shade to keep you cool throughout the day. See that you have a suitable area for building a fire and cooking your meal.
State parks usually have pads that are already set up for your campsite. They are often lined with landscaping timbers and topped with small gravel. You have to set up your tent in this area and are not allowed to deviate.
Camping Rules
If you are camping at a campsite, it's important to know the rules beforehand. Most rules are handily posted on a pamphlet you can get at check-in. Rules usually involve things like dogs being on a leash, noise, alcohol, and various other do's and don'ts pertaining to your campsite.
Not all campsites allow dogs. You'll need to find out beforehand whether or not you can bring your pet before you leave home.
Campfire Tips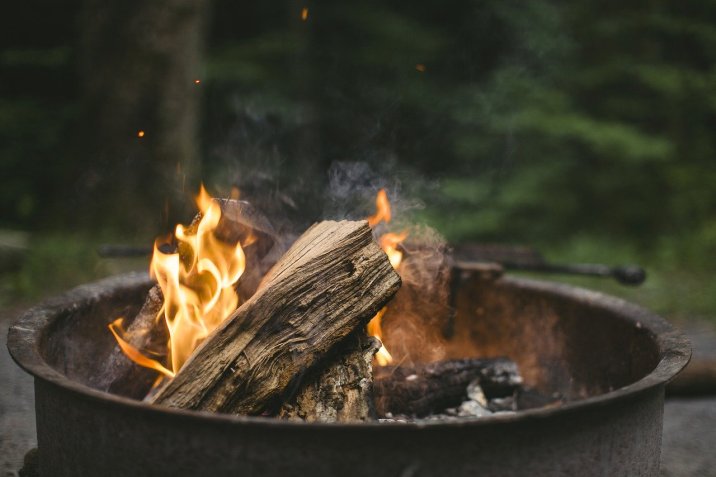 If you are building a fire, build it at least fifteen feet away from tents, clothing, sheets, and camping gear. Build a teepee fire for a small, manageable fire.  Always use dry wood. New or green wood produces a lot of unpleasant smoke.
Most campgrounds will have a designated place to build your fire, usually a fire ring. A fire ring is a circular band of steel to contain your campfire.
Make sure you have the right to collect wood and timber in the area in which you are camping. You may be required to pack your fire materials.
Never leave the fire unattended in your camp, even for a short time. Do not allow children to play with the fire, or run around the fire.
Older children may be able to help collect fuel and build a fire. This will make them feel important by contributing to managing the camp.
Just before nightfall, allow the fire to die. Push the coals toward the center and fire with your fire
Wild Animals
It's important to teach kids not to approach and not to feed wild animals, no matter how beautiful they look. Wild animals can have rabies or other diseases.
Some wild animals may approach your campsite if they smell food. The best way to avoid this is to keep foodstuffs in plastic containers and lock them in the car if possible. You can also get bear-proof containers if necessary.
Bugs
Bugs are not only a minor annoyance. They can make your trip totally miserable if you're not prepared. Mosquitoes and gnats can be particularly bothersome so be sure to have repellents on hand to combat these pests. Picking the right tent with no open gaps and zippers that go all the way down can help keep bugs out.
Weather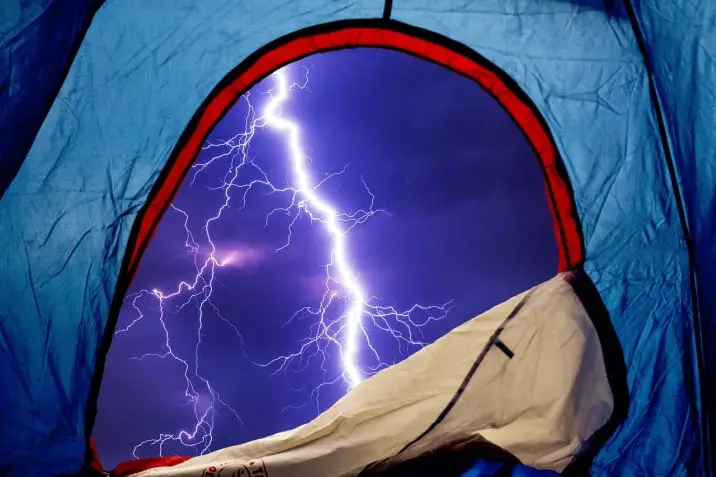 There is a difference between a storm and a rainy day. If you are equipped, a simple rainy day will not ruin your camping trip. Camping, after all, is about roughing it to some extent.
A severe storm, however, can be a different story. I can speak from experience after getting hammered by rain with winds over 30mph. The tent collapsed and everything was wet. It wasn't a fun night. We were hellbent on camping and ignored the weather report – not smart.
It's very important to know what the weather forecast is for your area. If you know bad weather is coming but your not exactly sure if it will impact you enough to warrant postponing your trip, my advice is not to risk it. At least have a backup plan so you can leave quickly and have a place to go if things get too rough.
Camping in the rain is no big deal. A storm, however, can make for a miserable camping experience.
Sleeping
At home, sleeping includes a bed, a pillow, and sheets and blankets. In camping, we use sleeping bags, pillows, and a pad or air mattress. Sleeping bags are designed to keep you extremely warm. Just how warm depends on the one that you buy as they are rated for different temperatures.
If you are camping with people you don't normally sleep in the same house with, prepare for snoring! It's gonna happen. Although they probably say the same thing about me.
Food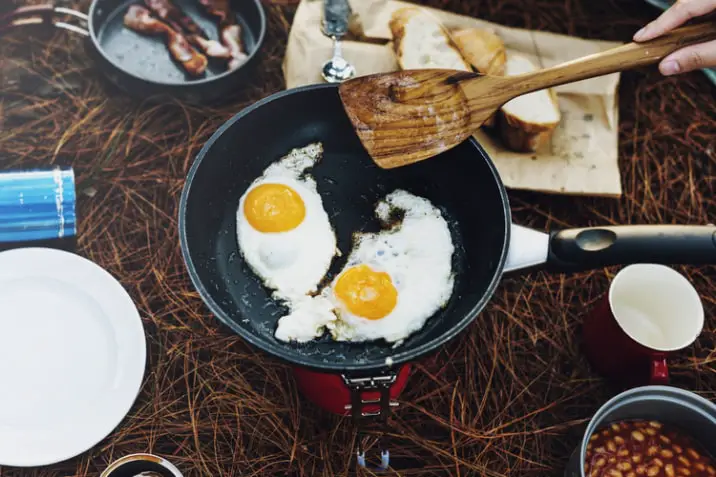 You could go with a cold meal, but I like at least my morning coffee and a hot meal in the evening.
Cooking is possible in several ways – cooking over a campfire, with a grill, or with propane.
Cooking over a campfire can be fun, but it can also be more trouble. You can cook with skewers over the fire or by wrapping your food in tinfoil and burying it under the hot coals.
Most parks have a grill for your use at every campsite. All you have to do is supply the charcoal and food. If you're camping where there is no grill, you can bring a small portable hibachi type grill.
Cooking with propane can be much easier but requires more equipment. At a minimum, you'll need a bottle of propane and a burner that screws onto the top. You can get more elaborate by purchasing a camping stove to allow you to cook more food at once.
You'll need a cooler to store drinks and perishable food items such as bacon, eggs, sandwich meat, milk, or whatever your meal plan involves.
Healthy snacks such as fruit and granola bars are quick and easy when it's not the time for a heavy meal.
Clothing
Camping is not the time to worry about fashion and style. Comfort is the number one priority here. Be sure you are wearing comfortable, durable clothing.
Dress appropriately for the temperature and your activities. I find that I almost always need fewer changes of clothes than I pack, but pack extra anyway in the event you get caught in rain or get muddy. You may simply want to briefly escape the campfire smell in your clothes before going to bed.
Bathing
If you are camping at a campsite, a bathhouse is usually available. Be prepared to walk to reach these. But don't shorten the stride by taking that campsite right next to the facilities. You won't like the extra noise with all the people going in and out.
Just wear flip flops or Crocs to the bathhouse and simply carry a towel and your change of clothes.
Bathing with dispersed camping without a bathhouse can be more challenging. You may want to consider wet wipes to just wipe down every evening. Honestly, I have been on many weekend trips without bathing and survived.
Cleanup
It's important to leave the campsite as close to the condition it was in when you found it when you decide to depart. Every camper should be environmentally conscious and leave the area as pristine as possible. All parks will have a dumpster or dumpsters in designated areas to toss your trash. You'll want to make sure any campfires are fully extinguished as well.
Conclusion
Well, now you have some general ideas about tent camping and what you will need. This, however, was just a general overview. Check out other posts about tent camping on this site for more detailed information. It will make your adventure a lot more fun if you are adequately prepared and equipped.