When it comes to tent camping, food is not always the easiest thing to organize. You don't have the facilities to keep fresh food refrigerated, and carrying a cooler bag is probably one more weight on your back that you could do without. This is why canned food is a long-standing necessity for camping, but it often gets a bad rep for lacking flavor and texture. This article is here to prove that canned food is still one of the best options for campers, and there's so much you can do with it to create tasty and wholesome meals for breakfast, lunch, and dinner.
The Benefits Of Canned Food
Canned food has long been a non-perishable staple with all kinds of campers, from tent campers to those with an RV. However, with so many new shelf-stable products available on the market these days, you might be wondering why most campers are still opting for canned goods.
One of the main reasons why canned foods are still the camping go-to is that they are far more rodent-proof than their other shelf-stable counterparts. Many of the other plastic and cardboard-packed products available on the market are very easy for pests to get into, which can leave you with no dinner if you're not careful! Furthermore, cans are exceptionally easy to dispose of after use – simply remove their labels, open the lid and place directly in your campfire.
There's a massive variety of canned food available, and with a little planning ahead you can easily make a plethora of hearty meals without any refrigerated ingredients.
Best Canned Foods For Camping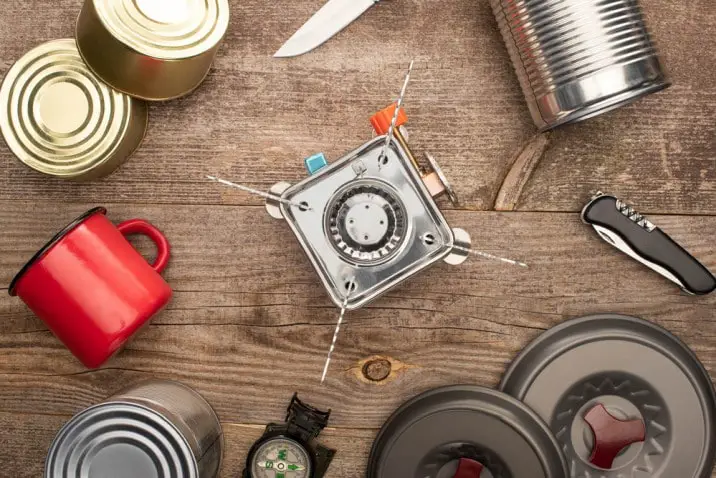 Canned foods are often a camping essential as they require no refrigeration, and many of them can also be eaten cold with minimal preparation. This makes your camping trip much easier and you can spend more time exploring and enjoying your surroundings.
Canned foods can sometimes get a bad reputation for being bland and lacking nutrition, but this list of the top 10 canned foods to pack for a camping trip should show you that you can get everything from fruit and veg to all-day breakfasts in a can. All of the items on this list are exceptionally versatile, which makes them perfect for a satisfying breakfast, lunch, or dinner wherever you may be camped out.
Fruit
Canned fruit is a quick and easy solution for breakfasts, snacks, and a healthy dessert option in the evenings. No refrigeration necessary, and no cutting or prep – you can just open the can and dig right in! Canned fruit is available in a wide range of varieties, grapefruit is always popular for breakfasts and canned peaches can be used to make traditional camping desserts such as peach cobbler.
Vegetables
Veggies are an essential part of many different camping meals, and luckily there are lots of different vegetables available in cans. Canned new potatoes can be served with a canned meat or stew for a quick, easy and satisfying dinner. Green beans, corn, peas, and carrots are also good options, and they're often all available in one mixed can which can be especially convenient for trips where you're packing light.
Chicken
Canned meats can be hit or miss, and although SPAM is a traditional camp staple – it's certainly not for everyone! However, canned chicken is one canned meat that can be really delicious, and it makes for a quick and convenient lunch when served on bread, in wraps, and tossed into salads. Not only can you get plain canned chicken, you can also get it in a variety of sauces and seasonings that go great with rice or pasta.
Tuna
Cans of tuna are a popular camping go-to as they require no refrigeration and no cooking. In fact, you can easily toss it into wraps, sandwiches, and salads for a tasty and nutritious protein fix. However, if you do happen to have something to cook with or you get a chance to prepare a few bits before your trip – canned tuna is also delicious when added to pasta or rice for a warm or cold carb-packed salad. Canned tuna comes plain or in a variety of seasonings, the one that is already mixed with mayonnaise is ideal for no-prep sandwich fillings!
Salmon
If you're not keen on the taste of tuna, canned salmon is a tasty alternative that is just as nutritious and satisfying. It's highly versatile as it requires no cooking, which makes it a great option for throwing on morning bagels, tossing into grainy salads, or if you do happen to have a heat source and pan – salmon patties are a breeze to make and a popular camping staple, no prep required as the salmon is already shredded.
Cured ham
Breakfast, lunch, or dinner – cured ham might be an acquired taste, but if you like it then you'll know just how versatile it can be. Many campers recommend adding cured ham to their morning breakfast sandwich with egg and cheese (doesn't that sound like a delicious start to the day?!), while other campers have recommended serving it alongside a cold potato salad for dinner. There's a lot you can do with canned cured ham and it's fun to experiment and find out how you like to eat it!
Chili
Chili is a classic crowd-pleaser (whether you're camping or not) and although a lot of campers like to make their own at home beforehand, it isn't always an option and most store-bought cans of chili are just as hearty and delicious anyway. If you're camping with family or friends, there aren't many people out there who would complain about tucking into a generous helping of warming chili at the end of a long day. If you've got the packing space, you can even add some jarred jalapenos for a little extra spice. Whether you eat it on its own or serve it with rice, potatoes, or crusty bread – there's no doubt that this is a winning meal.
Beans and sausages
Baked beans are a well-established canned camping food staple, and no camp food line-up is complete without a few tins. However, when you're making the most of the space and weight you can carry, it's wise to take cans that cram as many different foods and nutrients into them as possible. Canned beans and sausages are essentially a meal in a can, and they even offer different variations such as beans and burgers and all-day breakfast. If you don't have any cooking facilities and want to avoid sausages, there's plenty of different canned beans available that can be eaten cold (such as three-bean salad).
Stewed steak
This is a canned food delicacy all over the world, offering tender slices of steak that have been stewed in warming, flavorful gravy. If you're camping on a cold night, there's nothing more pleasing and nostalgic than indulging in a bowl of canned beef stew that's been warmed over the fire. This is a great meal as it is far more substantial than soup, but equally as warming. This camping meal really doesn't taste like it came out of a can either, and it tastes great with rice, potatoes, or french bread.
Canned pasta
When it comes to a quick refuel after a long hike or a much-needed burst of energy at lunchtime – you really can't beat pasta. Lots of campers like to pack dry pasta that they can boil over the fire while others like to prepare some beforehand, however, canned pasta options such as spaghetti in tomato sauce are just as effective and can even be eaten cold.
Simple Meal Ideas For Camping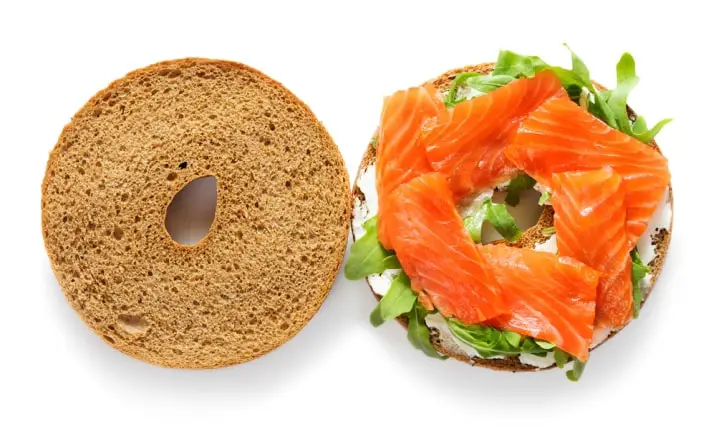 (Require no refrigeration or cooking)
Whether you simply do not have the equipment and facilities to cook, or you'd rather spend more time exploring and enjoying the outdoors – these simple no-cook camping meal ideas will make sure you're satisfied and energized throughout your trip. These meal ideas also do not require refrigeration, so you can just take the food out of your supplies and indulge in a hearty meal with minimal preparation.
Breakfast
Beans and crusty bread
Eating cold beans on toast might seem like a bizarre idea at first, but British people (and millions of campers) have been doing it for decades! Believe it or not, baked beans are completely fine to eat straight out of the can without any prep – and when served with a large hunk of crusty bread out amongst nature, it won't taste too dissimilar to a classic beans on toast dish. Beans are a really effective source of energy, so you'll be rearing to go once you've wolfed it down!
Nutty granola with fruit
Granola is a store cupboard food that doesn't require any refrigeration, which makes it easy and convenient to pack for a camping trip. The nutty kind is best for slow-release energy that will keep you going throughout the morning, and it adds a delightful crunch to this simple morning dish. Combine a large handful of your nutty granola with your chosen type of canned fruit (grapefruit is perfect in the mornings) and you'll be onto a winning camp breakfast combination. You can also snack on the granola throughout the day like trail mix.
Salmon bagels
Canned salmon typically comes in handy flakes, which means you won't need to go to the effort to prepare it in the morning. Bagels don't require refrigeration and their round, semi-flat shape means that they are easy to pack for a camping trip, so combining them with tasty canned salmon makes for a delicious and surprisingly hassle-free breakfast option. Butter is one of those foods that we tend to refrigerate, but doesn't actually require refrigeration at all as long as it's not kept in direct heat – so feel free to pack a few cubes of butter to spread on your bagel.
Lunch
Sandwich wraps
Our list of the top 10 canned foods included several that make fantastic fillings for sandwich wraps, such as canned shredded chicken, cured ham, and salmon. You can toss these in a tortilla with a selection of vegetables that don't require refrigeration (such as cucumber, carrot, celery, tomato, and even avocado!). If you're feeling extravagant you can also add a non-refrigerated spread such as nut butters, chutney, jam, or marmite.
Tuna salad sandwich
Shredded tuna mixed with mayonnaise and seasoning makes for a delicious sandwich filling, however, when made from scratch or bought fresh it tends to spoil very quickly. Luckily, canned tuna is usually available pre-mixed with mayonnaise so you can enjoy it without refrigeration or cooking. Spread it straight out of the can onto a thick slice of bread, and garnish with refreshing cucumber for a quick, easy, and classic lunchtime dish.
Three-bean salad with cold hot dogs
Canned hotdogs are typically pre-cooked or smoked (although it is vital that you check this on the packaging beforehand!), which means you can enjoy them cold without any risk to your health! They taste great when paired with a three-bean salad straight out of a can, and you can even season with a little hot sauce if you've managed to bring some along!
Dinner
Cold taco bowls
Taco bowls are a dinner-time favorite whether camping or not, but who knew you could make them cold with non-refrigerated ingredients?! All you'll need is a can of three-bean salad in tomato sauce, your choice of cured ham or shredded chicken, hot sauce, an avocado, and tortilla chips. All of these ingredients can be thrown together within minutes and enjoyed cold.
Cold meat salad platter
An array of cold meats, crackers, veggies, spreads, and fruit – this dinner idea has everything you need to feel satisfied at the end of a long day. You can create this meal just with cured ham, or up the indulgence and serve with a range of different canned meats and fish such as chicken and salmon. Pair your meats with non-refrigerated fresh veggies such as cucumbers, red onion, celery, and carrot, or crack open a tin of pre-cooked vegetables such as runner beans or mushrooms. We also like to serve this one with fruit, such as grapes or canned citrus fruits.
Ham and potato salad sandwiches
This is a traditional camping dish that can be pulled together easily with a couple of tins and a few slices of bread. The potato salad can be made easily without mayonnaise, simply combine canned potatoes with yellow mustard, sweet relish, miracle whip, celery, and red onion for an impressive no-cook side to cured ham. Serve on bread to properly honor the camping tradition.
Hopefully, this article helped you find out a bit more about why canned foods are such a good option for tent camping, and you now have plenty of ideas for what to take and dishes to make on your next adventure!