When you're out camping, it can get dark on you really fast. Whether you're at the campsite or on a hike, fishing, etc. there is a need to keep an eye on things. However, you never know what will happen and need to be prepared for anything. This is why having one of the best flashlights for camping is so important.
When it comes down to it, flashlights can be a huge asset for multiple reasons. First, you obviously have a light itself that will illuminate when you need it the most. Second, while tactical lights are made for protection use, the best flashlights for camping are also capable of this.
It's true, as they are often made to be incredibly durable. Therefore, they could act as a blunt instrument or object to use on possible predators or even people if needed. On top of this, if you get desperate for fire, the light bulbs and everything in between can work for fire-making purposes.
You're also able to use flashlights for numerous other things, but the fact remains that the most important use is as a source of light. Speaking to this, there are a lot of important things you need to consider before buying a new flashlight. Let's go over that now!
Lumens
A lot of people see the word "lumen" when looking over flashlights. However, it is possible that many people are not aware of what lumens are or do not properly understand them. It is far more than just a random word used for measurement.
Essentially, lumens measure the total amount of light from a light source such as a lamp or flashlight, that is actually visible to the human eye. The higher the lumens, the "brighter" the light source can or will get.
Of course, "lumens" as a term comes from the word luminosity. It's part of the SI Derived Unit System, invented for science to properly measure the luminous flux of any light source possible to measure.
For the science nerds out there, it relates to the "Lux" measurement. Officially, 1 lux is equal to 1 lumen per square meter. When it comes down to how it measures alongside Candela & Steradians…these are often used to determine the level of Lumens in conversion.
For example:
[callout]
1 cd × 4π sr = 4π cd⋅sr ≈ 12.57 lumens
[/callout]
Why Does Lumen Count Matter?
Officially, it does not entirely matter. Most will come with enough light for you to do what you need. However, when it comes to camping, you want to have something reliable that can shine in a large surface area.
For example, if a light measures out at 1,000 lumens, it's going to be pretty good. It will shine over a good bit before dimming out on the sides. The more lumens you have, the more area it will cover without dimming.
When camping, this is important to have at a good rate as you'll often need a good amount of light in a given surface area. To keep a solid track of how big an area your lumens cover, simply consider the surface area first.
Let's say we need something to cover 150 square feet. We want to know if our 1,000 lumens will cover any of this. Therefore, we'll simply divide 1,000 by 150, which will equal exactly 6.6 Lumens per square feet.
The recommended amount of light you need to see in the best form is at least 10 to 20 lumens, which means the brightest of the 1,000 lumens will be 100 square feet and under. After this, the strength of the lumens per square foot will start to fade or dim.
Yet at 1,000 lumens, you're likely good in brightness or light for the most part until you reach 200 square feet. In which case, you'll get very dim lighting or none at all. The distance, as in how far away from you the light will go, simply switches from feet to meters most of the time.
This pretty much has to do with the differences between width and height. Distance, as long as nothing is blocking, offers a straight path of light. Whereas width covers a surface area around you. Therefore, it ends up being a bit different.
That is why lumen count matters and why the measurement of it is incredibly important.
Batteries For Flashlights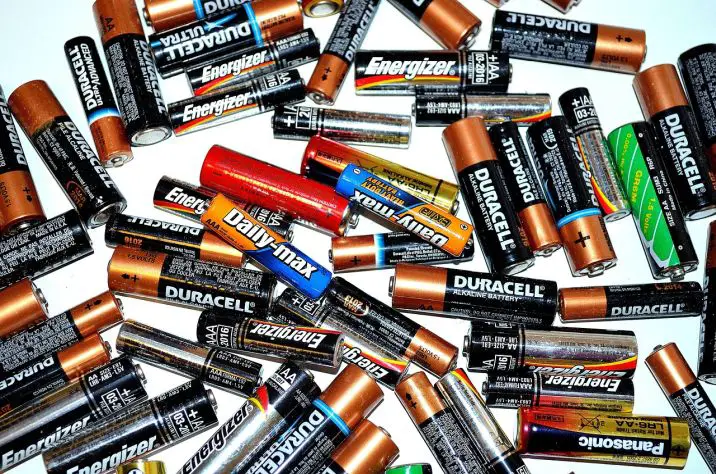 When it comes to the batteries you'll want to consider,  the best flashlights for camping all differ seemingly. What we mean is, there are different battery types that they might use. Of course, you'll likely want to keep a track on which is which. Let's just go over the top three:
Alkaline
Lithium-Ion
Company Specific
We should say from the top that it's pretty obvious that the best batteries within these types to get are the rechargeable type. All are sold isolated with one use formats but they all also have rechargeable versions. They might be more expensive (and they're still cheap), but they are certainly worth it.
Alkaline batteries are the most basic that you see sold all over the place. Your standard Energizer batteries that are relatively cheap. They work pretty well but you get them in a pack of several because they do not last as long as they try to make you assume.
For products that use up a lot of energy, these batteries won't last long.
Lithium-Ion batteries, however, can hold up well with these higher energy products. Flashlights, for example, can use up a lot of energy depending on how often you use them. That is why these batteries are the most recommended or the ones you're forced to use.
Company-specific batteries are those made just for that product. These will actually be better most of the time for the product, as they were literally made alongside the company's products and often used in them. They're also used in the testing process for the company's products too.
Therefore, the products will often be equipped to work at the capacity that the batteries are capable of. This pretty much means you're better off with these rather than switching. In fact, some of the products we found below might use special batteries like that. Either that or other products from those companies will.
​Best Flashlights For Camping
Lumens: 1,200
Extra Features:

Aircraft Aluminum Housing, 5 Modes, Waterproof (IPX-65), Heat Protection, Telescope Light Focus
We always feel it's good to start with the best, in our opinion, for the money. We feel that the 1TAC TC1200 is clearly one of the best flashlights for camping on the market, but perhaps it could be THE best. Let us explain why.
You can already see some of the amazing features that the flashlight has. Before we dive into how durable it is, you should look at all this thing is capable of.
Heat Protection is obviously useful, as it avoids burning your hand(s) when using it for extended periods. Being waterproof up to the standard IPX-65 rate is also terrific. This will allow you to use it in the rain and dropping it into a puddle won't affect it.
It's also anti-roll and slip-resistant, allowing you to keep a tight grip regardless of the weather. It is also digitally regulated, allowing it to remain at the exact brightness it begins at the entire lifetime of the battery.
By the way, this flashlight uses either 3 AAA batteries or just 1 Lithium-Ion battery. Truly, it just depends on what you'd prefer. The Lithium-Ion batteries will often come in rechargeable forms.
The actual lamp part of the flashlight was truly built to last. Barring any random breaking you do to it, the lamp will last up to 100,000 hours. Oh yeah, and it's made with the same aluminum that airplanes use. Therefore, you could say it's incredibly durable.
If none of this sold you yet, the flashlight also uses LED Emitters made with Cree's XML2 version. This allows 1TAC TC1200 to also have more control over its light. Remember the light focus we referred to above? Due to the people at Cree, your light can be zoomed in and out from 1x to 2,000x!
We're not saying this has never been done, but we can tell you it has not been for the price asked. Of course, these lights were meant for bulk buy. That is why they offer 3 flashlights, 2 flashlights, and 1 flashlight at different price points.
For 3 flashlights, you'll pay $30 for each unit. For 2 flashlights, you'll pay $40 for each unit. However, for one, you'll pay around $60. This is due to the 1TAC corporation deciding to cut the cost down from $150 to $250 normal value to these lower amounts.
In fact, they even offer 10 flashlights at just $240. That averages out to $24 per unit, a savings of nearly $40 per flashlight to buy bulk. That means this could be a perfect gift for the guys at Christmas or even for a bulk present that you can give on Father's Day! It's truly up to you.
Fenix PD35 Tac Tactical Editio​n Flashlight
Lumens: 1,000
Extra Features:

Waterproof (IPX-8), 5 Light Modes
Fenix is a well-known brand that makes some incredible flashlights. In fact, while known for their tactical flashlights, they also make some of the best flashlights for camping on the planet. Yet sometimes, this has a bit of crossover.
What we mean is that Fenix makes some tactical flashlights that are incredible for camping. One of these is the Fenix PD35, which has all the features of just an okay tactical flashlight while being a terrific camping flashlight.
It's essentially a pocket-size flashlight, which allows you to take it pretty much anywhere. Due to this size, it also doesn't weigh much at all. It's basically just 3.1 oz without counting the batteries, which does not add much weight. It's roughly 5.4 inches long too!
It surpasses the traditional Fenix PD35 in every single way, especially in overall performance. It was made for military officials and law enforcement, yet due to the size and strength, it's hard to see how it could not be useful to hikers and campers all over.
As mentioned when it comes to lumen strength, the power and brightness of the light go only so far. Since this light only goes up to 1,000 lumens, it can put lighting of some kind up to 200 square feet. However, distance-wise, it will go up to 200 meters. See above to understand this more.
There are 5 modes to the flashlight, which are as follows: Eco, Low, Medium, High, and Turbo. Of course, the number of lumens used will differ based on which mode you have it in. Eco will use the lowest while, of course, Turbo uses the most.
Each is a literal click away to get to, making it easy to jump to when it's needed the most. There is also a technical 6th Mode, which is a rear-switch operation that is pretty much used only for emergencies or when you need to get someone's attention in an obvious way.
What happens is that the operation switches from Turbo to Low, then in Strobe. This will be helpful for those that might be lost.
While it comes with a holder and strap, it does not come with the batteries needed to use for it. It uses two CR123A batteries or just one 18650 Lithium-Ion battery. The ones available for it are rechargeable, making it worth the extra to purchase them separately.
On top of this, the flashlight has a limited lifetime warranty!
Lumens: 800 to 850
Extra Features:

C4 LED Tech, 3 Modes, Dual-Fuel Charging
Streamlight is yet another company known for making some great flashlights. This is why we couldn't imagine leaving them off our list of the best flashlights for camping as they have several. Yet the version we listed above, the ProTac, might be one of the best.
Especially for the price. That currently drifts a bit depending on the version you buy, by the way. That is why we listed the price at such a wide margin.
It uses a Dual-Fuel Charging system. This basically means that it uses batteries that are usually rechargeable, and it also uses a USB connection to charge from your computer or outlet that supports such power.
This flashlight uses anti-roll tech, which will prevent it from just rolling away on you. Trust us when we say that this can be incredibly useful. If that was not cool enough for you, the flashlight also has a multi-function, push-button tail switch. This allows you to just use one hand to switch between the three modes Streamlight uses for the ProTac.
The lamp inside has a guaranteed dual 100,000 hour lifetime. It also uses incredible, high-intensity LED solid-state bulbs. Therefore, the fact that it can last so long using this tech is incredible on its own.
Overall, we're also guaranteed that it can run 750 continuous hours. Meanwhile, it could offer thousands of momentary bursts of light.
It comes with a helpful water-resistant sliding meta sleeve, which does very well at protecting the USB port. It also will come with a removable pocket clip and nylon holster.
Lumens: 1,000
Extra Features:

5 Modes, Rechargeable Built-In Battery, Real-Time Information
Nitecore is well-known, like some of the others on this list, for making great flashlights. Except Nitecore can get very creative with their products. That is how we were able to get the Nitecore TUP. To us, it is one of the best flashlights for camping on the market today.
You'll love using it just simply due to all it can do alone!
One thing most people will see right off is that it has what essentially looks like a display to tell you pretty much everything the light is doing or can do. This display is digital, allowing you to switch through things without an issue.
It displays things like your Brightness Level, Battery or Voltage Usage, User Mode, and even tells you the Runtime Remaining. The latter is what will tell you how long the internal (yes we said internal) battery has left before it needs to be recharged.
Of course, the battery itself once charged will last up to 70 hours on average.
What you have available to you on the display is pretty cool, but there is even more to love. It includes 2 lockout modes, which prevents a flashlight randomly or accidentally turning on in your pocket or backpack. This only goes to help the battery more.
In all, there are 5 Modes for brightness. This includes ULTRALOW, LOW, MID, HIGH, & TURBO. It is easy to navigate between each version too, as it takes pretty much clicking on the display buttons to do so.
The lowest setting uses around 1 Lumen, while the next uses 5 Lumens. However, it'll go from the low settings that use pretty much no battery at all to the Turbo mode that can use up a good bit. The highest Lumen output for the Nitecore TUP is 1,000 Lumens.
Overall, it is not hard to see why people love it so much. Nitecore also made it to be tough and durable, so you'll never have to worry about it randomly breaking on you. Well, unless you do something over the top crazy to it, that is.
It is certainly one of the best flashlights for camping that you'll come across. It is also Nitecore here, a company known for its quality. Clearly, also known for their uniqueness.
5.11 Response CR1 Rechargeable Tactical Flashlight
Lumens: 550
Extra Features:

3 Modes, Rechargeable, IPX-4 Water Resistant, Impact Resistant
5.11 Tactical makes some of the best tactical gear around. From clothing to tools and even some weapons, they have everything a man or woman needs to be prepared for anything. Of course, one also must be prepared with a light source close by too, right?
This is why 5.11 Tactical invented the Response CR1 Rechargeable Tactical Flashlight. While you will notice it says "tactical" quite often, we should also note that it is well-liked by campers and hikers, even some climbers. That makes is one of the best flashlights for camping you'll find.
It is also made to be incredibly durable. It has been scored at IPX-4 Water Resistant while also being scored to be considered "impact-resistant" too. The Cree XP-L2 LED light can withstand pretty much anything it seems,