One of the most important things you can ever take with you when you head out to camp is a knife. Not just your run-of-the-mill everyday carry knife. Regardless of what you choose to call it, whether it's a camping knife, backpacking knife, or something else…you truly need one. The reasons for this should be obvious. Not only do they work as an excellent protector but they also can help you survive if something horrific goes down.
Knives are made to cut, so having something that can help you cut down small trees or limbs can be essential. They're also good for cutting lines, helping you shape entire camping areas and much more.
On top of this, you'll need them for killing any animal that you will likely need to hunt. Even if you use something else to trap an animal or hurt it enough to keep it from moving, the knife will finish the job. It's honestly the fasted and most humane way to handle this sort of thing if we're being honest.
Due to the multiple uses a knife provides, it seems pretty obvious that carrying one with you when you go out to camp or backpack around is a good idea. The question for most is, what is the best knife or types of knives to carry with you?
Of course, you do not want to buy anything that is made cheap. Rather, you want something that can work without randomly breaking or bending on you. Since this can all be difficult to know, we decided to put a list of the best together to help. All the knives we highlight are among the best in the industry, so we're sure you'll love them! But before we show you those impressive knives, we need to highlight important needs for a knife.
Buyer's Guide – What To Look For In A Good Knife

It's important that you buy the best possible knife at the best possible price. However, a lot of people tend to look at price as the most important part of the knife. This is not only insane but it often results in a person buying a cheap knife that breaks easily or cannot do much of anything. Since we are looking for the best backpacking and camping knives, there are specifics we need to look for in these knives. Let's highlight them.
The Tang:
This is, for those unaware, the handle of the knife. Ultimately, tangs are forgotten or ignored. They tend to be fashionable in many knives but you do not need to care about fashion here. You need one that works. The best tangs will be those that can hold up well in both warm and cold environments.
More importantly, you need one that won't slip out of your hand easily. That means a tang needs to essentially be waterproof or water-resistant. This is commonly ignored for fashion and results in people taking knives outdoors where they deal with slipping issues. Not only could this cause you to cut yourself but it could cause you to stab someone else by accident.
You also want to look for a tang that won't be damaged much in the sun with long-term exposure. You want to find something rustproof but this is not very common in knife tangs. The best thing you can do is find those with materials that are certain to keep the handle safe and capable of gripping well.
A lot of handles will be made from things like Titanium, Carbon Fiber, Bone, Mother of Pearl, Aluminum, Leather, Wood, and Garolite(G10), to name a few.
Among them, each is truly perfect for different situations. People love Carbon Fiber and Leather due to being able to stand up to any weather issues. Yet the toughness of Titanium and Bone cannot be overlooked. Meanwhile, the numerous uses of Garolite are insane. However, the fashionable yet durable Mother of Pearl and Wood handles should not be forgotten about either.
Truly, the one you pick will need to be based completely on how you plan to use the knife the most.
Folding Vs Fixed:
There is nothing wrong with a great fixed blade knife. This is the type of knife that you need a sheath to hold it in. It will remain in the same form the entire time. Yet a folding knife is the most common people see today. These are the knives that, as the name suggests, fold the blade into the handling area.
For the world of camping or backpacking, while fixed blades can be useful, they are not the best to have. You are going to be moving a lot most likely, and a sheath can always be lost, damaged, or stolen. Thus, you can easily have a very dangerous pointy object around that can be easy to injure yourself or someone you love with. Folding knives can be stored on belts, in your pocket, in a backpack, etc.
Clearly, the folding knife is best in this environment. Thus, you may want to leave the dagger at home, with the 18th Century Pirates.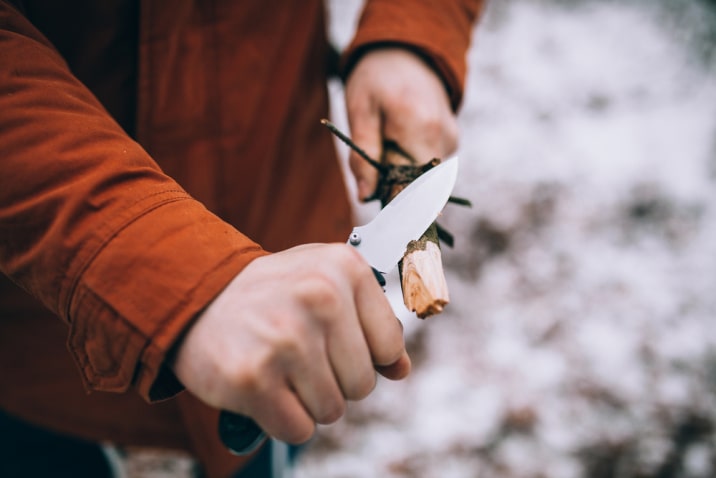 Knife Steel:
The type of material your actual knife happens to be is incredibly important. You want something that will be durable and not have any problems regardless of the environment you put it in. It can be hard to find the best types of steel, so we wanted to highlight the ones that are the best and the most common while also steering you clear from the crappy types. This is only referring to their use in camping or backpacking, of course.
The best all-around knife steel is known as Bohler M390. There are not a lot of affordable major knives in this field that use this type of steel, but there are some. Thus, if you ever see one, be sure to buy it. It is considered "Premium Steel" for a reason. There are other Premium Steels to keep your eye out for such as the Elmax, CTS-204P, CPM-20CV, and CPM-S90V.
The most common affordable steel options for this field will be things like the CPM-154, CPM-3V, CPM-4V, CPM S30V, CPM-S35VN, CTS-XHP, and the LC200N.
Knife Metal Overall:
Of course, there are many blades that have steel but a lot of places highlight other properties in a knife. You'll see some random but common things in several, so we wanted to alert you to that. You'll often see Cobalt, Tungsten, Vanadium, Chromium, Manganese, Iron, and Carbon. The latter of which is very popular and due to being cheap to add to blades, it's common in several knives.
Carbon Steel is really big ultimately because makers seem to be able to do a lot with it. However, this along with Stainless Steel tend to be the big players in the steel industry. This is what the "C" and "S" tend to mean in some of the earlier steel we highlighted above.
Stainless Steel seems to be the most recommended because it does not corrode or have any issue with keeping properties on it. It too is carbon-based with added contents to help it. The word "stainless" is important to remember here. However, this makes the two differ. They also do not often rust very easily, even when left in the elements for a while. It truly takes them a long time to have any issues.
Hardness can be important. The steel which best possesses this trait is known as ZDP=189, which is not common for a lot of knives. Those underneath it tend to be more common. Hardness can be important, but you don't need the hardest possible steel for backpacking and camping.
The sharpest knives are debated by many but everyone tends to agree that the sharpest material is the Obsidian type. There are some knives in our world that use this type of blade, but it can be more expensive than others. Surgeons even use Obsidian at times, if that tells you how sharp they are. Yet for those in the world we're in, you can see several sharp knives made with other materials. Steel seems to be the most common, of course.
We will be all over the map with the steel or metal we show you in the knives we like best. We'll be sure to highlight this in each one too!
Our Best Knife Picks
| | | | |
| --- | --- | --- | --- |
| | | | |
| | | | |
| | | | |
| | | | |
| | | | |
| Gerber Propel Downrange AO | | | |
HOMEFRONT™
Columbia River Knife & Tool (CRKT)

6061 Aluminum Handling

AUS 8 Blade Steel
The CRKT HOMEFRONT is a brilliant knife. The people at CRKT actually work with people from all over the world, using knives made by some of the industry's best AND those who are just now getting started. They have a program where you can send them your idea and they'll help to make it a reality. This particular knife was invented by blade master, Ken Onion.
Ken is a Hall of Famer in the world of blades, so you know his work will be terrific. The team uses the AUS 8 Steel Blade for this knife. While it is not the best steel on the planet, it is perfect for the things people need in a good camping knife. It can handle just about every task asked of it, with some specialties in this version regarding fishing and other small tasks.
The design is under the newer "field strip" designs by CRKT, which is as it sounds. You can literally take this knife completely apart if you want to do so, which is really useful. It's especially a great concept for survival situations if you need to make your knife into a spear or something like this. It'll also be useful when trying to clean it.
In addition to the blade they used, they also added a handle mostly made of 6061 Aluminum handling. 
Of course, this is a folding knife and it uses a linear lock system, helping you easily access the knife when you want to and keeping it safely away until that point.
They make other various types of the HOMEFRONT line, but this is the main version. When you look for it, be sure to remember that.
Also, due to being a Columbia River Knife & Tool product, it comes with their impressive Lifetime Warranty.
CQC-6K D2

Kershaw (designed by Emerson)
410 Stainless Handling
D2 Steel Blade
When going over some of the best steel above, we did not cover D2 types but they are absolutely amazing. This steel is notable for its hardness and capability to withstand numerous uses. This blade is also stonewashed with a satin finish, making it look slick while also being tough as nails.
While this is certainly a Kershaw camping knife, the actual design of it was all Emerson. These masters of the blade have designed a lot of top-notch knives that you'd likely love.
This is a folding knife, but they did not just randomly give you a tough blade and some random crappy fold system. When you fold it up, the handling is protected by terrific 410 stainless steel with a bead-blasted finish.
It is also possible to clip to your pocket, belt, or whatever you prefer. Yet this pocket-clip is actually reversible, allowing you to wear it numerous ways. A lanyard hole is even added in just to offer a terrific extra feature.
In addition to all of this, it's a manual open knife that has an amazing thumb disk. This is also designed with their patented Wave Shaped Feature® that is absolutely awesome!
Some do not care for the manual open type, which is a bit old school. However, this is a design that ensures safety when opening it. On top of this, you get a terrific help with all of this from Emerson's thumb disk.
It is a low weight knife overall that can be stored in numerous places. Despite how small it might be, due to its toughness, you can do just about anything with it that you want. It suits several needs.
496 Vector™
Benchmade
G10 Handling
CPM-20CV Steel Blade
The Benchmade 496 Vector is a tremendous knife that uses a premium blade, this version of blade steel is the CPM-20CV. This is one of the main reasons why the price is a bit higher, yet this also has to do with where an item is made. 
Benchmade makes most of its products in the United States. Due to this, products can sometimes be higher priced due to offering proper wages to the people who make the products.
While all of this can bring the price up, it's well worth it and you'd be supporting the brilliant knifemakers in the United States as well.
In addition to their premium blade, the handle on the 496 Vector uses G10 material. This material allows for the handle to be in extremely warm and cold temperatures without being affected drastically.
This type of handle is actually tested to be able to withstand temperatures up to 180 degrees Celcius. In Fahrenheit, that is a temp of 356 degrees!!
It is quite unlikely that your handle will be put in an oven or ever experience this temperature outdoors. However, the main reason it is helpful is that people outdoors may use their knife near a fire or drop it in one. Temperatures there can reach 300 degrees or more, so that means you can use this knife for far more activities without fearing its safety.
A Benchmade backpacking or camping knife will always be a good choice for people to make. Therefore, we always recommend them.
Vulcan
SOG
Glass-Reinforced Nylon Handle
SAN MAI VG-10 Blade
SOG truly outdid themselves when they put together the Vulcan line. While the company is always great, they decided to use a premium blade while still keeping the price in an affordable range.
There is nothing about this knife that can be hated and it's likely worth far more than they are asking for it, especially due to the blade.
This blade is made from SAN MAI VG-1o. This is a type made by the Japanese and likely the last major premium type they will make for quite a while. It is similar to the base VG-10 blade, which is known for its hardness.
Among the hardest steel types you can use, this is possibly the second only behind the ZDP=189. Of course, that model is THE hardest steel we use in knives today, so it's not a bad thing to be only behind that type.
The added portion of SAN MAI is specifically added to the VG-10 to help with a few major things.
First and foremost, it helps corrosion be next to impossible for this blade and even helps it be easier to clean. The blade is essentially comprised of three different layers that are combined to make the one blade. From the carbon steel to carbon spring steel, everything holds to allow the overall knife to experience intense stress and impact without having an issue.
The handle or tang is tremendous too. SOG uses glass-reinforced nylon to make the overall handle. This helps it to have a better grip while also being capable of brushing off random substances it might come across like motor oil. This means it won't be randomly sticky, as you can literally just wipe off the handle to get these chemicals off.
This is useful when outdoors as you may not have cleaning materials with you when these weird substances or chemicals get on the knife.
The overall knife uses an Arc-lock, locking mechanism. This allows you to have an assisted-open knife that will remain locked in until you choose to use the knife.
It's also small and light enough to fit in most pockets and backpacks. All of this comes together to make it a must-have camping knife for any outdoorsman.
Propel Downrange AO
Gerber
G10 Handle
S30V Steel Blade
Gerber makes a lot of amazing outdoor products with their backpacking and camping knife lines being among the best. They actually have three different Propel knives in the assisted open category. Two are around the same price while one is slightly cheaper.
The cheaper version, which is around $133.00 uses a different type of steel that is technically not in the premium line.
Meanwhile, the Propel Downrange versions are only separated by color and both use the same premium blade that is around $40 more. This makes it well worth paying more just to get better steel.
The blading for the Downrange is made from S30V steel . This premium blade compared to other types of steel can truly hold its own.
The reason people who operate a lot outdoors tend to love this type of blade may be due to it being wear-resistant. Seriously, you can put this backpacking knife through hell and it'll be able to hold its own. Plus, it's corrosion-resistant.
Thus, you can leave it outside for a while or drop it into some weird liquid or chemicals. In the end, nothing will be wrong with it once you wipe it down or clean it a bit if needed.
It is also a hardened metal that can hold up better than even that of the D2 and 440C steel types. That makes it a blade well worth having, plus the premium nature of it will make it useful for literally anything a knife is needed for.
The handle or tang used for this knife is made from the G10 material we referred to in other knives. This only adds to the greatness of the knife and makes it great to use in the elements outside.
Of course, this is an assisted-open knife but Gerber has their own way of making these.
Called the Gerber Assisted Opening 2.0, they ensure that it'll only take one hand to open the camping knife or knives that use it.
Meanwhile, the system also keeps the blade closed and away to keep you safe from any issues.
With a clip added, it can clip on anywhere you'd like. But it's light enough to be in your pocket or backpack.
If that is not enough, these knives are made in the United States. In fact, they are made and sent out of Portland, Oregon.
Plus, Gerber stands by their USA made product so much that they offer a limited lifetime warranty on the Propel Downrange line.