When you think about getting involved in water sports like kayaking this summer into fall, it is clear that you need to wear proper protection. That includes both men and women, yet there are certain needs for women that must be considered. While the best women's PFDs for kayaking will keep a woman safe, there are certain needs like size, material, etc. to keep in mind.
What happens if you do not consider these things? You end up getting a PFD that does not help as much or perhaps not at all. There have been cases of some falling off or simply popping on people when they need them most.
This comes down to how they are made. Plus, you want them to be comfortable as kayaking will be hard to do while strapped down like people on a roller coaster. Therefore, it's clear for anyone that this much should be considered. Yet what about women?
In case you have not noticed, women's breasts tend to be larger than men's breasts. Yet some women have larger breasts than others. Therefore, you want to have a PFD that gives women multiple adjustable straps to give them protection and comfort at the exact same time.
There are many that offer this but before we get there, we want to discuss some of the important things you need to keep in mind about the best women's PFDs for kayaking.
What Is A PFD & Why Should I Wear One?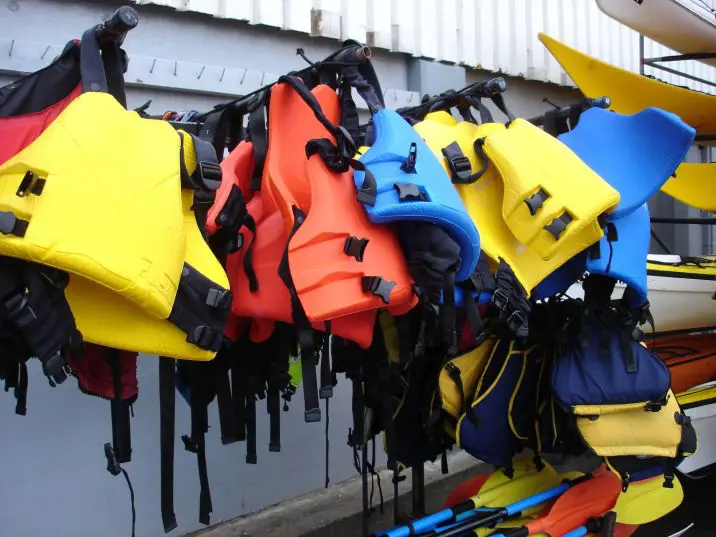 PFDs are "personal floatation devices." Most of us tend to call them "life jackets." They are very useful and can literally save your life. Clearly, they have a reason for the name we give them. It is important to wear one because you could need one at any time.
Should you wear one when kayaking? It's not exactly forced in most states but it's recommended by everyone. It's not hard to find a good PFD for a good price, and they work well for most on-water needs. Thus, you can use the same kayaking PFD on a speed boat, while water skiing, etc.
State Laws On PFDs
Of course, there are also certain laws in the United States and in some countries that demand the use of them in certain situations.
First and foremost, every PFD has to be cleared for use by the United States Coast Guard. You will see their seal of approval on the box the PFD comes in or on the PFD itself.
In most states, there are laws regarding their use for children. Pretty much every state has a law for those under the age of 10 to wear one anytime you're on the water. Other states have some that go as far as 17 and under must wear one.
Meanwhile, for adults, the activity dictates the need. For ships, such as that lovely cruise you went on…they have to have enough for every passenger. They must all be checked and completely ready to go should you need one.
On the flip side, many states require the use of them on boats whether you're on a lake, river, or ocean. This differs somewhat in other instances, but rafting requires a PFD all over due to its danger.
Like if you own your own boat, there is not a lot of forced law by states on adults regarding PFDs. Yet the same boat, if used for business purposes, WILL have laws regarding them.
If you want to learn more about the requirements your state has, you can click here to see.
Federal Laws On PFDs
The United States Federal Government also has its own laws on the books that, at times, trump state laws. The Federal Government put in "regulations," which recommend children 13 and under must wear a life jacket on any vessel under 12 meters or 39.3 feet in length.
However, while this is the recommend regulation on life jackets by the Fed, it is not a law. Thus, this means state laws are still the law of the land. The federal laws only come into place when it comes to the actual vest itself.
This is where those Coast Guard rulings come into play.
Do You Have To Wear A PFD While On A Kayak?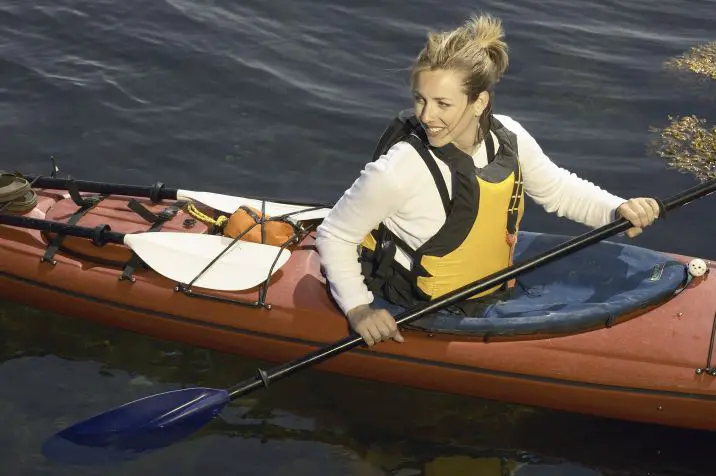 While most adults do not have state laws requiring the use of PFDs on kayaks, everyone recommends that you wear one. Sure, you CAN avoid not using one on a kayak…but it's reckless to not wear one.
Most states, again, do not require the use of life jackets on a kayak. However, some do, such as the state of Tennessee. They mention that you're not given a pass on either a canoe or kayak, but this is one of the few states that enforce them specifically on the two.
Therefore, when it comes to kayaking….you are not forced to wear a life jacket in every state. Of course, after you cross by a certain age bracket. Either way, law requirement or not, one needs to be worn when you're kayaking.
PFD Safety Standards
First and foremost, you should know that PFDs work on Types, which is based on the principle of buoyancy. This is mostly regarding the ability to keep one's head above water. This is why you might see it based on weight or size, but it's also based on where you're using it.
You'll see Type I, II, III, IV, and V
The United States Coast Guard recommends and/or requires one to wear one of these types, with many state law enforcement agencies backing them up on the matter. You will see them formatted like this:
[callout]
Type I: 22lbs
Type II: 15.5lbs (Near-Shore Buoyancy Vest)
Type III: 15.5lbs (Flotation Aid)
Type IV: 16.5lbs
Type V: 15.5 to 22lbs
[/callout]
The Personal Flotation Device Manufacturer's Association or PFDMA claims that most adults will need an extra 22lbs of buoyancy in comparison to their body weight, in order to keep their head above water. Their recommendation has become the official standard.
Foam vs Inflatable PFDs
While the world of inflatable PFDs is filled with terrific options, we'd recommend ignoring those for the time being. If you're going to be on a kayak, an inflatable option will do you about as much good as an umbrella in a snowstorm. In that, it'll kinda work but chances are…not much.
This actually comes back around to the types we mentioned above. The PFDs made mostly for use in sports are under Type III. Although they can work for multiple needs beyond sports too.
They will be made with foam, as inflatable PFDs won't work that well. For women, this is important as the foam versions typically can be fitted to work well with breasts. They will have several straps for comfort as well.
Overall, they are just a better option for women anyway. Yet for kayaking, it's a no-brainer…you go with foam. This type will keep you safe and there's no risk in this option popping on you. In all seriousness, you could open or scratch them and the foam option won't be effected at all.
Inflatable types are cooler to wear, so you won't have to worry about overheating. Yet the foam types, while somewhat warmer, aren't as bad as you might think. Plus many are now made to be cooler on people, especially in the back.
Therefore, the one thing inflatable types have on foam versions is likely soon going to be a thing of the past.
The Best Women's PFDs For Kayaking..
Buckles/Straps: Side-Entry Buckles/Side-Release Buckle

Extras: Foam Techtonics, Front Clamshell, Stash Pockets, Hydration Bladder

We love the Astral BlueJacket, and feel it is one of the best women's PFDs for kayaking simply due to all of its adjustments. While the price is a bit more than some might like, you're going to be paying for top quality when you use Astral.
With the BlueJacket, you're going to get a life jacket that is made for handling some of the most extreme conditions. Truly, it is made for whitewater rafting and sailing, but it's perfect for kayaking too. You actually could use it for several activities, if we're being honest.
The BlueJacket uses Astral's incredible Foam Techtonics System. This allows the external part of the jacket to move or pivot as you move, making sure it will stay with you. Your inner panel will stay on without an issue too. This makes it reactive and perfect for when things get crazy.
The hook-and-loop straps are beloved, as they can allow for women to fit in "the girls" without sacrificing safety. On top of this is the free-handing webbing.
You'll likely be on the water for a while, so the BlueJacket comes with a back-mesh holster and hooked sleeve for a hydration bladder. This will allow you to drink on the go, without an issue.
They also included a 1-Year Warranty. Should anything happen to it during that timeframe, they will take repair or replace it at no charge to you. To find out what the warranty covers, be sure to read the warranty information that comes with the life vest.
Kokatat Maximus Centurion
Buckles/Straps: Center Front & Side Adjustments

Extras:

Tow Tether, Neoprene Shoulder Straps, Codura Shell, Numerous Pockets



When discussing the best women's PFDs for kayaking, you cannot ignore Kokatat. It would especially be ignorant to ignore their Maximus Centurion life jacket. When we say it is perfect for women and any needs they might have, we truly mean it.
There's very little that one could be missing. It is made truly for the most extreme conditions, and labeled a Type V by the U.S. Coast Guard.
Kokatat made this life vest to perfectly move with you as the user, giving ultimate mobility. The Dynamic Suspension System gives you strong neoprene around the shoulders, giving you protection while offering freedom of movement.
Meanwhile, you're also protected by the Codura Shell and impressive Gaia Foam, which is PVC-free. Plus, there are a ton of adjustments to help women of all chest sizes find the level of comfort and safety that works for them.
There are adjustment areas on the front and sides, which is perfect for customization. In addition, this can be a full rescue harness with a quick-release belt and tow tether, both attached.
It also includes a belly pocket that has three organizers, perfect for pretty much anything. If that was not enough, the life jacket also includes an area for a knife so you can quickly get it out to use if needed.
If this did not please you enough, they also added in a lifetime warranty!
Buckles/Straps: 6 Adjustable Straps

Extras:

5-Panel Design, PlushFit Foam, 2 Large Zippered Pockets, Reflective Accents



Anyone who knows the world of PFDs knew NRS would be on this list somewhere. We feel that the NRS Oso is one of the best women's PFDs for kayaking. Mostly because it made specifically for this purpose, and offers incredible protection.
Although labeled as a "men's", this Type III life vest is perfect for women due to the multiple areas of adjustment. In fact, it has 6 total adjustment points, which allows you to get the perfect fit every time.
Of course, there is a ventilated back design, allowing it to fit on you in any kayak seat you might want to get in. Thus, you're removing any excess bulk. This is only assisted by the PlushFit foam, which improves the fit of this PFD overall.
The 5-Panel design will also allow for a better level of mobility as you're trying to paddle. On top of this, you'll notice 2 large zippered pockets. This can accommodate pretty much anything you might need on the water like a water bottle, snakes, and/or medkit.
If that wasn't enough for you, the reflective accents on this PFD will give you perfect visibility in low light or night conditions. This allows you to be found easier, should any need for rescue arise.
NRS truly knows how to make a life vest, so we feel most women will love the Oso!