Many people love to hike throughout a given year, whether it's cold, hot, or somewhere in-between. Due to this, everyone has to be familiar with the elements they are going to come across. This is why things like water hiking shoes or simply those considered water shoes for hiking need to be looked over.
What are water shoes? There's actually a mix in the definition regarding what these can be. Some are the type of shoes you might see someone wear at a public pool or in the ocean to protect their feet. They slip onto the person's feet with ease and stay on them as they move about in the water. Yet there are other types of shoes similar to this that fall under water-resistant or waterproof shoes.
These are the shoes you'll likely see someone wear when they are in a damp or wet environment. A lot of people who work on boats, near the water, or in the water completely, wear these shoes. Yet the type used for hiking can often look similar to a regular sneaker. These shoes need to come off similar to sneakers due to the shoes' need to protect the feet.
Random water shoes are not exactly meant for protecting those on hiking outings. This is when you need to look toward the type of water shoes for hiking purposes that tend to usually just be normal-looking boots or shoes. Before we go over some of these products, we need to go over certain keywords you might see and what they actually mean.
Waterproof vs Water-Resistant: Different Capabilities In Staying Dry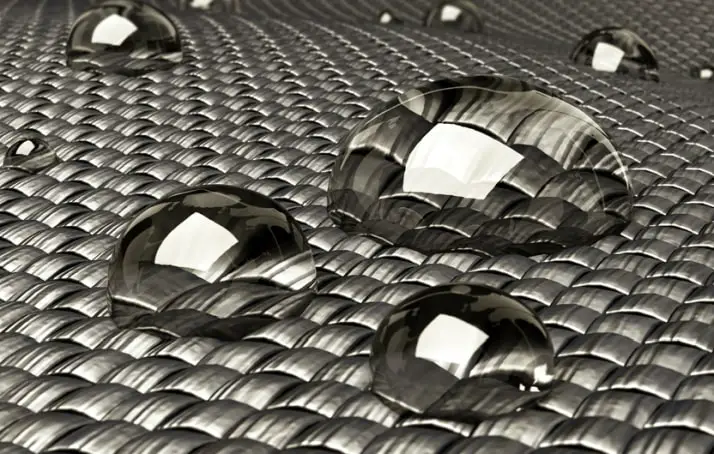 Sadly, we often see people who make the mistake of not knowing the major differences between shoes that are water-resistant and shoes that are waterproof. This happens a lot, as people simply assume the terms mean the same thing. They actually do not, but they do have some similarities. Yes, both can protect your product(s) from certain water damage or prevent them from being affected by water.
However, the amount they protect is down to being water-resistant and waterproof. Even more to this, it is down to the specific level of water-resistant or waterproof a product is. Let's examine that.
Water-Resistant:
Products that are water-resistant protect products from things like splashing water. So say you're walking past someone in a pool and they splash you from there. Your shoes won't be affected by that. They are also cleared, typically, to be out in the rain and go into small puddles of water without any problems from it. If there are any issues, usually it'll just be something as simple as water entering the shoes. Yet if they are dried soon, they're likely to not be affected.
Waterproof:
When something is waterproof, it means that it can be physically in water and not be damaged by the experience. Essentially, you can walk in and out of a pool with waterproof shoes and likely not experience any water going into the shoes. They will see water on the outside but won't enter. These are the types of shoes you might see marine biologists wear, as they will be in and out of the water at all times.
Levels & Codes:
We mentioned levels earlier but we should probably also mention that there are certain codes that these products fall under. Any product claiming to be waterproof or water-resistant must include an Ingress Protection Code or IP Code. This comes as part of the International Electrotechnical Commission or IEC Standard. It's often referred to as an International Protection Code.
The IP Code:
The products are scored using the methods within each one of these systems. In order to be sold in most stores across the world, especially through top online retailers like Amazon, you have to be able to prove your water-resistance or waterproofness with these. For the world of water hiking shoes, they have to just deal with the IP Code.
They give a score based on testing the products through what the manufacturer claims they are capable of handling. This includes a lot but for the world of water, there is a scale that goes from X or 0 all the way to 9X. The more waterproof something is, the higher it will be on the leveling by the IP Code.
You'll see something written like IPX9 or IPX8. The way to know if something is water-resistant or waterproof is to judge this based on how far the item is on the IP Code scale.
Anything without the "X" added in will not be either water-resistant or waterproof, as it scored too low on the IP Code scale to have this. If the "X" is added in, this automatically means there is a water-resistance or waterproof score. Usually, anything between 1 to 6 is water-resistant and 6K to 9K is waterproof.
The IP Codes also score products for numerous different things. You'll see this for solid particle protection, which scores a product's ability to handle electrical conduction. You will see scores here regarding things like dust protection, oil protection, wire, accessing with a tool, voltage device, and various other specific water scales.
The MM & NEMA Rating:
While you likely won't see anything shoe-related on it, the United States uses something known as the National Electrical Manufacturers Association to score several products. This is often electronic or very specialized gear. Since you may see it when looking at shoes, just remember the scoring for it is mostly for shoes made to handle extreme conditions. Think about the type of shoes that firefighters or power company workers need to wear on the job.
The MM rating, which stands for the Machinist's Mate rating, is another North American scoring system. However, this is actually something used in the rating of clothing and shoes. It scores their level of water-resistance or waterproofness on a scale that slightly differs from the IP Code but has the same concept in the end. It was designed for the U.S. Navy's Engineering Community originally, but it has since become a way American Companies judge various products.
For this, scoring along the lines of 0 to 1,500MM means something is water-resistant or snowproof. Anything from 1,500MM to 10,000MM judges the level of waterproofness something is.
They have 3 total levels of Waterproof, which are:
1,500-5,000MM is Waterproof
5,000MM is Very Waterproof
10,000MM is Highly Waterproof
Of course, there are other scores and letterings given on the Machinist's Mate Scale. They judge things like Submarine Qualification all the way to Bombing, Hydrogen, and other Nuclear Mechanics ratings. Again, this was made for the Navy's Engineering Team originally, people.
Controversy:
While one would assume that these ratings would be reflected in shoes, a lot of retailers do not disclose this information. They simply claim something is waterproof or water-resistant. This has become quite difficult on buyers like you and me. We all just want to find great shoes, so why is this an issue?
Technically speaking, retailers do not have to disclose information on a shoe like the MM and IP Code rating they might have unless the shoes are specifically being sold for safety purposes. For example, if they are being purchased for Power Company Employees, Police Officers, Firefighters, Paramedics, etc. they will need to show that their shoes pass certain tests.
This also goes for those made for use in construction and factories and can even be useful for those in the farming world.
As a result, most of us are not buying this type of footwear. Therefore, we may not see these ratings on the shoes we are looking at. However, most shoe companies or outdoor companies that sell shoes, will tell you about what their shoes are capable of.
Sadly, sometimes issues happen in talks and shoes may be claimed as waterproof when they are not. Due to this, we always recommend doing more research on the shoes you're interested in BEFORE you buy them. The shoes we mentioned below are thoroughly vetted, however.
Shoe Types: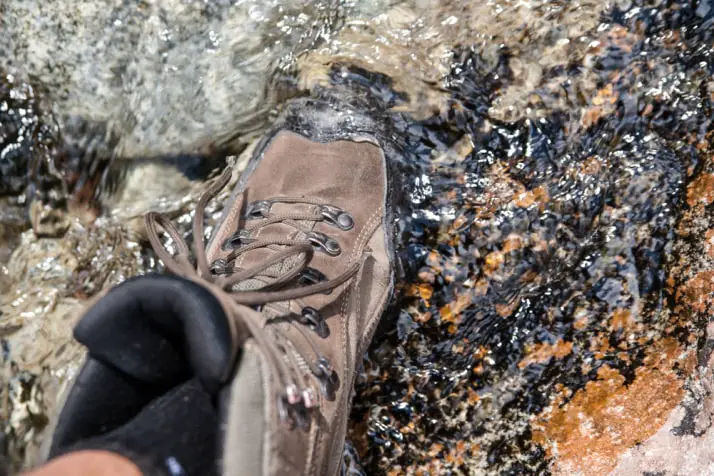 Finally, we need to get down to the big stuff. There are numerous shoe types out there. While we may be going for the water hiking shoe, this is not exactly a shoe type. It's a broad version of shoes that could look and completely be quite different depending on where you shop. In some ways, going to your local outdoor store may help you find shoes like this.
However, we'd advise trying the online world first because you can read all about what you're buying BEFORE you buy. Most of these stores have no actual content on their shoes. You can ask an employee, but good luck finding any help from them on what their shoes are capable of. You need expert analysis as well as the down and dirty details. That is only going to be found online.
Below, you'll see various water hiking shoe options to choose from. Each will be different and most will be from different brands, as there are a lot of places that make these types of shoes. We will do our best to highlight all the great things about them and mention how they stand out.
Keep in mind that some of these shoes may be higher priced. However, you can often find the same shoes from the same brand cheaper on places like Amazon at times too. On top of this, the overall cost of the shoes is put into place due to all the work put into them. Some brands also offer a lifetime guarantee. Meaning the cost upfront may be higher due to the protection they give you.
Also, some brands invent their own type of technology within their shoes. It'll still have to get certified the same as others, but they'll just be labeled as the company tech. Don't worry about this too much as we'll explain what those mean as they come up!
Without further ado, let's highlight the best water shoes for hiking on the market today!
Our Best Water Hiking Shoe Picks
| | | |
| --- | --- | --- |
| | | |
| | | |
| | | |
| | | |
| TFO Men's Athletic Walking Shoe | Waterproof/Water-Resistant | |
| | | |
KEEN Men's Targhee III
Price: $$$$
Water Protection: Waterproof
™
KEEN is a major leader in the shoe game. When it comes to outdoor shoes of really any kind, even those for safety and construction, you should check out KEEN before buying anywhere else. While there are many other companies to check out too, KEEN stands out due to the fact that they offer truly impressive shoes at relatively reasonable prices.
They also offer some shoes that are completely amazing in the overall design. That brings us to their Men's Targhee III. The normal price for these shoes tends to sit at $140. However, they are currently on a nice sale for $109.
KEEN is known for its innovative technology, which is where KEEN.Dry comes into play. This is a waterproof design that KEEN has made sure also offers a breathable membrane. The design essentially lets vapors out without letting water in. The Men's Targhee III is a leather shoe model. Due to this true leather, the shoes are tremendously resilient and overall durable.
This leather is actually an environmentally-preferred premium version, with LWG-certified tannery added in. They also added in a TPU Heel Capture system that adds stability to the shoes, making sure you can stop yourself from sliding on wet surfaces. In addition to this are the 4mm multi-directional lugs, which add even more traction.
If that's not enough, they have even considered how wet shoes or even those that could be damp may result in odor within the shoes. Thereby meaning it would be bad to remove them anywhere for fear of stink. KEEN invented something known as the Cleansport NXT™, which fights off odor at the source and keeps your shoes smelling nice all year long. This is regardless of what you do in them.
The Metatomical Footbed Design offers a comfortable shoe to move around in on a normal basis. Yet at the same time, it is also cleared for outdoor activities like hiking, making this an ideal pair to have for pretty much anything.
They are perfect water hiking shoes and at a reduced price, how can you turn them down?!?
RAX Men's Quick Drying Slip-Resistant Aqua Hiking Water Shoes
Price:

$$$

Water Protection: Water-Resistant

Shoe Technology: Hollow Insole, Quick Lace-Up System, Slip-Resistant Outsole
RAX is not an insanely well-known brand in the outdoor world just yet but they do have some excellent products. Their Men's Quick Drying Slip-Resistant Aqua Water Hiking Shoes come to mind there. They truly only make shoes, so they specialize in an area that we felt was useful to this list. In spite of being newer than most, RAX made a good shoe with this pair.
These shoes are quick-drying, which is aided by the Hollow Insole. This allows the shoes to dry any water out quickly and provide permeability. This also allows for excellent ventilation. They are an amphibious pair of shoes in nature, so they have been cleared for use in all sorts of water-related activities.
However, while some may assume that this makes it a waterproof shoe...it's just the opposite. The fact that it has to quick-dry inside the shoe at all automatically means water is capable of getting in. Therefore, they are water-resistant shoes.
The outside of this shoe is tremendous for water-related activities, however. The shoe toe is wrapped by rubber and TPU, offering you good toe protection and preventing major slips. The outsole is also rubber and completely wear-resistant. Polygon Lugs make this area of the shoe completely antiskid, making walking around waterways a breeze.
They are also very comfortable to wear. The Hollow Insole is cushioned quite well, but they also thought of the midsole when they added in high-density EVA material with a triangular design. This midsole section makes these shoes great to wear with or without socks, while the complete shoe is so comfortable to wear that you won't even dream of needing those gel inserts! The EVA material also helps with stability and helps remove excess water along with sweat.
Finally, the quick lace-up system makes putting these things on very easy. They are literal slip-on and go shoes! The easy to use fastener keeps them on your foot without risk of seeing them fly off your feet.
Columbia Men's Drainmaker™ IV Water Shoe
Price: $$

Water Protection: Water-Resistant

Shoe Technology: Techlite™ Midsole, Omni-Grip™
Columbia, unlike RAX, is a well-known outdoor brand. Though they do not specifically work in the world of shoes, they do still make a heck of a lot of impressive shoes every year. It seems like as the years go on, Columbia is coming out with terrific and innovative shoe-lines. Columbia's Men's Drainmaker™ IV Shoes are top-tier. They are some of the most popular water shoes that the company has currently.
At around $85, one would assume they'd be much higher with a brand like Columbia behind them. This shoe is a hybrid pair, made for both wet and dry conditions. This is why it's the perfect water hiking shoe. They are very breathable and quick-drying. Like with the RAX pair, any time you see something like "quick-dry," it typically means water-resistance over waterproof.
Their midsole offers a fresh feel for your feet to keep them cool and dry at all times.
The gripping is tremendous as well. The pair comes with enhanced cushioning to keep your feet from being sore as well as help keep them in place. Meanwhile, traction is top-notch. All of this comes together to give you a great sure-footed design around wet environments.

This is accomplished by the use of open mesh and synthetic design, including the midsole ports that make water drainable from the shoe. The use of technology like Techlite™ & Omni-Grip™ only adds to this.
The use of Techlite gives the midsole terrific cushioning with a high-energy return rate. It pretty much means you can jump around and move quickly without your feet taking punishment from it. The use of Omni-Grip is on the outside portion of the shoe. It keeps you from slipping around in the numerous wet environments you'll be around. This also allows you to move around without risking a broken or sprained ankle in these same places.
Overall, Columbia made a brilliant pair of shoes with this. Plus, they come in three different color options!
TFO Men's Athletic Walking Shoes
Price: $$$$

Water Protection: Waterproof & Water-Resistant

Shoe Technology: EVA Cushion, Heel Brake, Tear-Resistance, FIRST-TEX Waterproofness, First-Grip
TFO is another newer company compared to some of the major brands out there. However, they have been in business since 1999. Meaning, they have been around as a great outdoor brand for over 20 years now. This California-based company has several products that make them worth your time, but we are big fans of their shoes. We think you will be too when you check out their Men's Athletic Walking Shoes.
While it may not seem like it, these shoes are absolutely terrific as water hiking shoes. We feel they stand out over others you might see due to TFO's terrific design. Their patented respiratory system gives proper air circulation to your feet, allowing your feet to stay cool. The EVA insole within the shoes helps to relieve shock and protect your ankles. Trust us, this is a true asset.
The shoe further protects ankles with their comfortable yet ergonomic high-elastic sponge lining. This includes the soft and padded shoe tongue and collar, perfectly fitting your ankles and allowing the shoes to absorb impact to protect your joints and tendons.
They claim this pair is waterproof, as it uses 4th-Generation FIRST-TEX waterproof/ breathable membrane lining. However, this is actually not as true as it appears. It's true that the lining itself is waterproof. This just means it can absorb and remove water. The problem is that a completely waterproof shoe won't allow water to get inside the shoes at all.
Therefore, they are both waterproof & water-resistant. Kind of complicated, we know. However, we did not want to steer you wrong here.
The outsole is nothing to sneeze at. This includes a make-up of four impactful additions within the First-Grip Technology. This includes the Protective Cap, Multi-Terrain Traction Nail, Durable Rubber Sole, and Premium Heel Brake. This adds up together to give you a guarantee that slipping or having trouble in wet environments in these shoes will be next to impossible.
If that is not enough, these shoes are also tear-resistant with round durable shoelaces to help keep your shoes from coming off until you want them off yourself.
They also have a good 100% After-Sales Guarantee. They will respond back to anyone who has a problem with their shoes within a 24-hour window. As an American company, they also have to abide by all American laws regarding purchase, sale, and returns.
Merrell Men's Moab 2
Price: $$$ - $$$$$

Water Protection: Water-Resistant

Shoe Technology: M Select Dry, Vibram, Air Cushion
We love the Merrell Outdoor brand. They have always tried to be good about creating products with environmentally-friendly concepts behind them.
One would assume ALL outdoor companies would be like this. However, very few are and it's a bit disappointing to say honestly. This is why Merrell stands out, as they often use recycled material to make their products. Their mission in the world of sustainability should be commended by all outdoor enthusiasts.
The Merrell Men's Moab 2 is one of those products. In case you're wondering what the "Moab" name stands for, Merrell claims it means "Mother Of All Boots." However, this is not a boot honestly. Therefore, the name is quite confusing for sure.
There is also some confusion on their waterproofness. They are not at all waterproof but they are certainly water-resistant. The problem seems to come from online sellers of the Merrell product as well as list-makers all over the internet who have confused it for waterproof. They do a great job with their M Select Dry technology of keeping water out for the most part but allowing moisture to escape.
Vibram technology in these shoes is tremendous too. This offers practically unmatched durability and stability with the shoe, as this high-performance rubber sole keeps you safe. It provides slip-resistance and overall confidence to the wearer that they will not have any problems near water.
The real comfort comes from Merrell's Air Cushion technology. This is specifically targeted for the heel to provide comfort that will reduce stress on the overall foot and even the legs and back as a result. While each step won't feel like you're walking on a cloud, it'll be as close to that as possible.
The price has been in debate through most online dealers. You will see it go for around $70 in one area and even higher in others, all the way up to $240 in some places. This all seems to revolve around the size and color of the pair you pick. It also seems to revolve around the supply of shoes that a specific dealer has.
If you look at Merrell's actual website, however, these same shoes go for $100. Thus, if you cannot find them through an online retailer or local outdoor store for cheaper, simply buy them through the Merrell website.