There is a common misconception about camping that I feel dissuades some would-be campers from going – that it's expensive. Many people think that you have to spend a fortune in order to go. The truth is, as, with anything, you can spend as much as you want. There are, however, ways to go camping on a budget. We'll show you ways to save money on gear as well as food and other costs on your camping trip.
For me, camping is fun. It's a way to get away and relax and not worry about things back home. As a father of 3 scouts (who are now own their own), it's a pastime that our family has enjoyed for years and still enjoys today.
Over the years we have accumulated a lot of gear family camping. And honestly, we don't even use a lot of it when we go camping. Some of the gear that we thought would be great just turned out to be overkill for us and a hassle to pack.
Camping is about being outdoors. It's not about having the most lavish and expensive tent and a fancy camping stove. Part of the fun in camping is making it work with the resources of nature and the items you do have, which helps develop valuable skills for being outdoors.
Three areas to focus on where you can save money on your camping trip are your gear, your food, and your campsite location.
Camping Gear For Cheap Camping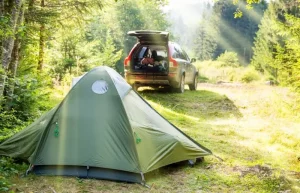 For camping on a budget, gear, by far, is going to be your biggest hurdle as far as saving money is concerned. Here are the three best ways to secure camping equipment while keeping costs to a minimum.
1. Buy Just The Basic Gear
This is assuming you absolutely want to buy your own gear. I'm not telling you to but cheap gear. I'm saying only buy what you absolutely need. If you love camping (and I hope you do), you can always scale up later. The basics you will need are:
a tent and footprint (or tarp)
sleeping bag and pad
an ice chest
hatchet
lantern
This is not everything you need to camp. We're just talking gear here. I would suggest this be your bare minimum. Everything else required to camp, you probably already have at home. You can make it happen with these main items.
2. Shop Thrift Stores And Army Surplus
You can often find used camping gear at a low cost at thrift stores and army surplus stores. Be sure to check online at Craigslist and Facebook Marketplace. I have also seen a few items at garage sales.
3. Borrow What You Need
Got a friend or family member that camps. Borrowing could be a solution if you're itching to go camping without spending anything on gear. I think most any camper (provided you know them) would be glad to loan you some gear for a weekend. Just be sure to return it in the condition it was loaned to you.
4. Renting Instead Of Buying – A Great Way To Save
Did you know you can rent your camping gear? Renting camping gear such as a tent, camp stove, and sleeping bags can save you a lot of money and makes a lot of sense if you're not a regular camper.
Some REI store locations rent gear. Your local outfitter may very well do camping rentals. Check with them and see.
You can find many suppliers online like OutdoorsGeek that will even ship the gear to you and provide a shipping label to ship it back.
Also know that the rental equipment is usually high-end equipment, and is a decent price for the quality. However, you can often just buy a low-cost tent at Walmart that will get you through a few trips for less. It just depends on what you want.
Food For Your Trip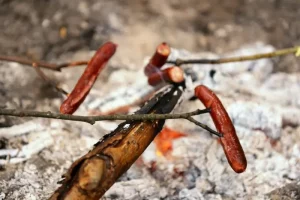 Part of the fun in camping for me is the cooking. I enjoy preparing a breakfast of bacon and eggs and sometimes pancakes. We usually cook burgers or steak at night. The middle of the day is just a free-for-all and we munch on whatever when we're not busy.
You don't, however, have to cook elaborate meals. This is one area that you can reduce your camping budget if you so choose.
One of the ways to reduce your food expenditure is to reduce your need to cook. This saves fuel or firewood, and the need for cookware.
Some of the things you can include in your meal plan for camping food are:
Fruits and cereals for breakfast
Canned foods
Peanut Butter
Sandwiches
Dehydrated foods
Low-cost meals prepared ahead of time at home
If you still want to enjoy campfire cooking, you can still make hot dogs, which make for a very low-cost meal.
Don't forget the smores at night. The ingredients for smores are not a big splurge and the kids will enjoy making them.
Campsite Costs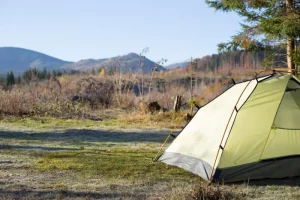 Tent camping in parks, whether public national parks or private ones, will cost you. From what I've seen can be from about $8.00 – $30.00 per night. You can also potentially pay a fee for each vehicle. This can really add up, even just for a weekend stay.
Your best bet to save on campsite costs is to look for dispersed camping sites. Dispersed camping is where you can camp for free. You don't have the amenities that you have in a park, but you also have no fees.
The only downside, as stated, is the lack of amenities. There aren't any showers, no potable water, you'll have to poop in the wild and bury it, and there will, for sure, be no electricity. Welcome to roughing it!
Most national forests allow dispersed camping unless posted otherwise. You can also camp on Bureau of Land Management land, state forests, and a few state parks.
To find free camping in your area you can look at https://freecampsites.net.
You don't have to spend a fortune to go camping. You just have to know where to cut costs.
You may find that a camping trip isn't as costly as you thought even without trying to stay on a budget. Compared to most other vacation packages, camping in itself makes for a very economical getaway.
Compare it to your last beach trip, Disney vacation, or cabin in the mountains and you'll see what I mean.
Conclusion
If you want to start camping, don't let cost hold you back. You can go camping on a budget.
Implement the ideas we have shared to help make your trip as low-cost as possible. If camping turns out to be something you really enjoy (and we hope you do), you can add to your gear arsenal a little at a time and splurge with the meals when you can.
Camping doesn't have to be expensive. The enjoyment of it, however, is priceless.