If you've ever been camping, you know how fun it can be. Yet it's not always something people enjoy doing. This changed somewhat with the rise of "glamping," which allows them to bring the comforts from home they are used to with them. Ultimately, that is the difference between glamping and camping.
When you go camping, normally there are certain things you just do not typically have with you. Yet that is not sacrificed for glampers. If you want to ever spot a glamper, it's somewhat simple to do at times while not in other cases. It's all depending on what you, personally, believe is over the top for a camping adventure.
Some people assume this is just people who use an RV yet claim to be camping. While that is somewhat true, a person can always use a tent to camp outside but use the RV for things like cooking or going to the restroom.
That sort of thing can be great to have when you're camping with older people as well as young children. Those who have attempted to camp with them will certainly attest to how difficult they can be.
Yet glampers also differ from campers in other ways too. Let's explore the differences between camping and glamping in greater detail.
Glamping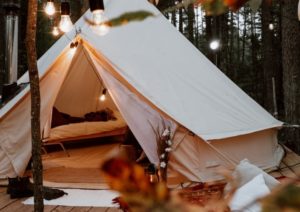 Taken from the words "camping" and "glamorous," the term "glamper" simply refers to a person who is using great amenities and perhaps even resort-style services that one would not normally have as a traditional camper. You could say glamping is luxury camping or at minimum, camping with the comforts of home.
Examples of this glamorous camping include an incredibly large climate-controlled tent. They are large enough to have full beds inside of them. Funny enough, this used to be the type of thing a King and/or Queen might use when they traveled back in the Middle Ages. Seriously!
If one is still using a tent, then what's the problem, right? The problem is that traditional camping will not tend to involve an incredibly large tent. Especially not for a few people. They also cannot fit a large bed in there. At most, people might take an air mattress with them.
Others will claim glamping will involve sleeping inside a decked-out "camper" or recreational vehicle, as we mentioned earlier. Using an RV for some stuff but otherwise, traditionally camping is not a big deal. But sleeping inside the RV and barely going outside while you're there is not really camping. Most would ask what the point is in going for people like that.
Other Glamping Material:
Some people who go glamping might arrive with things set up for them. In fact, there are some actual glamping places you can go to that are essentially like hotels. Except they are mostly like little homes you rent for an extended period.
Each glamper will usually have running, temperature-controlled running water and be able to shower whenever they'd like. They could even have a completely private bathroom. On top of this, they will have refrigerators to keep things cool for them. Of course, it is also not true glamping unless you have electricity completely ready to go.
Some glamping centers might actually have power lines running to the framed shelter you're renting from them. This avoids the need for large batteries or any type of generator. Obviously, some might not have all of this and will need to bring a generator or pay to use one.
As you can see, glamping is pretty much not camping at all. This is why many campers find it to be an insult to go glamping.
Camping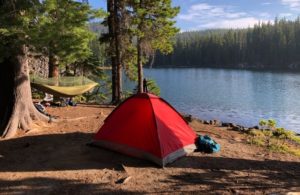 Camping is not the same for everyone. On top of this, there are things you might bring with you on a longer camping experience versus a shorter one. For something like a long camping trip, you might bring an air mattress to go under your sleeping bag to avoid major back issues. As well as a small generator or solar-powered battery.
This can be helpful to have for emergency needs and to help with boredom during nighttime hours. Many might also bring some of their own food from home, as well as water and other drinks in an ice chest.
Having a small tent with nothing but a pillow and a sleeping bag is all that some will need though. They might even catch their own food to eat. Of course, even hardcore campers will bring water because it pays to have this around. Safe drinking water is not easy to find outdoors, naturally.
While it might be splitting hairs when it comes to what some might bring with them on a camping trip versus what others bring, neither is going over the top. They are still experiencing the outdoors the way people did hundreds of years ago. Minus the incredible tents, medications, weaponry, and other things we have access to now.
All of these campers are doing it better than a glamper, at the end of the day. But if you're trying to get a spouse or child to go with you on a camping trip, it might be good to sort of have an in-between situation. This makes things more comfortable for them, and you might enjoy the extra amenities too.
Either way, whether you're a camper or a glamper, you can still go and enjoy the great outdoors.