While many of us love hiking annually through some of the best trails on Earth…there is a possible problem. Injuries or simply a small ordeal can make it hard to walk or run around anywhere. Even more so, hiking with Plantar Fasciitis is an even bigger problem for some.
What Is Plantar Fasciitis?
There are a few big questions for people when it comes to this. First, what really is Plantar Fasciitis? Second, how does one hike well while dealing with it?
Plantar Fasciitis is essentially inflammation that forms around the heel bone. Why is this such an issue for people? It's technically inflamed right at the thick band of tissue in this area. Of course, this same area has a lot of nerves. Thus, Plantar Fasciitis ends up hurting from the heel to your toes.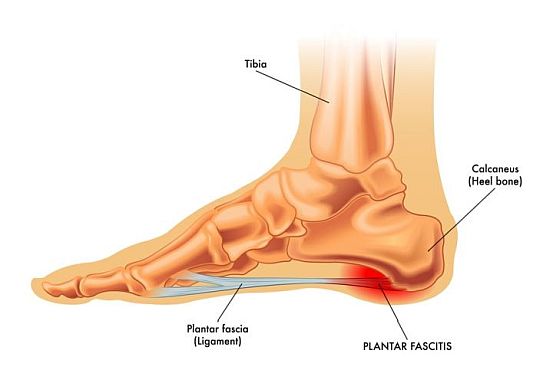 This results in what is usually a stabbing pain, but it can also be a radiated type as well. This ultimately depends on whether or not the nerves are also affected in a greater way or not.
Usually, pain like this is often worse in the mornings because most of our muscles, ligaments, and tissue often take loosening up or stretching before they can work well. Due to this, you'll wake up and be in more pain but it might lessen some throughout the day. Sadly, it may not go away. Worst of all, it could result in back problems over time too.
How Do You Treat Plantar Fasciitis?
What's so interesting about this is that one of the biggest treatments for something like Plantar Fasciitis is often exercising. Commonly, physical therapy will be done which will target the specific area in the foot where the pain is located.
Sometimes, things can get so bad that bone spurs may even develop. Even bone chips can become a problem. In these cases, surgical procedures might be done to fix the problem. Yet it's often treated another way first as surgery is often the last option in many orthopedic cases.
Usually, steroid injections will be done but one thing every podiatrist or orthopedic doctor will tell their patients is to buy good shoe inserts. On top of this, they will tell them to try wearing better shoes as this is often one of the main causes of Plantar Fasciitis developing, to begin with.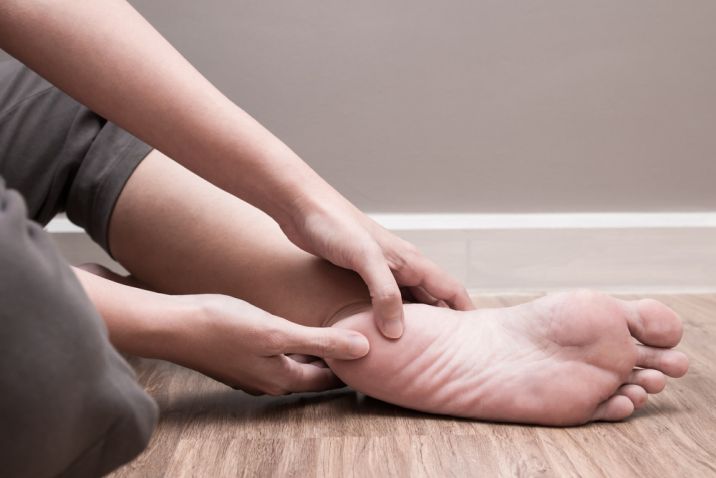 Often, the issue with this can last 6 months to 18 months. If surgery is done, recovery may take a while too. This will often go away on its own. However, it is key that you wear the right footwear and also get the right inserts. If you don't, not only could you develop further foot pain, but possibly even cause back problems.
So Why Go Hiking With Plantar Fasciitis?
Now comes the idea of hiking with Plantar Fasciitis. Why do so if you'll likely only just develop more pain? While an understandable question…it misses the boat. You should obviously do this at your own pace. Never go too far when you can avoid it.
Take your time and walk around slowly if you need to. To slightly misquote former U.S. President Teddy Roosevelt, "walk softly, and carry a big stick." What we mean by this is that when you go hiking with a problem like Plantar Fasciitis, you want to have some type of walking stick.
This will help you as you possibly climb up certain things but it'll also work as a pressure valve. It is clear that if you're trying to engage in hiking with Plantar Fasciitis, you're going to be at a disadvantage. The best way to fix this is by having a good walking stick to lean on if your foot goes into pain-mode.
This way, you're now able to take the pressure off when you need to.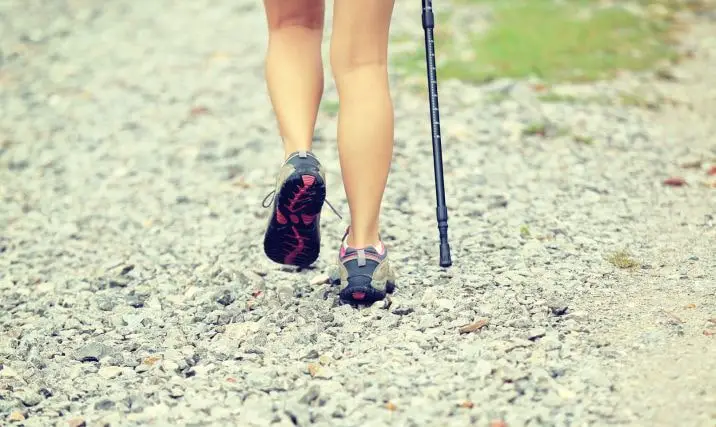 You may also benefit from simply moving slower to allow your body time to adjust. A lot of the time, this is simply a case of inflammation. Thus, moving a bit slower may allow you to have less pain than you might normally experience. It's sort of like walking on glass, do you move quickly or slowly?
We'd also recommend not going on as many uphill or high-incline areas. As it might make your foot or feet hurt far worse. Some hills and inclines are fine but ideally, you'd want something with a mostly straight or flat surface.
Above all else, having proper footwear and shoe inserts will allow you to do this even easier. That said, let's go into some of that below.
The Best Footwear For Plantar Fasciitis Sufferers Who Love To Hike
A common problem people seem to have is picking the right kind of shoes. You'd think this would be easy to do but mistakes are often made. Why? Likely because they do not consider everything they will be doing in their shoes.
On top of this, most shoes do not come with great insoles. They are made for fashion or breathability more often than not.
Women's shoes are likely the worst of them all. Things like high heels, which are obviously terrible for your feet and ankles, and even outdoor shoes are not always made well. As a result, we're often seeing some terrible options.
Shoes are not always about looking cute. The right pair of shoes can save you tons of hours in pain. Whether it is soon or later on in life, shoes need to be considered. Yet men have the same problem, so let's dive into some specific options for both sexes below.
Men's Asolo TPS 520 GV Evo Backpacking Boots
Features: Gore-Tex Membrane, Vibram Rubber Outsole, Durable, Waterproof
The great shoemakers at Asolo bring you a terrific option perfect for walking or running the trails at any time. They are also perfect for hiking with Plantar Fasciitis. The reason for this is that they are built intelligently with long-lasted comfort in mind.
While shoe inserts would be smart to use in most, these boots may not completely require it. They are made with a breathable Gore-Tex membrane first off. This helps to give breathability.
Yet the big thing Plantar Fasciitis types will love is the Vibram rubber outsole. This essentially offers great shock absorption. Made using three shock absorbers, it's truly perfect for helping wearers. The overall balance offered is impressive. This will help when running or walking on any surface.
The laces are also built to keep your feet secured in the boots. This also offers a personalized fit as the laces are only able to secure themselves once you tighten them to where they need to be.
Add in the full-grain leather and waterproofness, and you have the perfect outdoor boots.
KEEN Women's Terradora Mid Waterproof Hiking Boots
​Features: KEEN.Dry, ESS Stability Shank, Cleansports NXT treatment
KEEN is known for making some absolutely incredible footwear. They know exactly what people need it seems. Thus, it should not shock you that they make great women's boots. If someone is preparing to go hiking with Plantar Fasciitis, they're obviously going to need proper protection for their feet.
KEEN does not make anything but that style of footwear. While more often labeled an outdoor men's footwear brand, they certainly make a ton of great women's shoes and boots too. This option alone proves that.
What about these boots makes them so good? Let's dive into that now.
First of all, KEEN often has boots or shoes that can be higher in cost at times. The fact that this price is lower is clearly a good thing. However, KEEN is known for making their own tech for their footwear. This means they have made some amazing stuff using it.
For example, KEEN. Dry essentially means something is waterproof. These boots use it, therefore you know the waterproofness is present. But it's more than that for KEEN. This same tech still allows for breathability and proper stability in the boots overall.
On top of this, they added strategically placed padding, specifically put into pressure areas where your foot will be. This takes us into an interesting realm, as the pressure is removed from things like your Achilles Tendon and your heel is protected overall.
Thus, women with Plantar Fasciitis will heavily benefit from these boots. In addition, the EVA midsole helps to remove shock. They're even lightweight, making them easy to move in and not a load on your feet like some hiking boots.
The ESS Stability Shank adds even more protection, with mesh lining that lets your feet breathe without letting water in.
​Features: Vibram Megagrip, Foam Midsole, Updated Mesh
The people at the HOKA ONE ONE brand may not be well-known by the world just yet, but they certainly will be. Their Speedgoat running shoes seem like they would not be ideal for those hitting the trails. They are running shoes only, right?
While originally designed for running, they quickly have stood out as simply great outdoor shoes too. This is due to how great they are for a man's feet. They are cushioned to the max, allowing you to move around in various terrains without sacrificing the health of your feet.
If you're going to go hiking with Plantar Fasciitis, you'll need a proper cushion all over the feet. This is first helped by the Vibram Megagrip Outsole, which ensures steady traction. This may not seem like a big deal but trust us, it certainly is.
Next is the foam midsole that keeps the middle section of your feet feeling like they are napping more than moving. This is even added to by 3D Printed overlays. The shoes are also made with wider feet in mind, making them perfectly connected without getting too tight.
These cushioned shoes will be perfect for men wanting to hike this Spring, Summer, or Fall.
Arc'teryx Women's Acrux TR GTX Boots
​Features:Gore-Tex Membrane, EVA Midsole, Injected TPU Chasis, Vibram Megagrip
The great outdoor people at Arc'teryx know how to make some great outdoor gear. However, very few know about their impressive shoes and/or boots. It seems odd, but you'd think they'd stand out more in this department.
The best part regarding these particular women's boots is that they are specifically made to address any foot problems you might have. They are not only helpful in helping already present issues with the feet but also in preventing more.
That makes them the perfect boots for you to go hiking with Plantar Fasciitis in. These boots take care of your feet so well due to several things. First, the fact they are lightweight. This helps your feet and ankles, allowing you to move at a good pace.
Second, they have an Ortholite footbed which is specifically made to take care of the feet. In particular, this is put in place to prevent things like low back problems. If your heels are problematic, this can cause a chain reaction all the way up the leg and into the back. They don't call it an "Ortholite" for just any old reason, ya know.
On top of this, the boots include a tremendous and durable EVA Midsole. This only adds to the overall cushioning, which assists in long-term movement. Such as hours of walking/hiking.
Finally, the injected TPU chassis included in the boots deliver an even more pleasant experience, as it's built to help when you're carrying a heavy load. This basically means it helps your feet as you add weight from something like a backpack. The fact they even thought of this tells you how much detail Arc'teryx cares about.
On top of this, they also have some other additional stuff you'll love. This includes things like the Gore-Tex Membrane, which allows them to be waterproof while also breathable. They are made extremely well, so you won't have to wonder about durability. These are long-term-use boots!
From the Rubber Toe Cap to the Vibram Megagrip to everything else they provide beyond this, they are clearly top-tier boots. The team at Arc'teryx really outdid themselves here.
Final Thoughts

​If you go hiking with Plantar Fasciitis, wearing the wrong shoe can definitely exacerbate the pain and inflammation. ​But, even a shoe with the right support is not a ​free ticket to endless hiking. Proper rest is imperative in helping you heal, and ​you most likely will need to limit your​ hiking while you do.
Most importantly, speak with your podiatrist or orthapedic doctor to see how much hiking and other activity on your feet is ​okay for you.
You can find stretches and exercises to help relieve pain and help facilitate healing of Plantar Fasciitis here.