When it comes to the best tomahawks in the business today. SOG knows what they're doing. In fact, this can be seen in their SOG Survival Hawk, one of the most well-liked tomahawks on the market today.
The beauty of this item is that it tends to be sold under $75 and you're getting something that can hold its value. SOG makes this tomahawk capable of pretty much anything. This means it can handle multiple weather conditions, both wet and dry.
If that is not enough for you, it's lightweight with extreme durability. Therefore, you're getting a tomahawk that you're able to do a lot with that won't be hard to carry on any camping trip or hiking expedition.
Let's dive into other things that you're going to want to keep in mind about the SOG Survival Hawk.
Survival vs Normal
Tomahawks have been around for a long time, and they truly originated as weaponry. As time passed, many made their tomahawks into multi-use products and began to shape them differently depending on the task.
While the blade would be present as always, the back-end of the tomahawk became essentially a place for some sort of tool. Some have a hammered back, for example. This differs from normal tomahawks that have yet another sharp section in their back section.
In terms of what the SOG Survival Hawk has, its back section is shaped to have essentially a nail-puller. The head of the tomahawk is made into a hammerhead, literally giving you a tool at the ready.
That's not all, as it includes a Ferro Rod in the handle to help with starting a fire should you need it. Truly, it stands out as a survival instrument due to all of these amazing things it provides on top of what is already an impressive blade.
The Tomahawk
One key thing to mention about the SOG Survival Hawk is that it uses a glass-reinforced handle, which is pretty essential. This aids in grip somewhat if one gets sweaty, while the paracord used on the handle is present to help in further wet conditions.
Of course, the paracord itself also doubles as a survival tool as it becomes cordage. In a survival situation, cordage is EXTREMELY valuable. We tend to have versions of paracord in our shoelaces and survivalists will tell you to use that cordage in a survival situation.
However, that will not be needed when you have cordage at the ready with this tomahawk. Of course, the handle and paracord are great but what of the blade?
SOG gives you a 2CR Steel ax or tomahawk head. This is then further protected by a hard-cased black coating. Of course, CR stands for "Cold Rolled." This is steel that has been originally hot rolled then further processed at Cold Reduction Mills where it's further annealed and/or has its tempers rolled.
This will result in a harder version of steel, so when something is scored at 2CR, it means you're getting an incredibly strong blade. This is heavily needed in tomahawks, especially one meant for survival use.
3-In-1 Hawk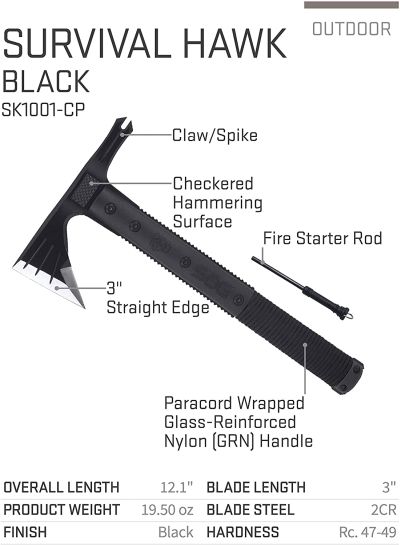 SOG tends to sell tomahawks of all types, so it can come a bit as a surprise that they made the SOG Survival Hawk into a 3-In-1 tomahawk. However, the biggest thing that will surprise people is that you get all of this at such a low price.
In our book, there really isn't a better value for a tomahawk on the market. This is especially true when comparing it with other tomahawks made for survival use. If you think about all you get with this SOG model, it truly can come as a shock that they are letting it go for under $75.
When it comes to user reviews, SOG has been getting mostly 5 stars from those who have truly tested what it can do. Most people who tend to use it are those who camp a lot as well as rock climbers, hikers, and backpacking enthusiasts.
They all love taking it with them due to the low weight and usage it provides. Some have claimed it is the best tomahawk they have ever used while others have claimed it was an essential tomahawk that every outdoorsman could utilize.
If you ask us, these are some pretty impressive reviews for the SOG Survival Hawk and proves the point we made earlier. This is one of the most beloved tomahawks on the market and we cannot recommend it enough.