Flashlights can be incredibly important for a load of different reasons. Yet when people bring up a "survival flashlight," this might be confusing for many. When this is brought up, they are specifically discussing the style of flashlight that tends to be tactical-based. As in, it has multiple uses beyond your basic LED flashlight.
These flashlights will obviously include the light itself, but there might be various important settings. That might include the SOS or strobe light, which are usually helpful when you're lost and want to ensure someone finds you. If you hold the flashlight up in the air or place it up, that light could be seen from quite a distance.
Survival flashlights are also usually capable of being a weapon, as they will be durable enough to be more efficient than any branch you might find. Many more tend to have window breakers on the end, as it is made to break through hard glass when you're trapped. Clearly, this end can double as a weapon too.
Of course, some have far more bells and whistles. You might see a section that pops off to double as an encased, waterproof sector. Many might include a Ferro Rod in that area or you can add your own stuff, like matches.
Clearly, there are many of these types of survival flashlights out there, but we feel the VSSL team makes some of the best customizable flashlight versions.
VSSL Flashlights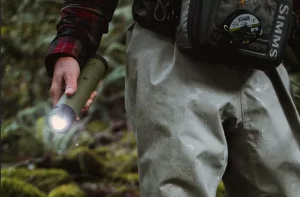 There are four models of survival flashlights that VSSL utilizes. This includes the First Aid, Camping Supplies, Flask, and Build Your Own models. Of course, each one comes with its own distinct material that fits the version it is categorized as.
Each VSSL flashlight will be waterproof and they all come with a lifetime warranty. Of course, like all warranties, this does not include every little thing. Be sure to read up on what is included in this. That way, you can avoid the stuff that won't be covered.
The three main models run between $100 to $135, which might seem like a lot but it's actually pretty reasonable for a tactical or survival flashlight. In fact, this is actually lower than what some of those go for right now. The cool thing is that VSSL offers so much for the price.
What Is Included In A Normal VSSL Flashlight?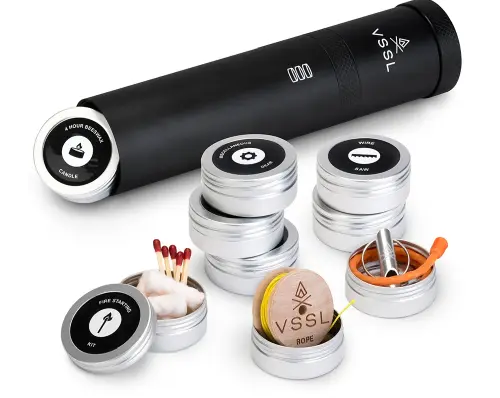 VSSL flashlights will differ heavily on what they include. Therefore, it is hard to say that each will include the same stuff. However, you're capable of building your own (which we'll get to soon). We really love how they laid it out for the types.
For example, the VSSL Camping Supplies Flashlight includes 70 different tools and materials. They broke it down in three sections: The Essentials, Survival, & First Aid. This is the only flashlight to include a lot of the stuff found in the other two.
The Essentials section includes things like a Bamboo Cloth, 4-Hour beeswax candle, Mini Sewing Kit, Aluminum Beadless Whistle, Fishing Line, and much more. The Survival section includes a Compass, 10 Waterproof Matches, a Striker, Wire Saw, 1-Liter Water Bag, 5 Waterproof Tinder Quick-Fire Starters, and much more.
Finally, the First Aid section comes with 6 bandages, 2 Antiseptic Wipes, 10 3-M Steri Strips, and Repair & First Aid Tape. Of course, the flashlight itself comes in 4 different modes and will last for several hours.
Meanwhile, the big VSSL First Aid Flashlight comes with 60 different medical supplies. They too broke it down into three sections that are the exact same as the previous version. However, it is far more medical-related.
Thus, it includes 4 large bandages, 4 knuckle bandages, 4 antiseptic towelettes, 4 blister pads, 10 butterfly bandages, 2 packs of 3-M Strips, 2 burn cream packs Non-Medical Mask, Medical Gloves, Tweezers, Adventure Tape, & 4 safety pins. It too comes with a 4-mode flashlight & oil-filled compass.
VSSL Build Your Own Flashlight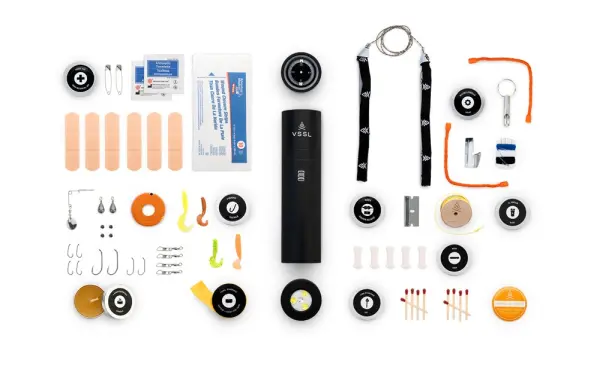 Clearly, the big claim to flashlight fame for VSSL is clearly their Build Your Own Flashlight. To be fair to the company, they truly allow you to include whatever you'd like. Of course, the more you add to it, the more expensive it will be. You might be able to make one that is cheaper than the other models too. Truly though, it is all up to you.
We decided to have some fun with it and build our own. They first ask you what size you're wanting the flashlight to be. You can pick from a Large, Medium, or Mini model. We chose the large. They offer 10 colors to choose from, but we chose trusty black.
You can then choose to add an end cap that could be a normal cap or a compass. Each version you pick from will result in a dramatically different price. We chose the regular compass end cap for $20.
You'll then choose the other end, which could be just another end cap. Yet this is where the 4-mode flashlight should be, so we added that. Next up is where you fill it with supplies. You can choose to go with everything found in the other flashlights we referenced, a miscellaneous version, and much more.
However, you also have the option of adding anything on the listing that you want. This allows you to bypass the "packs" and go straight for individual items. You can even choose to add more than one of these items. That allows for a very friendly customizable choice that other "build your own" stuff does not employ.
Due to what we added beforehand, we were only able to add 9 items. This seems to be a universal thing regardless of what you added beforehand though. We checked a few times, so you need to make your 9 items count.
Thus, we put these items in our flashlight:
2 Water Bags
Fire Striker
Fishing Tackle
First Aid – Clean & Disinfect
Adventure Tape
Survivorcord
Pyro Putty
Due to the price of each item we added, our total came up to $150 for the total order on our specific flashlight. Yet we tried adding different items, some cheaper and some more costly. You could easily spend just $125 for 9 quality items plus the rest of the flashlight. Yet the more expensive stuff could force you to spend over $200.
The Difference Between Build Your Own & Normal Versions
What seems to be the big issue for the VSSL Build Your Own version is that they pack in the contents with small tins. Only so much could fit in those. Yet each item you add is put into the flashlight within its own tin. If you were to have a waterbag, you could easily stack multiple items into one tin. Yet they force you to have to of them and purchase two individually.
The First Aid stuff seems to include a lot of items though. Like when we added the Clean & Disinfect stuff, this would include several items within the one tin. On top of this, some tins are larger than others. Why is it that we could not add more than 9 items if there is enough room to do so? The max out at 9 items is an issue for us.
Remember, we chose the largest flashlight. The Medium & Mini versions would cut the number of items down dramatically.
The biggest difference between the one we built and the versions VSSL already has up for sale is that they properly pack the tins with their items. They are not overcharging for them. For example, you could put a mask and gloves in one tin easily. In the Build Your Own, you have to add them in two different tins at two different prices.
The amount they ask for is also a bit high for some items like this, as you could get an entire case of medical gloves for about $5. One pair at a few bucks, in its own tin? That's a problem.
Yes, VSSL does have a lot of freedom in your choices. This is a good thing, but it would be wrong to not reference what they could do to make their building option better.
All in all, the VSSL is a quality product and should definitely be an essential item on your gear list. We find it to be a highly useful product for almost any outdoor venture or even just a glovebox. These survival flashlights get a definite thumbs up from us.
To purchase or simply learn more about VSSL flashlights and gear, follow the link below to their website. They offer a lifetime warranty as well as free shipping to the US and Canada on all of their flashlights.