When you plan to go hiking soon, it's possible that you are not sure of exactly what to wear to do so. In fact, hiking footwear tends to be the thing people question the most when they go. This makes many wonder if they need hiking boots vs. shoes.
On a hiking trip, it can be a bit difficult to decide this, and ultimately that is understandable. In fact, it's a debated topic among outdoor enthusiasts. However, the correct answer is not either boots or shoes…it's both. We'll explain.
The conditions you're going to be entering play a huge role. On top of this, the location will be of major concern too. As a result, until these factors are considered you cannot completely make a decision on whether to take boots or shoes for hiking. If you do, you're doing things wrong.
Due to these factors, it might be hard to know what conditions warrant boots and which warrant shoes. Then there will be some that could work for both. Let's examine both types of hiking footwear, allowing you to see which is best for your personal needs.
Hiking Boots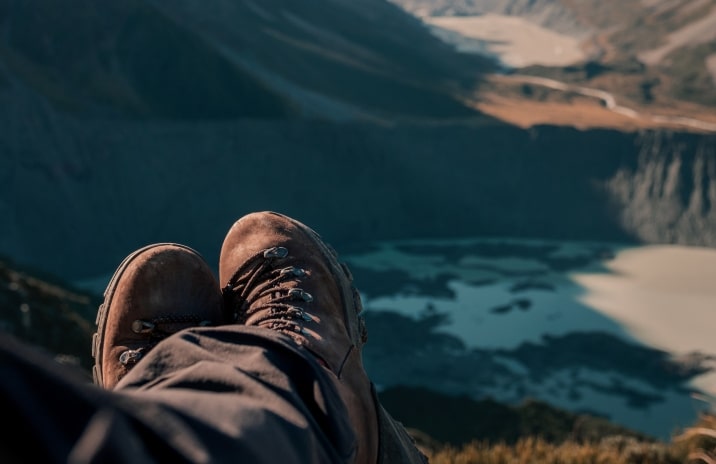 Boots tend to be a safe bet for hiking because they're often perfect for both dry and wet conditions. In fact, more often than not they will be made very well and use materials that help them either be water-resistant or waterproof to help keep your feet warm and dry. This is especially beneficial if they happen to get wet in cold weather.
If you go to a rocky area, the bottoms tend to be made very well so it won't be too difficult on your feet to climb with them. Hiking boots also offer great ankle support to help prevent injuries due to missteps.
Materials used also help to make them better when going up against several different animals. If something tries to bite you and you're wearing hiking boots made from leather, for example, there's a lower chance that the teeth will pierce your skin. Especially if the bite attempt is quick.
Hiking boots made from leather tend to be very durable as well. Those made with materials other than leather might still use a steel toe. In fact, boots from KEEN are known to include them in different styles. They also have options that are not heavy, which has also been a previous drawback for boots.
Due to how they are made, boots do tend to be heavier. Therefore, wearing a pair of hiking boots can be harder if you don't hike that often. However, with all the models of boots out there to choose from….you'll easily find some lighter versions.
Hiking Shoes And Trail Runners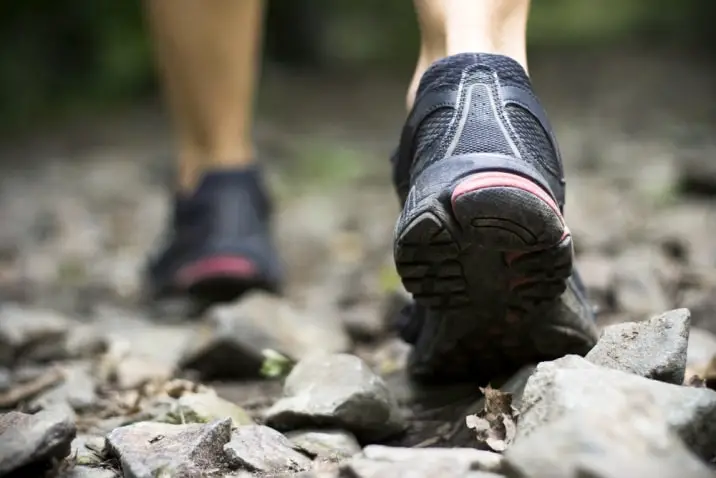 Shoes have multiple uses as you can wear a pair of hiking shoes for other things too. In fact, they can be everyday footwear. This also adds to the purchase, as you know you'll get more use out of them other than when you randomly go hiking. That's especially useful if you do not go often.
They are not great for rocky environments as the bottoms tend to be a bit thinner, yet there are some options with thicker bottoms generally known as trail runners. A pair of trail runners might work better for you in these areas but they can be heavier to walk in and could be more costly.
There are also several shoes that are water-resistant or waterproof. However, this too can add to the purchase costs. Also, some shoes are okay for conflicts with certain animals but they aren't as good as boots here.
In terms of normal walking and hiking, however, shoes are perfect and often well-liked by hiking enthusiasts. They tend to be lighter on average compared to boots, so some assume the walking tech won't be as good.
However, places like Merrell have put that BS to rest with their MOAB models of shoes. They developed soft shoes to walk in that you'd love. You could walk in them for hours without foot pain.
Shoes also tend to be better at moisture removal or moisture-wicking at times, but this is not universal to them. Boots do well at this too. However, the material used in shoes helps to make them a bit more breathable. This keeps your feet cooler rather than warmer, removing the need for moisture removal, to begin with.
As a result of this, shoes do not end up giving as many blisters when walking in them for long distances. Removing moisture helps to eliminate this issue from starting.
Conclusion
In the end, you've learned a few things. When it comes to hiking shoes and boots, there is no true universal answer. The needs you have and the conditions you face will help determine the best type of footwear for you.
Hiking can be a lot of fun, especially when done with friends and/or family. The most important thing you can do is be safe on your adventure. The first step here is to wear the proper footwear that you feel will best do the trick for you.
We hope we helped you make a decision that can assist as you look for the proper footwear to utilize.