Car camping is always a fun way to spend time outdoors. But you don't have to sleep in your car in order to have easy access to it. With the use of a roof top tent you can have the comfort of stretching out in a tent while still having easy access to your vehicle.
The experience becomes even better if you have the right tent for your car. That is why it's advisable to thoroughly analyze a tent before making a purchase.
In case you are having a hard time picking the best roof top tent for camping, worry not. The details below contain the best rated tents on the market. But before that, you need to understand the difference between softshell and hardshell tents. You also need to know why people prefer roof top tents more than other conventional tents. Some of the reasons include:
They are easy to set up.
Most of them allow attachments and accessories.
They protect you from crawling animals.
You get to sleep where you park your vehicle.
They are more comfortable compared to most rooftop tents.
They are more secure in terms of keeping you safe from animals.
They save your vehicle's storage space.
They are very mobile and perfect if you are moving from place to place.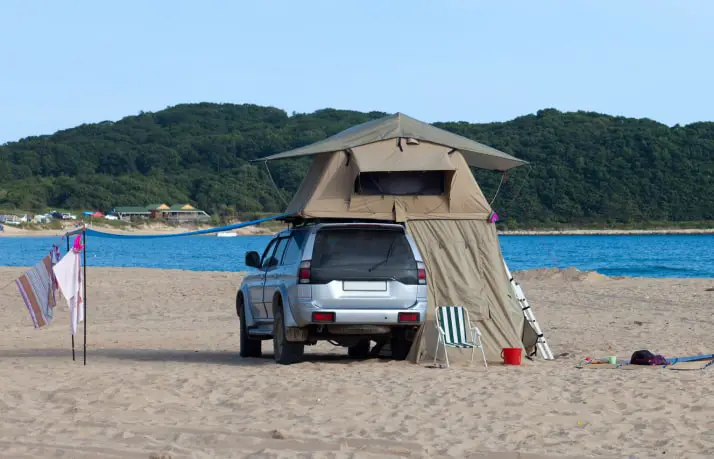 Softshell Vs. Hardshell
When purchasing a rooftop tent for car camping, there are several factors that you need to consider. One of them includes deciding whether to go for a softshell or a hardshell tent. Even though they both provide impressive shelter, they tend to have distinct benefits. That is why it is essential to scrutinize your camping situation before deciding which tent design to pick.
Softshell Tents
From the word softshell, these are rooftop tents that come with soft materials making them very light. Their prevalence in camping sites is because they are lightweight. These tents come in two categories. There are the starter softshells, which are a bit cheaper. That is because they are less durable. Then there are the expedition grade softshells, which are very durable and can handle most weather elements. They are, however, a bit expensive, but even so, most people tend to prefer them compared to starter softshell tents.
In general, softshell nests are affordable if you compare them with hardshell ones. They also offer a wide array of shades as well as a larger sleeping area. You will be intrigued to learn that a single softshell tent can accommodate as many as three individuals and more. It all depends on the size you purchase. They also come with a variety of accessories, as well as attachments. That is why most campers prefer them.
Hardshell Tents
Hardshell nests, on the other hand, tend to have some of their sections fitted with hard and durable materials like aluminum or fiberglass. Due to their unique design, they are much easier to set up. You only need a few minutes to have the whole tent up and ready for use. The tents are, however, costly, and on top of that, they can only accommodate one or two people. That means they are not suitable if you are traveling in groups of three and above.
People, however, tend to prefer hardshell tents. That is because they can withstand harsh weather conditions compared to their counterpart softshells. These nests also last longer, and lastly, they are quite easy to store. That is because the fabric is enclosed in the hard shell. That design also gives them an aerodynamic shape. That means if you load them on your vehicle, you are likely to save more when it comes to fuel.
The reason why people don't opt for hardshell tents is that they don't allow attachments and other useful accessories. There are also some few colors available in the market. That means if you are choosy, you should most likely consider going for the softshell version.
Best Roof Top Tents On The Market
Let's break down the list of the 9 best rooftop tents in the market. Each of the tent listed below has its unique design and advantages.
Best Hardshell Rooftop Tents For Vehicle Camping
TMB Green Pop Up Roof Overland Tent
If you are looking for a hardshell roof top tent that provides more than just a sleeping area, then you should consider TMB green pop up roof overland tent. It is one of the best tents in the market, and that is due to its unique design.
The first thing that will intrigue you about this hardshell roof top tent is the fact that it is compatible with most vehicles. That is so long as your car ​possesses roof rails or roof bars.
Its installation technique is also impressive. It has arms that use shocks to open up and extend the roof top tent. You thus don't have to go through all installation trouble.
Another reason why TMB green pop up roof overland tent ranks high is that it offers a variety of storage options. Inside, there is a roof net which you hold with bungee codes. There is ​also the inclusion of pouches on the side. The bags come with zippers situated both on the inside and outside, making them fully accessible.
There is a pre-installed mattress that ensures you get a comfortable sleep throughout the night.
Other extras include a ladder to enable you to access the roof top tent as well as extra storage. The entrance is sizeable, and the design is attractive, making it a great choice.
​Origin Camping Supply Nomad Hard Shell Roof Top Tent

​The Origin Nomad is an excellent hardshell roof top tent if you are looking for absolute comfortability. There is then the addition of a​ high-density foam mattress, which gives it a soft feel to ensure that you have an easy time sleeping. ​For increased air flow, this tent has two doors with zip up mesh screens.
The design of the roof top tent gives it a remarkable appearance. The aerodynamic shape of the fiberglass composite shell ensures a quiet ride on the road.
What makes it unique is the fact it​ has a built-in stainless steel roof rack on top that can carry up to 165lbs. of gear. ​
In addition to that, the ​Nomad opens and closes easily in seconds due to its inbuilt hydraulic support system.​
Th​is tent is UV resistant as well a ultra waterproof thanks to ​its 280g polyurethane coated polyester- cotton blend canvas.
DragonLi Hardshell Roof Top Tent
Another hardshell roof top tent that is going to ensure you have an excellent outdoor adventure is the DragonLi hardshell roof top tent. This tent comes with a fantastic build and beautiful finishes.
The equipment is aerodynamic, thus ensuring you don't waste fuel while heading to the camping site. It is also easy to install. Unlike most tents, a single person can ​easily setup this ​tent.
It is also ideal ​in that the materials can withstand har​sh environmental conditions. ​It also comes with a huge interior space that can fit pillows.
The most satisfying feature about this ​tent is the design of the sturdy patented base ​. To ensure both durability and stability, the floor of the outdoor shelter has a total of three layers. These layers include a wooden floor, stainless steel, and ABS cover.
There is also a 3.15inch mattress installed to make sure you have a comfortable sleep regardless of your location. It can comfortably accommodate a child thanks to the softness of the mattress.
Other inclusions that come with the​ tent include a long telescopic ladder to enable you access the roof nest easily. There are also LED lights for visibility and various storage options.
YAMADIE Roof Tent Camping ABS Car Tent
Anyone after luxury should consider purchasing this beautifully made hardshell roof top tent. The ​size enables it to hold ​up to two people.
The YAMADIE roof tent ​is also one of the most secure tents on the market. That is because its fabric is not only durable but also ​great at withstanding harsh environmental conditions. It is thus a great option if you are an enthusiast camper who doesn't let any season ruin your outdoor adventures. 
What stands out about this hardshell roof top tent is the house-like structure that makes it appealing.
You will also love the fact that th​is tent uses aluminum to reinforce the surface. Being one of the sturdiest and most secure materials, ​this reinforcement assures your safety throughout. The YAMIDE hardshell ​also comes with a great mattress​ to ensure that you have the most comfortable nights during your outdoor adventure. ​​
​The design also allows it to fit most vehicles, including cars. The fabric is also odor-free with enough windows to offer ​ventilation ​throughout the tent.
Best Softshell Rooftop Tents For Vehicle Camping
Smittybilt Overlander Roof Top Tent
The Smittybilt Overlander roof top tent is one of the best softshell tents in the industry thanks to its fantastic design. 
The tent features a super quality heavy cover that has a PVC construct. The cover ensures you have a beautiful shade during sunny days and dry interior whenever it is raining.
The floor is not only secure but also heavy duty. You can easily remove it using the zippers that attach it to the tent. Unlike most softshell roof top nests, Smittybilt ​Overlander​ is easy to install and remove. With help, you can install the tent in a matter of minutes​.
The most stunning feature about this roof top tent is that it comes with a sunroof. That means you don't have to get out of the tent for you to enjoy the morning sun. There is also the ​addition of side windows, which ensures the aeration of the tent. The windows have nets to keep of mosquitoes and other flying insects that may attempt to enter the tent.
​Frame poles ​hold the tent upright and securely.
You will also be able to enjoy bright light from the interior LED strips at night, and so you don't have to worry about ​lanterns.
Those are among the features that make this roof top tent ideal for any camping adventure.
Tepui Explorer Ayer Rooftop Tent
The beauty and elegance of Tepui Explorer Ayer softshell rooftop tent will make every outdoor adventure you take memorable. That is because it comes with a construct meant to keep you safe, secure, and comfortable throughout your camping ​adventure.
The tent's design makes it excellent for small SUVs and other cars with similar size. Despite its small size, the tent can effortlessly accommodate ​two people.
The canopy shape enables the tent to protect you from strong winds and rainfall. You can easily ​remove it during sunny seasons for you to enjoy the breeze as well as the morning sunlight. ​
The fabric that makes up the Tepui Explorer Ayer ​has a blend of 260g of poly-cotton material and 600D of high-quality ripstop. The combination makes the material both strong and durable, and so be sure that your tent is going to last longer.
You also get to have side windows that have ​screens to keep mosquitos and other insects out of the tent. They also serve as ventilation spaces by allowing free airflow throughout the tent. 
There is ​the inclusion of a two and a half-inch mattress whose purpose is to make sure that your nights are remarkably restful.
Inside the tent, there are ample storage spaces that are included to provide you with enough space to store any gear you carried.
Front Runner Roof Top Tent
Front Runner tends to create some of the best high-quality softshell tents in the market. The roof nest comes with a suitable lightweight design of 40kg. This ensures that it leaves a small footprint, thus making it easy to transport, store, and install.
The installation design is also remarkable​ in that it uses a system that opens it up easily.
The roof comes with a netted ventilation space to ensure there is adequate fresh air in the tent. There are also various netted windows included for the same purpose. You can close the windows using zippered panels for privacy.
The most beautiful thing about this ​tent is that it comes with a sturdy base made of aluminum material. The whole surface also has insulation covering the aluminum to protect you from extreme cold.
​The Front Runner ​has a screened door​ to help keep mosquitoes out. ​
This tent has a cover that contains 1000PVC to ensure the tent is safe during storage. The ​tent fabric itself features 400D Oxford fabric, which is waterproof, durable, and breathable.
There is a mattress included, so all you need is a sleeping bag.
YAKIMA Skyrise Rooftop Tent
The YAKIMA Skyrise rooftop tent is among the simplest and most effecient softshell tents out there. This lightweight tent has some of the best features which any outdoor enthusiast can appreciate. 
First, the construction of the ​roof top tent is ​exceptional. The 210D nylon​ ​can handle heavy rains and keep you from intense sunlight. It is also easy to install, even though you first need to undergo a learning curve. 
The design of this roof top tent enables it to fit different vehicles, and so you don't have to worry about it not being compatible with your car design.
To ensure ventilation, there are windows with nets that can also have zips ​when you're ready for privacy.
The material is lightweight, and ​is made ​of 210D nylon fabric which has a PU coating. The function of the coat is to ensure that the ​tent protects you from a variety of weather elements.
It also has ​light but strong aluminum poles that increase the ​ease of setting up the tent​ and ensure that the roof top nest maintains an upright position. ​
To ensure safety and security, the tent uses SKS locks to hold tightly to the roof rack of your vehicle. The locks work well with the mounts, which uses a unique technology that doesn't require any set of tools for you to secure them to the roof of the car safely.
All those features make YAKIMA Skyrise softshell rooftop tent one of the best adventure companions in the market today.
YAMADIE Roof Tent
The YAMADIE softshell Roof Tent is one of the most sturdy and durable pieces of camping equipment ​you can buy.
The tent features an incredible structure that is spacious enough to accommodate a total of two to three individuals. The whole tent is lightweight​ as its frames consist of lightweight aluminum alloys​ which make installation of the tent is quite easy. The frame ​can easily withstand strong winds​.
The fabric that makes up the tent is made of Oxford polyester pu1500mm material, which has a product quality of 420D. The fabric is both wear and tear-resistant ensuring durability and long life.
Another ​plus is the fact that the fabric is both waterproof and sun proof. It is also windproof, and so you can consider yourself fully protected.
There is also a PVC mesh cloth cover material to amplify your protection. ​
The inclusion of adequate windows ​ensures proper ventilation and e​limination of any unwanted heat in the tent.
The windows have mosquito netting to keep mosquitos as well as other insects from spoiling your peaceful night. ​
The good thing about the material that YAMADIE ​uses for UV protection is that it doesn't release any odor. You are thus going to have fresh-smelling natural air throughout. ​
These are some of the best hardshell and softshell tents on the market. What makes them some of the best tents available is the durable material they possess, their installation design, and the various inclusions they come with. Others provide additional space to ensure that you have an easy time storing your camping gear. 
Your job is to decide which of the above roof top tents is best ​for you and your particular needs. ​Compare the most important features they possess with what you expect from an ideal roof top tent that would best suit you.