Man's best friend has been by our side ever since most of us can remember, so it does not shock anyone that we would want to take them camping with us. Having a good tent with a dog door can be terrific when taking your dog with you while camping.
If we want our dogs to be comfortable yet we also want to protect them, these dog doors are perfect. You might see some that have a different name for their tents, often using the word "pet portal" or "pet door," possibly something similar to these as well.
They all mean the same things, but some companies call it something different based on how they formed their tent with a dog door. This is important to remember, as you will see this description mentioned in our review. More on this soon.
We actually have a great tent type from E-Z UP to show you that goes along with this. Before we get to that, however, we wanted to briefly go over a few things we want you to keep in mind before checking out the tent. Let's get started.
Dog Doors Or "Pet Portals"
The pet portal is as it sounds, a place for your dog to enter from the outside into the tent.
Like with portals mentioned in other text from science fiction to real-life, these portals have a useful purpose. It allows your pet to have a way to get in and out faster.
They allow your dog to have the same comforts of entering and exiting the tent at will, all while giving you as the owner a useful method of keeping your pet safe too. They all usually have a zipper or flap of some type.
This can be opened or closed, allowing you as the owner to control the entering or exiting. That means you won't be dealing with various creatures entering your tent at night time, nor will your dog be taken or anything of the sort.
You have full control here, which is a very important thing to mention. Therefore, if you questioned how the pet portal can work well while securing the tent properly…you now have your answer.
Who Is E-Z Up?
E-Z Up is an outdoor brand that has been in business since 1983, so more than 30 years as of this writing. That is an extremely long period of time to be in business, so it is clear that if they have survived so long, they know what they're doing business-wise.
However, they must also know what they are doing with their products or no one would buy them, right? We looked into the several products they have, and you might be surprised to know that they have a shelter of some type for nearly any purpose.
While they sell tents, such as a few we're going to go over soon…they also have several other shelter types. This includes those you might see for concerts and farmer's markets, but also those that you'll see for health and safety purposes too.
They even do custom work for those who need some level of branding. This might include those you might see at business fairs, normal fairs, or at events where food & drink companies come out. Regardless of the purpose, the custom shelters are a big part of E-Z Up.
With that said, they also sell accessories such as flags and chairs too. Yet our main focus is their tents, most of which have seen glowing reviews by users. They have several tent types that are specific to their brand, including the Eclipse™, Sprint™, Ambassador™, Pyramid™, Vantage™, and ES100S™ Shelter Value Pack.
In particular, we have one main tent with a dog door that we want to go over. Which very well could be formed within one of those tent types.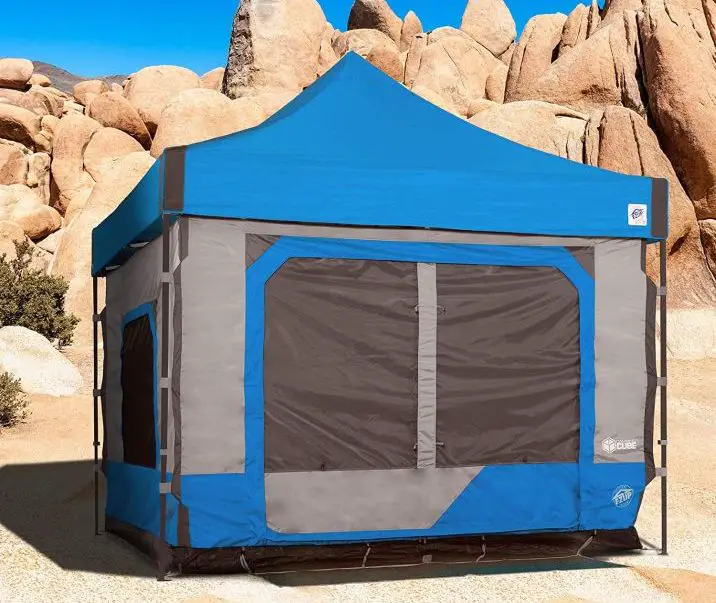 Price: $150 to $240
Size: 10 x 10 (Highest Height Setting Is 6 Feet, 4 Inches)
Colors Available: Red, Yellow, Royal Blue, and Turquoise
Special Features: Waterproof, UV Ray Blocker, Bugproof Bottom
The E-Z Up Camping Cube has many different versions, which are all the same type of tent. It is possible you might come across some that seem like they might differ a bit. However, this is not so much a different tent than a different size more often than not.
The difference also might be in the top portion of the tent, especially if it is part of one of E-Z Up's special tent types. They also come in different number types, for example, the two big sellers on Amazon are the 5.4 & 6.4 models.
When it comes to the actual tent itself, it fits on top or with most of their main tent models. This includes the 10 x 10 Pyramid™, 10 x 10 Vantage™, 10 x 10 ES100S™, and 10 x 10 Enterprise.
It is not recommended as compatible for the 10 x 10 Ambassador™ nor 10 x 10 Envoy Shelters, however.
This is essentially an enhancing add-on for those models mentioned, which essentially helps to make them proper tents. Therefore, it counts sort of like a pop-up tent, but do not assume it will stand up on its own. It is designed to work with a straight-leg frame.
This 10 x 10 add-on will make your shelter into an entirely new space for proper camping. It supposedly offers room for 5 to 6 people too. There's roughly 561 cubic feet of room in this tent, so naturally, that is more than enough room for many people.
Our focus, however, is the pet portal that makes this tent with a dog door stand out. In fact, that is where the (.4) in their names actually comes from. It stands for our four-legged friends, which makes it truly special.
The portal is easy to get in and out of and can be closed or opened, depending on the needs of the human owner or event he pet.
Large Screened Windows And Doors: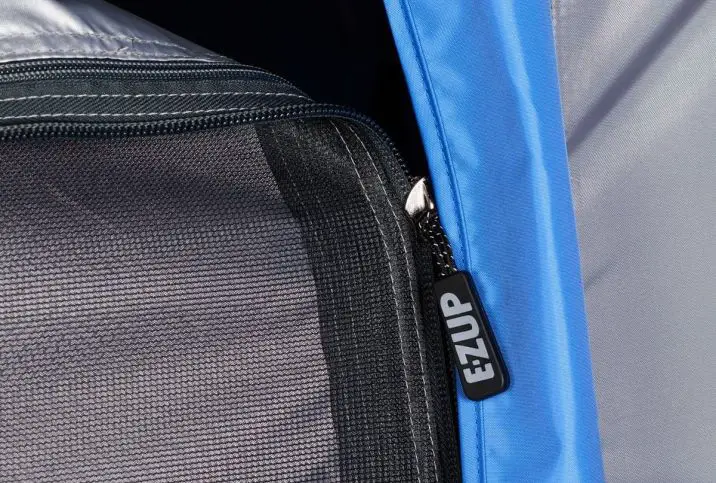 You'll get quality airflow with this tent, which is given by the large screened windows as well as the oversized screened door. The vented roof only maximizes that for those warmer days one might experience.
Don't assume you'll need any special tools for that, as it comes with heavy-duty clops and loop closures, as well as an S-Hook to connect the instant shelter frame.
If you want some privacy, like most of us do while camping, E-Z Up thought of that too. The windows and the door all have a heavy-duty polyester flap that closes well. They use an upgraded #10 Zipper that will tightly seal everything. This obviously gives privacy but will also offer great warmth on cooler days.
It blocks the sun incredibly well, blocking UV Rays up to 99 percent. That is a huge win for any tent, especially at such an affordable price. This tent is also waterproof, and even bugproof. As the floor of the tent protects against the elements incredibly well.
On top of this, it meets both the CPAI-84 & NFPA-701 fire resistant requirements.
However, if anything were to happen to your tent….E-Z Up has you covered. They offer a 3-year warranty that will cover any normal wear and tear.
They also offer various accessories for the tent if you'd like them. Such as Gear Shelf, Gear Loft, E-Z Up hanging clips, an additional 100 square feet, and Footprint P100. Of course, all of this is sold separately.